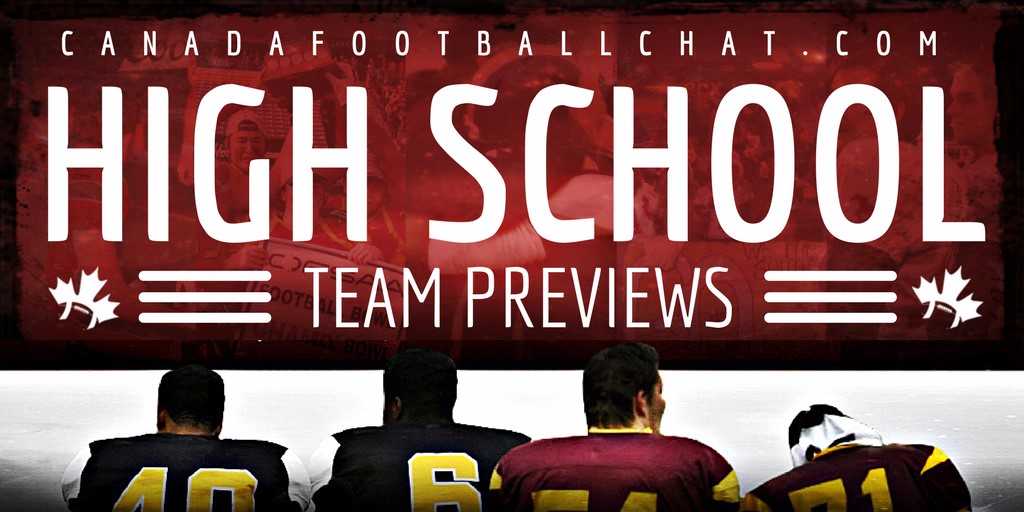 Leading up to the start of the high school season, we will be posting high school/Cégep team previews from June to September as part of our comprehensive season coverage. Canadafootballchat.com (CFC) has tapped into our network of coaches to produce team previews for the 2017 season. The #CFCteampreviews highlight top returning players, team strengths, and toughest opponents.
CFC also will bring you the national high school football rankings known as the #CFC50. Last year's final rankings were the most controversial to date…and we heard about it. Whether you agree or disagree, we love hearing from you. For an explanation of how the rankings are computed, please scroll to the bottom of the page.
Fredericton High School Black Kats (NBHSFL-12-man, Fredericton, NB)
The Fredericton High Black Kats have a tradition of winning Championships. Not just city titles, but the Provincial crowns of all sports, including 14 football banners.  The Kats share the title of most football championships with Moncton's Harrison Trimble Trojans. Kats head coach OJ Burnette is proud to point out that the Trojans have won those titles since the sixties, where the Kats program was founded in the nineties.
Winning is something the Kats aren't ashamed of saying they want to do. The school demands excellence in it's students, and last seasons 1-6 record lit a fire under the team, which will only be extinguished when their trophy case holds the top prize again.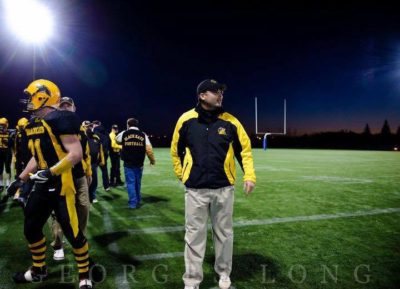 "With being young we set the goal we want to be champs, that really goes along with FHS' tradition of winning championships. Basketball, hockey or football, it's one practice at a time," FHS head coach OJ Burnette explained.
To go all the way, the Kats are first going to have to recover from the loss of three critical players, the teams 2016 offensive MVP Sterling Simpson (WR), LB Aidan Gorman, and the team's centre and long snapper, Connor Stiles.
"Simpson, was a grade twelve who had never played before. He's a big tall basketball guy, he made a lot of plays for us, those are big shoes to fill there," Burnette reflected. "Aidan was the heart and soul of our defence, he made a ton of tackles for us, and kept everyone calmed down."
Stiles, who held the teams long snapping portfolio, also played a critical role on the offensive line. Coach Burnette cautioned that if you weren't ready for his snap you could "lose a finger, it comes in that hard".
Stiles, a senior,  stepped away from the gridiron to compete nationally as a lifter. Thus far, the team has five possible replacements trying out for his spot.
Connor Stiles, former Black Kat centre and long snapper
Headed into camp the Kats have fifty kids registered, 32 of which are in grade eleven. The Kats have a JV program, which means this crop of  sophomores have no experience at the varsity level, while teams in the Eastern conference feature rosters with grades 9-12. Optimistic with the groups potential but needs the rookies to first buy into the program.
"This group won the JV provincial title, but it's a big jump. One of our challenges is getting them to understand what it means to be a championship team at this level."
Sophomore OL/DL Keegan McMullan also cautions the new recruits on how significant the transition is:
"It's a big gap between the two, you don't quite know it until you get there. People told me that too,  you know varsity will be harder and more intense,  but you don't know how much until getting into camp and then you realize."
Offensively, the Kats try to attack all areas of the field, by running a variety of offensive styles, a strategy which when successful Burnette believes is the "hardest to defend".  McMullin (OT) explains the range of plays he needs to learn to help his team move the ball.
"Our offence is bit of everything. We run an old school power run,  but then we'll do a draw or traps, we have a little bit of everything, not just one style, we mix it up, it helps keep defences guessing," said Keegan McMullin.
Will Hicks is entering his second season as the teams QB. The teams back up will be Keegan Hamilton, who when not taking snaps will be running routes from the slot and wide out spot for Hicks.
#12 QB Will Hicks
Coach Burnette describes the rest of the receiving corp as being a bit inexperienced, but is confident they will step up to the challenge of playing for the Kats.
"We've got Oliver Burnette and another really good receiver Thomas Patterson coming from JV. You move up a level and suddenly DB's are faster, and routes have to be crisper. They have to adapt but definitely have talent."
WR Thomas Patterson, black helmet, with team NB
The team has plenty of depth and options for ball carriers. Returning senior Sam London is slated to get the bulk of the teams carries. Described as a 'physical back', the six foot one hundred and eight five pound London did the 40′ in 4.7sec.
Sharing the load behind London will be Ethan Stairs and Riley Burtt.
"Stairs is a natural back with good speed. Burtt wanted to give football a try, he's playing his first year as a grade twelve" A triple A baseball and hockey player, Burnette commented the rookie "looks great out of the back field".
Paving the way upfront is the teams captain from last season, OL Ron Peters and fellow returning senior Keegan McMullan. Coach Burnette is confident he has the right five guys slated to start out front, including six foot five Austin Versloot.
"Our top five is strong, and I hope they stay healthy and play together."
6'5 Austin Versloot #59
Defensively the Kats are still in the discovery mode of what sort of packages and looks they will bring come game day. With so many young athletes coach Burnette is using camp and scrimmages to anticipate what his defensive unit's identity will be.
"We're so young, they're just competing to get a spot right now, and coaches are getting a feel for them, it's hard to say at this point the kind of defence we'll have."
The positive side of having such a young, athletic team is the versatility it allows. Coach Burnette is optimistic having potential linebackers who can drop into coverage, as well as a deep crop of defensive backs who can cover, but can also drop into the box to help with the run. With this diversity comes options for the defence and hopefully complex formations to keep opposing offences on their toes.
Coach Burnette's focus for the green defensive unit is simple, "swarm to the ball and hopefully create turnovers".
Perhaps the biggest question mark for the Kats is the composition of the defensive line. New Brunswick is a run heavy league which requires depth at the line positions.
"D line is one of our biggest question marks. We've got some kids from JV we're still evaluating. Sebastian Francis is a kid we like. He's a big lineman who can play some OL and looks good at DT."
The Kats are also very intent on developing 6'6, 210lbs Eric Appleby into a dominant lineman. "He can just stand up and dunk. He's got really long arms and is athletic. The challenge for him is being able to match the physical side of things."
The Kats linebacking corp is a little more solidified than the big men out front. Returning to the team is Simon Pearson, who coach Burnette feels is ready to step into the leadership role formerly held by Aidan Gorman. Complimenting Pearson, will be Matt Taylor and Gilbert Kim, both showing great potential, despite being a bit green.
"Matt hasn't played in a couple of years, he's a good size, and Gilbert is speedy and likes the contact," reflected Burnette.
The Kats secondary has some significant depth, featuring 15 potential starters. Coach Burnette is looking to Paul Yearn to lead the young crew and looks to sophomore Paul Yoon to make and impact in his first year with the team.
As with all high school coaches, Burnette is still holding out for a soccer player to step onto the field to handle his teams kicking, but until that time, running back Ethan Stairs and Brandon Cooke will share the duties of punting and place kicking.
With the season around the corner, Burnette feels the Kats quest to dominate the division is attainable, and should they fall short he feels the experience of playing for FHS will carry his players thru life.
"The bar at FHS is set high, our athletic programs strive to be at the championship level, so if we're not in the game or hoisting the trophy we're disappointed; I'm not sure many teams can say that but we truly are. Our goal is to make them better young men, not just players, but we want them to be better people."
Fredericton High School Black Kats (NBHSFL-12-man division, Fredericton, NB)
Head Coach: O.J. Burnette
#CFC50 Ranking: n/a
2016 Record: 1-5
Key Returnees:Will Hicks, Keegan McMullin, Simon Pearson, Gilbert Kim
Key Losses: Sterling Simpson, Aidan Gorman, Connor Stiles
Number of returning players: 18
"X" Factor: n/a

If you would like your high school team previewed, please contact 

[email protected]

.
CLICK HERE FOR 2016 FINAL CFC50 RANKINGS
How is the #CFC50 evaluated?
The #CFC50 rankings considers all conference and non-conference games (in Canada and the United States) while scrimmages are not evaluated (there is no such thing as an exhibition game – those are non-conference games).
Leagues included in rankings: British Columbia AAA Varsity, Alberta Tier One, Saskatchewan 12-man 4A, Manitoba AAA Varsity, Ontario OFSAA Bowl AAA qualified teams, Quebec Juvenile Division 1, New Brunswick 12-man, Nova Scotia Tier 1.
The #CFC50 is a relative ranking that considers top tier leagues from all eight high school playing provinces (minimum one team represented from each province).  The CFC Scouting Bureau consists of CFC Reporters, CFC Scouts, and also selected local reporters and scouts who submit local ranking results on a weekly basis.  This is the eighth year that Canadafootballchat.com has ranked the top high school teams in Canada.
Advocating for football prospects one story at a time.
Tags:
Aidan Gorman
,
Brandon Cooke
,
Connor Stiles
,
Eric Appleby
,
Ethan Stairs
,
Fredericton Black Kats
,
Gilbert Kim
,
Keegan Hamilton
,
Keegan McMullin
,
Matt Taylor
,
OJ Burnette
,
Oliver Burnette
,
Paul Yoon
,
Riley Burtt
,
Ron Peters
,
Sam London
,
Sebastian Francis
,
sterling simpson
,
Thomas Patterson
,
Will Hicks