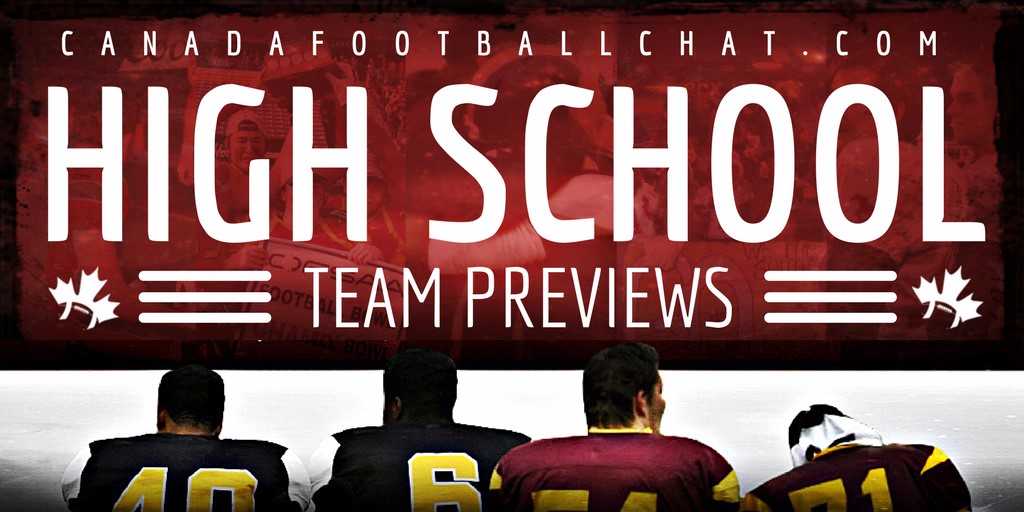 Leading up to the start of the high school season, we will be posting high school team previews from June to September as part of our comprehensive season coverage. Canadafootballchat.com (CFC) has tapped into our network of coaches to produce high school team previews for the 2017 season. The previews highlight top returning players, team strengths, and toughest opponents. #CFCteampreviews

CFC also will bring you the national high school football rankings known as the #CFC50. Last year's final rankings were the most controversial to date… and we heard about it. Whether you agree or disagree, we love hearing from you. For an explanation of how the rankings are computed, please scroll to the bottom of the page.
Bellerose Bulldogs (MEHSA –  Carr Div. 1, Edmonton, AB)
The Bellerose Bulldogs had their first glimpse of provincials since the football team was formed in 1988. Unfortunately for the Bulldogs, they struggled against #CFC50 Bev Facey Falcons losing 38-6.
Coach Chad Hill who was nominated and selected by Metro Athletics as the 2017 Coach of the Year says his team is making the necessary changes to become a better team.
"We are an improving team from last year in which we were very young," Coach Hill explains, "We have more returning starting players this season that any other since 2005."
One of the returning players, Quade Kozak, is a dynamic quarterback putting up big numbers in the passing game accumulating 1317 yards in 10 season games.
"He can be a pure passer but is a dual threat who can gain yards like a fullback," coach said.
On the ground the young starter made a big impact with 600 rushing yards making him earn the Bulldogs' Most Valuable Player award.
Other key returnees on offence include Travis Heggart and Cordel Colliaux.
"Travis Heggart has the greatest potential of any Bulldog receiver in recent history," Coach Hill said about the '2016 Outstanding Offensive Player' recipient.

Standing at 6 feet 5 inches, Heggart led the rest of the team with 426 receiving yards.
Cordel Callioux was not far behind pulling in 360 receiving yards in his first year of ball as a two-way starter in a wide receiver and safety position.
He was awarded Rookie of the Year for the Bulldog team and was voted as a Carr-Conference All-Star this past season.
The 'X' factor of the team, Logan McCullough, has been improving on and off the field. While on the St. Albert Storm roster, McCullough scored 10 touchdowns and had over 700 yards from scrimmage under six games as slotback.
Coach Hill deems this athlete will be a "play-maker" in the upcoming season.

Other Bulldogs such as Matt Coogan (OLB) and Aiden Orr (NT) dominate each defensive play with physicality and speed. Coogan brings athleticism to the front 7 with a dozen tackles for the season while Orr pushes the pocket at a staggering 285 pounds for an upcoming senior player.
Although the young roster is looking promising for the St. Albert team, the team is saying goodbye to key defensive linemen Nick Allen and Ryan Young.
The Bulldogs are also losing Chase LeRose, who was awarded Outstanding Defensive Player and brought the most tackles to the team with a total of 48 out of 10 games. Next fall, LeRose will be joining the Canadian Junior Football League as an Edmonton Wildcat.
The biggest challenge according to Coach Hill for these young players will be to play to their fullest potential amongst a league of talented athletes.
"We play in an ultra-competitive division where any team can win on any given night."
With many young players remaining on the team, discipline will be a major factor however, Coach Hill has no doubt his team is working hard in off-season and as a result will get another crack at provincials.
"We have the talent and experience to be better than last season."
The countdown to the 2017 season is on and it begins with a pre-season matchup against the Notre Dame Cougars which the Bulldogs consider fierce competition.
The regular season kicks off with a game against the Salisbury Sabres. 
"Every game will be a battle."
Bellerose Bulldogs (MEHSA –  Carr Div. 1, Edmonton, AB)
Head Coach: Chad Hill (10th season)
#CFC50 Ranking: N/A
2016 Record: 5-5 (Lost to Bev Facey in Alberta Tier 1 Provincials)
Key Returnees: Quade Kozak, Travis Heggart, Cordel Callioux, Brett Yost, Dylan McCoy
Key Losses: Nick Allen, Ryan Young, Chase LaRose
Number of Returning Starters – Offence: 9
Number of Returning Starters – Defence: 6
"X" Factor: Logan McCullough (LB)
If you would like your high school team previewed, please contact 

[email protected]

.
CLICK HERE FOR 2016 FINAL CFC50 RANKINGS
How is the #CFC50 evaluated?
The #CFC50 rankings considers all conference and non-conference games (in Canada and the United States) while scrimmages are not evaluated (there is no such thing as an exhibition game – those are non-conference games).
Leagues included in rankings: British Columbia AAA Varsity, Alberta Tier One, Saskatchewan 12-man 4A, Manitoba AAA Varsity, Ontario OFSAA Bowl AAA qualified teams, Quebec Juvenile Division 1, New Brunswick 12-man, Nova Scotia Tier 1.
The #CFC50 is a relative ranking that considers top tier leagues from all eight high school playing provinces (minimum one team represented from each province). The CFC Scouting Bureau consists of CFC Reporters, CFC Scouts, and also selected local reporters and scouts who submit local ranking results on a weekly basis. This is the eighth year that Canadafootballchat.com has ranked the top high school teams in Canada.
Join the conversation online #CFC50 #CFCteampreviews
Advocating for football prospects one story at a time.