Leading up to the start of the high school season, we will be posting high school/cegep team previews from June to September as part of our comprehensive season coverage. Canadafootballchat.com (CFC) has tapped into our network of coaches to produce high school team previews for the 2017 season. The #CFCteampreviews highlight top returning players, team strengths, and toughest opponents.
CFC also will bring you the national high school football rankings known as the #CFC50. Last year's final rankings were the most controversial to date…and we heard about it. Whether you agree or disagree, we love hearing from you. For an explanation of how the rankings are computed, please scroll to the bottom of the page.
The Sherwood Park based team, the Salisbury Sabres', are currently rejuvenating in the off-season.
Last season, the Sabres' had a tough go with zero wins across the board (0-6-2) and an early boot from the first round of provincials by the hands of #CFC50's Bev Facey Falcons (0-43).
Although 18 of the 24 starting positions were filled by Grade 10 athletes coming out of exceptional Bantam football programs and other Sabres' were ranked at the top of the league in multiple categories, the Salisbury team struggled.
Head Coach Cam Fraser and the rest of the team will be heavily relying on these freshmen players to carry the team forward and progress as a cohesive unit.
"Last year was about patience and the process of a rebuild," says Coach Fraser about his team. "For 2017, we must trust in ourselves and each other. Our athletes have completed a very successful off-season and are coming in 30-45 lbs stronger than at the end of last season."
Having 48 returning players is extensive however in the Sabres' case, it is quite a blessing for the majority of these players are Alberta U16 players and/or Alberta Bantam All-Stars.
The remaining Sabres' along with their coaching staff are eager to put these guys out of the field and see what they can do.
Some highlights on the offense roster this year includes Zack McNeil, Hunter Gibennus, and Tanner Shaw.
Zack McNeil is coming back onto the Salisbury team with nothing less than a towering presence both on and off the field.
At a staggering height of 6'6" and weighing in at 358lbs, McNeil is an unnoticed young man on the field.
Coach Fraser claims this young man will once again be a threat on the offensive line to most, if not all opposing players.
Running back, Hunter Gibennus was a force in his ground game accumulating 577 rushing yards in one season placing himself 4th overall in the league.
Awarded with the 'Most Outstanding Offensive Back," Gibennus will take his rookie season and move forward with his ability to run plays and put points up on the board. 
Tanner Shaw put up impressive numbers in both receiving (326) and rushing (217) yards landing himself 3rd in receiving in the Metro Edmonton league.
It was an easy decision for Coach Fraser to award Shaw with the "Most Outstanding Receiver" award, however in his mind Shaw believes he fell short of his capabilities.
"I knew I could put more out there and win some games for my team, I'm really trying to push to be nationally recognized this year," Shaw said.
Looking into the future, Shaw is more focused on improving the technicalities of his own game instead of the potentials of receiving a full-ride scholarship.
"I'm looking to enjoy myself in the years to come and just play the type of football I know I can play."
The Salisbury team will feature two Grade 11 quarterbacks this season, Kasten Wayken and Kaleb Fehr.
Both players carry different skill sets which keeps opponents off their game but Kasten Wayken was the standout out of the two last season.
Finishing 4th overall with 865 passing yards, Wayken is looking to build on those numbers and find his way to the top of the Edmonton league.
With immense talent on the offensive line, Coach Fraser found it difficult to choose just one of his boys to represent the teams 'X' factor.
He puts Grade 11 player Tommy Walters fulfills the role as 'X' factor because of his high football IQ and his ability to play professionally despite his young age.
This past January, Walters played for Football Alberta U16's at the International Bowl in Texas.
Walters' is one of many players that Coach Fraser feels deserves the recognition, however he thinks these boys will show what their worth on the field.
"This group looks to surprise many opponents," Coach said.
Coming back from a winless season, a lot of pressure is on the offense to push the boundaries, score and win.
On defense, the Salisbury team have three defenders that are already ranked and are considered 'coming up' players.
Former junior player and linebacker, Preston Ball was awarded the Junior League MVP for his advanced skill in the minors. 
Coach Fraser is looking forward to turning this freshmen player into an elite athlete on the senior team all while still maintaining his success from last season.
Last seasons 'Rookie of the Year' recipient, Blake Munn is coming off a great season with 34 tackles and 3 sacks.
Although he had successes in 2016, the defensive back is glancing into 2017 with high hopes and expectations for his team.
"I look forward to being able to prove to everyone outside our locker room what we already know," Munn said.
With his mind set on playing football and studying Kinesiology at a post-secondary level, Munn is beginning to focus more on becoming the best person he can be versus being the best player on the field.
"I study and work hard so that I am prepared for any opportunities I may receive whether that be at the U Sport, NAIA, or NCAA level."
Munn will continue to be a Sabre for the next two seasons while under Coach Fraser who claims that his player will progress substantially as a sophomore/senior player.
Defensive back, Jake Taylor will be starting out his 2017 season in Football Alberta's U18 Top 100 player rankings.
Taylor is a leader in the off-season strength program and will expand that leadership onto the field in the fall.
The competition for next season will be high for the Sabres' team particularly when it comes to Edmonton's Harry Ainlay Titans.
In 2016, the Titans came in second place within the Carr division (7-1) stopped short by Bev Facey who conquered the entire league (8-0).
Coach Fraser believes the Titans have acquired many talented players and the depth in their roster will certainly be a challenge for his crew.
As it has stood since 1974, the Salisbury Sabres' are a group of young men built to believe in the team philosophy that the value of respect and the lesson of discipline can create champions.
Although last year was lacklustre, the Sabres' along with their coaching staff and families all believe this season will be less of an upset and more of a celebration.
"Football can and will take you places if you want it to. Train hard, eat properly and always be in a state of mind that allows you to focus on the game."

Salisbury Sabres (MEHSA – Carr Div. 1, Sherwood Park, AB)
Head Coach: Cam Fraser (23rd season)
#CFC50 Ranking: N/A
2016 Record: 0-6 (Lost in First Round Provincials against Bev Facey Falcons)
Key Returnees: Kyle Godina, Nolan Carwell, Ian McCullough, Tommy Walters, Tony Chabot, EJ Oyama, Skyler Saar, Caleb Komant, Joe Weisgerber
Key Losses: Justin Pearson. Nathan Laird, Adam Cooper
Number of Returning Starters – Offence: 24
Number of Returning Starters – Defence: 24
"X" Factor: Tommy Walters (Centre)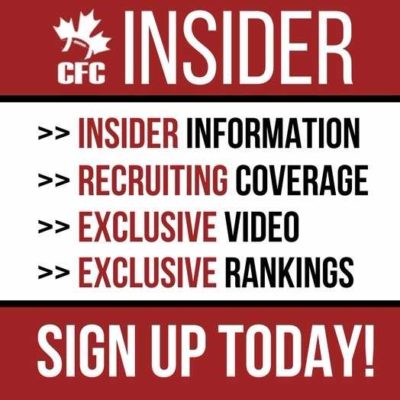 If you would like your high school team previewed, please contact 

[email protected]

.
CLICK HERE FOR 2016 FINAL CFC50 RANKINGS
How is the #CFC50 evaluated?
The #CFC50 rankings considers all conference and non-conference games (in Canada and the United States) while scrimmages are not evaluated (there is no such thing as an exhibition game – those are non-conference games).
Leagues included in rankings: British Columbia AAA Varsity, Alberta Tier One, Saskatchewan 12-man 4A, Manitoba AAA Varsity, Ontario OFSAA Bowl AAA qualified teams, Quebec Juvenile Division 1, New Brunswick 12-man, Nova Scotia Tier 1.
The #CFC50 is a relative ranking that considers top tier leagues from all eight high school playing provinces (minimum one team represented from each province). The CFC Scouting Bureau consists of CFC Reporters, CFC Scouts, and also selected local reporters and scouts who submit local ranking results on a weekly basis. This is the eighth year that Canadafootballchat.com has ranked the top high school teams in Canada.
Advocating for football prospects one story at a time.