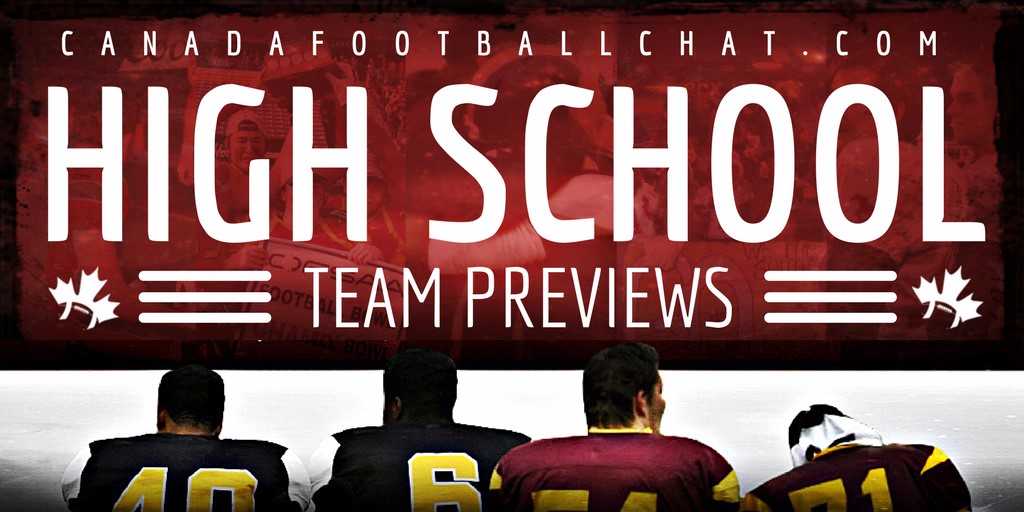 Leading up to the start of the high school season, we will be posting high school team previews from June to September as part of our comprehensive season coverage. Canadafootballchat.com (CFC) has tapped into our network of coaches to produce high school team previews for the 2017 season. The #CFCteampreviews highlight top returning players, team strengths, and toughest opponents.

CFC also will bring you the national high school football rankings known as the #CFC50. Last year's final rankings were the most controversial to date… and we heard about it. Whether you agree or disagree, we love hearing from you. For an explanation of how the rankings are computed, please scroll to the bottom of the page.
Sir Winston Churchill Bulldogs/Bowness Trojans (CSHSAA – Division 2, Calgary, AB)
In the last couple seasons, the Sir Winston Churchill Bulldogs have undergone some changes to the mechanics of their team.
First the Bulldogs absorbed the Bowness Trojans becoming what they are commonly known as the "Trodogs."
After the merge, the team played an undefeated regular season (9-0) and took home the Division 3 championship.
The players leveled up to Division 2 this past season which proved to be a challenge that ended their 2016 season with only a single win.

Returning Head Coach Michael Salter will come back for his fifth year to take his players for a run at the Division 2 Championship despite the lack of wins.
"We're hungry," Coach Salter says, "We've got a number of players looking to make their mark both as a team and as individuals."
A few players to look for on offense this upcoming season includes running back Colin Petrillo, guard Kobe Felder and receiver Jax White.
Petrillo has the ability to burst out of the pocket moving the chains down the field. With his size, it takes multiple defending players to bring him down.
After three years as a Bulldog, Felder will have the opportunity to step up as a senior player and make a big impact as an offensive unit.
A highlight on the field as well as Coach Salter's pick for 'X' factor is second year player Jax White.
"The fastest player I have coached in my time here," describes Coach. "He could score from anywhere on the field. His determination to succeed will bring others up a level."
White praises his coach for putting pressure on him to make him a better player and to become a leader on the field.
"In practice last year, [Salter] always made me practice like it was the fourth quarter where I had to make those crucial catches and blocks in clutch situations. Now I will never back down from those situations. He made me realize anything is possible."
Coming up to his final season, White has his eyes on the prize; a Usport contract as a receiver.
Even if a signing doesn't happen, White is determined to play his last season as a Trodog with full intensity and heart.
"A coach once told me, "When you play with your heart, you can never be wrong."
Logan Johnson will lead the squad as this years quarterback. With a wicked arm and fast footwork, the young player will up the Trodogs' ground game.
On defense, the team relies on David Burton as a playmaker on the field and a vocal presence on the sidelines. Salter claims, "you'll find [Burton] in the thick of every play."
Playing senior level football, Burton will take the 2017 season to not just play to his full potential, but show others their own as well.
"I expect myself to compete and dominate all over the field […] and to help share that with my teammates," Burton said.
One of those teammates, defensive lineman Dawn Essien, is making the leap from junior to senior ball this year which Coach Salter says will immediately improve the defensive line.
"His size and quickness will make him very difficult to block," Coach said.
Although the Trodogs will attack next season with a strong defence, the loss of CFC100 prospect Salim Fraser and team offensive leader Lance Fibke is a huge upset for the Bulldog roster.
Leading in rushing yards and receptions, Fibke is a powerhouse at the running back position and his spot next year will be a difficult one to fill.
Weighing in at 235 pounds, Salim Fraser is an explosive presence on the field known for creating big plays.
The defensive end was chosen to play in this years Alberta High School All-Star Game in Calgary and was also featured in the 2016 CFC All-Canadian 3rd team.

This upcoming fall, Fraser will be playing ball at the University of Calgary.
In terms of competition for next season, Salter is looking for his boys to redeem themselves after their quarter final loss against William Aberhart.
"St. Mary's and William Aberhart are always strong teams.  I think we will be the team to surprise people."
Leaning on the backs of the returning players, Coach Salter wants his group of players to step up and face Division 2 the same way they conquered Division 3.
The challenge to be a more cohesive team will continue to play out once they begin their season facing off against the Bishop Carroll Cardinals on home turf.
Sir Winston Churchill Bulldogs/Bowness Trojans (CSHSAA – Division 2, Calgary, AB)
Head Coach: Michael Salter (5th season)
#CFC50 Ranking: N/A
2016 Record: 1-5 (Lost to William Aberhart in Quarter Finals)
Key Returnees: David Burton, Jax White, Kobe Felder, Ben Belanger, Oskar Savage, Cam Willis
Key Losses: Salim Fraser, Lance Fibke
Number of Returning Starters – Offence: 4
Number of Returning Starters – Defence: 4
"X" Factor: Jax White (REC)
If you would like your high school team previewed, please contact 

[email protected]

.
CLICK HERE FOR 2016 FINAL CFC50 RANKINGS
How is the #CFC50 evaluated?
The #CFC50 rankings considers all conference and non-conference games (in Canada and the United States) while scrimmages are not evaluated (there is no such thing as an exhibition game – those are non-conference games).
Leagues included in rankings: British Columbia AAA Varsity, Alberta Tier One, Saskatchewan 12-man 4A, Manitoba AAA Varsity, Ontario OFSAA Bowl AAA qualified teams, Quebec Juvenile Division 1, New Brunswick 12-man, Nova Scotia Tier 1.
The #CFC50 is a relative ranking that considers top tier leagues from all eight high school playing provinces (minimum one team represented from each province).  The CFC Scouting Bureau consists of twenty-seven CFC Reporters, CFC Scouts, and also selected local reporters and scouts who submit local ranking results on a weekly basis.  This is the eight year that Canadafootballchat.com has ranked the top high school teams in Canada.
Join the conversation online #CFC50 #CFCteampreviews
Advocating for football prospects one story at a time.