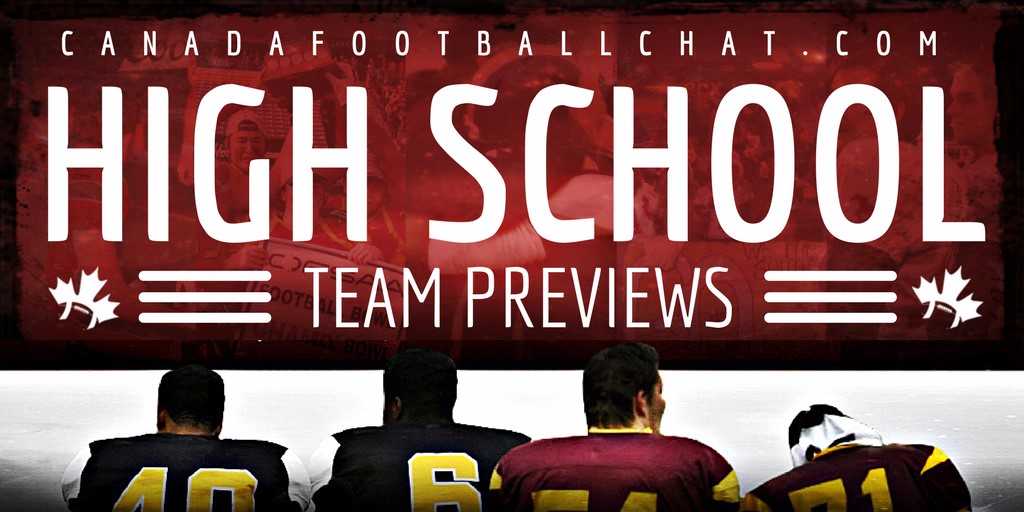 Leading up to the start of the high school season, we will be posting high school/Cégep team previews from June to September as part of our comprehensive season coverage. Canadafootballchat.com (CFC) has tapped into our network of coaches to produce team previews for the 2017 season. The #CFCteampreviews highlight top returning players, team strengths, and toughest opponents.
CFC also will bring you the national high school football rankings known as the #CFC50. Last year's final rankings were the most controversial to date…and we heard about it. Whether you agree or disagree, we love hearing from you. For an explanation of how the rankings are computed, please scroll to the bottom of the page.
Strathcona Lords (MEHSFL – Miles Div., Edmonton, AB)
The Strathcona Lords have their heads held high after going all the way last season when they won the Miles Championship. But they realize that "every team in the league" is coming after them.
"We will have a target on our backs," Shawn Irwin said.
There are a couple talented squads who will be good competition for the Lords.
"Teams on our schedule to watch are Paul Kane, who just moved down from the Carr Division, and perennial Miles powerhouse, McNally," he said.
The word that best describes their team is "family" and their motto is "get better each day."
The Lords expect to be strong offensively.
"We have a good mix of youngsters and veterans," Irwin said.  The offensive line will be a strength, so our offensive output should increase greatly from last year."
They have a bunch of players who will make a significant impact this season on both sides of the ball.
Offensively, Alberta U18 tackle Daniel Shin will lead their offensive line. At QB, "Grade 12 Isaac Hurtaud will lead the offence which has plenty of weapons, including University of Alberta commit, Adner St. Hilaire, who is one of the best receivers around."
Hurtaud has proven that he's a versatile QB.
"Isaac is mobile and has a lively arm," he said. "He has shown great leadership and likes to spread the ball around. He is a true double threat."
In terms of defence, they could face some challenges "after losing eight starters."
"The lone returner on the D-line is CFC100 lineman Jadon Williams," he said. "Big things are needed from him this year. Second-year LB Matt Fetter is the standard bearer for the D, he is always around the ball. The secondary is anchored by the other two returnees, S Trey Irwin and HB Lion Cameron, who both are ball hawks."
As for "X" factors, rookie RBs Cordae Hall and Caden Van Bevel fit the description.
"Through the first weeks of camp, they have both proven themselves more than capable," Irwin said.
On a negative note, the Lords lost some important players from last year's squad.
"Key losses include eight starters from defence, including team MVP from last year and current Edmonton Huskie Gabe Zaidi," he said.  "On offence, we lost team leader and QB Lucas Paniak to graduation, as well as both starting running backs from last year."
However, they do have some returnees who will be counted on.
"Returnees who will have to step up include D-lineman Jesse Neufeld, OLB Izak Williams and moving from FB to MLB is Logan Idler," Irwin said. "The return from injury for O-lineman James Sentell will help a lot. He and Calvin Phung will be rocks at the guard positions."
In total, the Lords have 27 returnees, 10 of which are starters.
Strathcona Lords (MEHSFL – Miles Div., Edmonton, AB)
Head Coach: Dallas Hartwell (3rd year)
2016 Record: 4-2
Key Returnees: DL Jesse Neufeld, OLB Izak Williams, MLB Logan Idler, OL James Sentell, Calvin Phung, QB Isaac Hurtaud
Key Losses: Gabe Zaidi, QB Lucas Paniak

If you would like your high school team previewed, please contact 

[email protected]

.
CLICK HERE FOR 2016 FINAL CFC50 RANKINGS
How is the #CFC50 evaluated?
The #CFC50 rankings considers all conference and non-conference games (in Canada and the United States) while scrimmages are not evaluated (there is no such thing as an exhibition game – those are non-conference games).
Leagues included in rankings: British Columbia AAA Varsity, Alberta Tier One, Saskatchewan 12-man 4A, Manitoba AAA Varsity, Ontario OFSAA Bowl AAA qualified teams, Quebec Juvenile Division 1, New Brunswick 12-man, Nova Scotia Tier 1.
The #CFC50 is a relative ranking that considers top tier leagues from all eight high school playing provinces (minimum one team represented from each province).  The CFC Scouting Bureau consists of CFC Reporters, CFC Scouts, and also selected local reporters and scouts who submit local ranking results on a weekly basis.  This is the eighth year that Canadafootballchat.com has ranked the top high school teams in Canada.
Advocating for football prospects one story at a time.