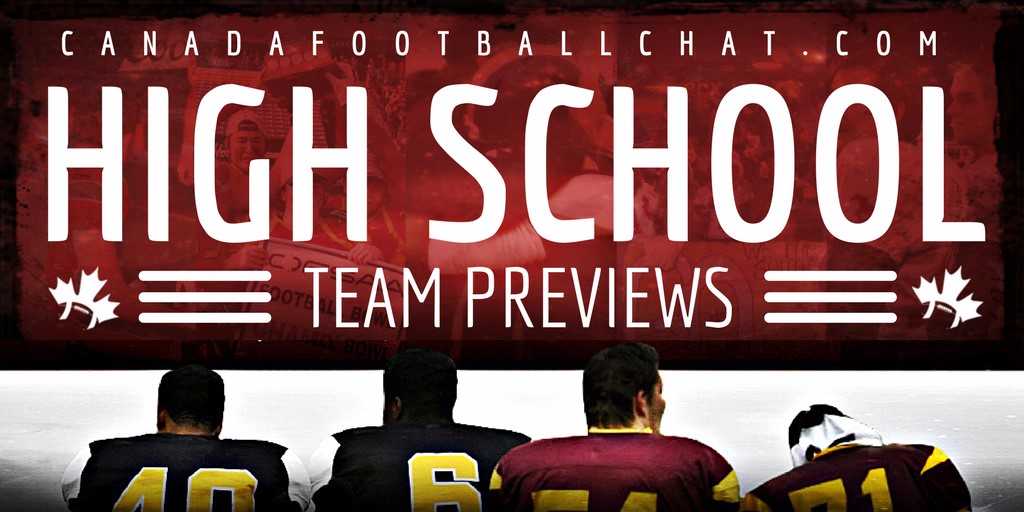 Leading up to the start of the high school season, we will be posting high school/Cégep team previews from June to September as part of our comprehensive season coverage. Canadafootballchat.com (CFC) has tapped into our network of coaches to produce high school team previews for the 2017 season. The #CFCteampreviews highlight top returning players, team strengths, and toughest opponents.
CFC also will bring you the national high school football rankings known as the #CFC50. Last year's final rankings were the most controversial to date…and we heard about it. Whether you agree or disagree, we love hearing from you. For an explanation of how the rankings are computed, please scroll to the bottom of the page.
Halifax West Warriors (NSSAF – Div 1. Nova Conf., Halifax, NS)
The division 1, tier 2 provincial champions last year will have their work cut out for them if they want to repeat their 7-3 2016 season. While they didn't go undefeated, their goals for this year are to continue to play solid football and compete with the top teams.
Co-head coaches, Dave Kelly will be returning for his 15th season, and Nick MacLeod who will be entering his 3rd season with the Warriors. With 30 players returning to the team for the upcoming 2017 season, there is a strong chance that they could be repeat champions, however, the competition for that spot hasn't gotten any weaker.
"I think the league will be very tight this year," said Coach Kelly. "Citadel will still be the team to beat, but I think CEC and CP Allen will also be strong."

While there are 30 returning players to the roster and a good group of 10th graders coming up in the ranks. Coach Kelly mentions some of these younger players.
"Conner Oake, Cody Kearly-Smith, Mikle Haidar, Cory Ross and Jordan Mussa are young players who are all playing provincial football this summer."
Offensively, quarterback, Liam Mcgrath will be called upon to lead this team on the field. He is a big, athletic QB who "loves to compete" according to his coach. Mcgrath will also be the "X-factor" for this team as where he goes, so will the O-line. Also look to 2nd year running back, Vid Feher who will lead the Warriors ground game and is a hard runner.
We asked Feher what he's looking forward to most this upcoming season and he replied, "The things I look forward to in the 2017 season is to defend the title we won in 2016 and to keep the reputation of the team as high as possible." He goes on to say that he thinks CFC50 ranked Citadel because they always have great players and never seem to disappoint with their performances.
"We always have a good game with them and overall we are good friends as players so it makes it a tough game to lose or win," he said. Feher personal expectations are to lead the team as much as possible. He wants to set a positive attitude and to reach his maximum potential as a high school player to hopefully play in university.
On the defensive side of the ball, defensive back, Niko Davies is a 1st team all-star and is very "solid" at both the pass and run game. Look for linbacker, Matt Piper, to bring his physical presense to the backfield and defensive end, Josh Wilson to lead the way. "Josh has a great motor and will get after the ball," said Coach Kelly.
How are they going to get all this done? By being "COMMITTED" said Coach Kelly.
"One word for our team would be committed because we have a group of players who work together to reach their goals."
Halifax West Warriors (NSSAF – Div 1 Nova Conf., Halifax, NS)
Head Coach: Dave Kelly (15th season), Nick MacLeod (3rd season)
#CFC50 Ranking: NR
2016 Record: 7-3 (Division 1, tier 2 champions)
Key Returnees: Liam McGrath, Vid Feher, Niko Davies, Matt Piper, and Josh Wilson
Key Losses: n/a
Number of returning starters: 30
"X" Factor: Liam McGrath

If you would like your high school team previewed, please contact 

[email protected]

.
CLICK HERE FOR 2016 FINAL CFC50 RANKINGS
How is the #CFC50 evaluated?
The #CFC50 rankings considers all conference and non-conference games (in Canada and the United States) while scrimmages are not evaluated (there is no such thing as an exhibition game – those are non-conference games).
Leagues included in rankings: British Columbia AAA Varsity, Alberta Tier One, Saskatchewan 12-man 4A, Manitoba AAA Varsity, Ontario OFSAA Bowl AAA qualified teams, Quebec Juvenile Division 1, New Brunswick 12-man, Nova Scotia Tier 1.
The #CFC50 is a relative ranking that considers top tier leagues from all eight high school playing provinces (minimum one team represented from each province).  The CFC Scouting Bureau consists of CFC Reporters, CFC Scouts, and also selected local reporters and scouts who submit local ranking results on a weekly basis.  This is the eighth year that Canadafootballchat.com has ranked the top high school teams in Canada.
Advocating for football prospects one story at a time.