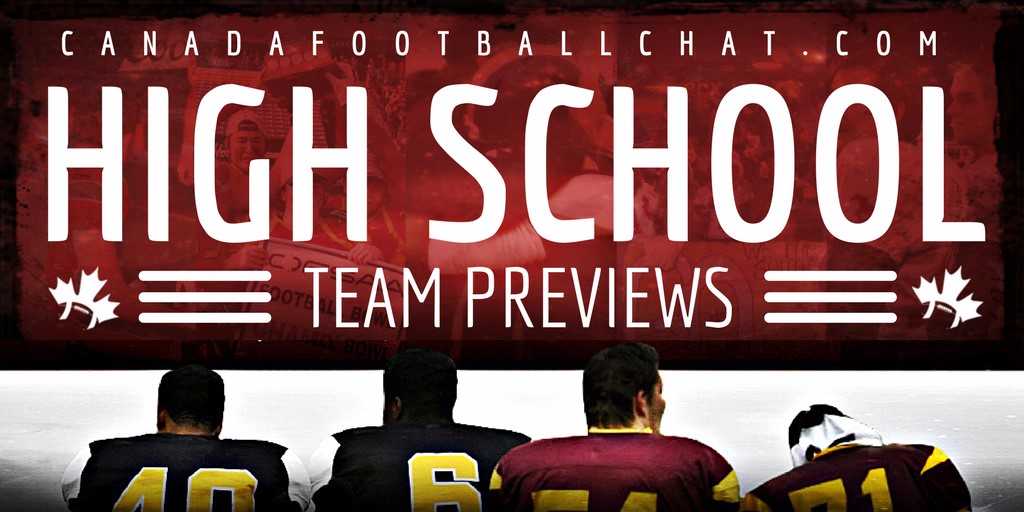 Leading up to the start of the high school season, we will be posting high school team previews from June to September as part of our comprehensive season coverage. Canadafootballchat.com (CFC) has tapped into our network of coaches to produce high school team previews for the 2017 season. The #CFCteampreviews highlight top returning players, team strengths, and toughest opponents.
CFC also will bring you the national high school football rankings known as the #CFC50. Last year's final rankings were the most controversial to date…and we heard about it. Whether you agree or disagree, we love hearing from you. For an explanation of how the rankings are computed, please scroll to the bottom of the page.
Kelowna Secondary Owls (BCHSFA – AAA Eastern Conf., Kelowna, BC)
They say that when you invest in something, make it so that it hurts – you feel the sacrifice. The sense of "ownership" is planted deep within creating the potential for something great. For head coach, Chris Cartwright of the Kelowna Owls, he is banking on this going into his second season with the Owls.
"Our goal is to build a team that is successful on and off the field this year. We expect to be competitive in our conference," he says. 

(Photo courtesy of Blaise Beauchemin – Kelowna Owls)
With a regular season record of 0-7 last year, Coach Cartwright isn't phased by his first season. He sees the potential and believes that they will very successful this year. In fact, "potential" is how he describes his team and wants his players to feel that they own the process of building this team up from the ground.
"As we are revamping our offensive and defensive systems, we strive to have a high tempo offense and an attacking defense," says Coach Cartwright when describing more specifically how his Owls will operate come the fall. He'll have to get his players to buy in from the start, though, as the AAA Eastern conference looks to be quite competitive this year as compared to the past. 
"All teams in our conference have the potential to be very successful this season. Terry Fox, traditionally, is a force in the conference and are the defending provincial champions. Lord Tweedsmuir is expected to be a force this year with the group of JVs coming up from a JV provincial championship," explains Coach Cartwright. 
While the Owls recorded 619 passing yards and 5 passing touchdowns, 566 rushing yards to go along with 3 touchdowns, and 576 receiving yards with 6 receiving touchdowns, they also had 302 total tackles, 9 sacks, and 3 interceptions defensively (BCHSFB).
This brings us back to the potential of a team that struggled last year. Even though they will be losing some key players, one of which, CFC100 Newton Benson who committed with the Manitoba Bisons for the 2017 season, they also lose Tyler Woloshyn, Braedon Klotzbach, and Cole Pederson. But, they also have some super key returning players in lineman, CFC100 Mitch Morgan, tight end, CFC100 Kyle Zakala, athlete Blaise Beauchemin, defensive back/running back, Quinn Large, and quarterback, Marcus Athans. 

With Athans starting at quarterback in spring camp, Coach says that they are expecting him to be their leader of offense this year. He was also the starter last year and will be entering his grade 12 year for the upcoming season. Tight end, Zakala, will be an "impactful" player on offense according to coach and athlete, Blaise Beauchemin will be a terror in multiple positions on offense.
Beauchemin could also be the Owls "X" factor as he is so dynamic from many spots on the field. "I am looking forward to building on my game and playing at the highest caliber of level," says Beauchemin. "I expect our toughest opponent to be Lord Tweedsmuir."
On defense, look for 6'5, 240-pound defensive end, Mitch Morgan to be a huge playmaker.
"He will be going into Grade 12 next year.  Last year was his first year playing football," says Coach Cartwright of Morgan. "All-round athlete who has worked really hard this off-season. We expect him to be a force on the defensive line."
"He (Large) will be going into Grade 12 next year.  We see a lot of potential for him to be a playmaker on defense. He is a leader on and off the field," states Coach Cartwright of defensive back/running back, Quinn Large.
"I'm ecstatic to expose teams with our new offence. I really think we have a strong receiving core and are going to put lots of points on the board," said Large when we asked him his thoughts on this upcoming season.
Large goes on to say that he expects Terry Fox will give them the hardest time as they have one of the strongest programs in the province.
"Although we didn't give them much of a game last year, we have the same mindset as them this time and can most definitely surprise them," he said. "For me, this year consists of being the top statistical player in all my positions on KSS. I'm putting work in offensively and defensively to achieve what I set out to do. This season is gonna be hype."
"The Eastern Conference is going to be really exciting to watch. Such a great opportunity for all players to compete," says Coach. "We are very excited to take what we learned last year and move forward to the 2017 season. We feel with the changes we have made to prepare, is going to be very beneficial."
Dig deep, invest, sacrifice, and own it! The "potential" is there and the Owls will get their chance to show that they can run with the rest of the ponies in the AAA Eastern conference.
Kelowna Secondary Owls (BCHSFA – AAA Eastern Conf., Kelowna, BC)
Head Coach: Chris Cartwright (2nd season as HC)
#CFC50 Ranking: n/a
2016 Record: 0-7 (regular season), 1-1 (non-conference)
Key Returnees: CFC100 Mitch Morgan (OL/DL), CFC100 Kyle Zakala (DL), Blaise Beauchemin (ATH), Quinn Large (DB/RB), and Marcus Athans (QB)
Key Losses: CFC100 Newton Benson, Tyler Woloshyn, Braedon Klotzbach, and Cole Pederson
Number of returning starters – Offense: TBD
Number of returning starters – Defense: TBD
"X" Factor: Blaise Beauchemin (ATH)
If you would like your high school team previewed, please contact 

[email protected]

.
CLICK HERE FOR 2016 FINAL CFC50 RANKINGS
How is the #CFC50 evaluated?
The #CFC50 rankings considers all conference and non-conference games (in Canada and the United States) while scrimmages are not evaluated (there is no such thing as an exhibition game – those are non-conference games).
Leagues included in rankings: British Columbia AAA Varsity, Alberta Tier One, Saskatchewan 12-man 4A, Manitoba AAA Varsity, Ontario OFSAA Bowl AAA qualified teams, Quebec Juvenile Division 1, New Brunswick 12-man, Nova Scotia Tier 1.
The #CFC50 is a relative ranking that considers top tier leagues from all eight high school playing provinces (minimum one team represented from each province).  The CFC Scouting Bureau consists of CFC Reporters, CFC Scouts, and also selected local reporters and scouts who submit local ranking results on a weekly basis.  This is the eighth year that Canadafootballchat.com has ranked the top high school teams in Canada.
Join the conversation online #CFC50 #CFCteampreviews

Advocating for football prospects one story at a time.