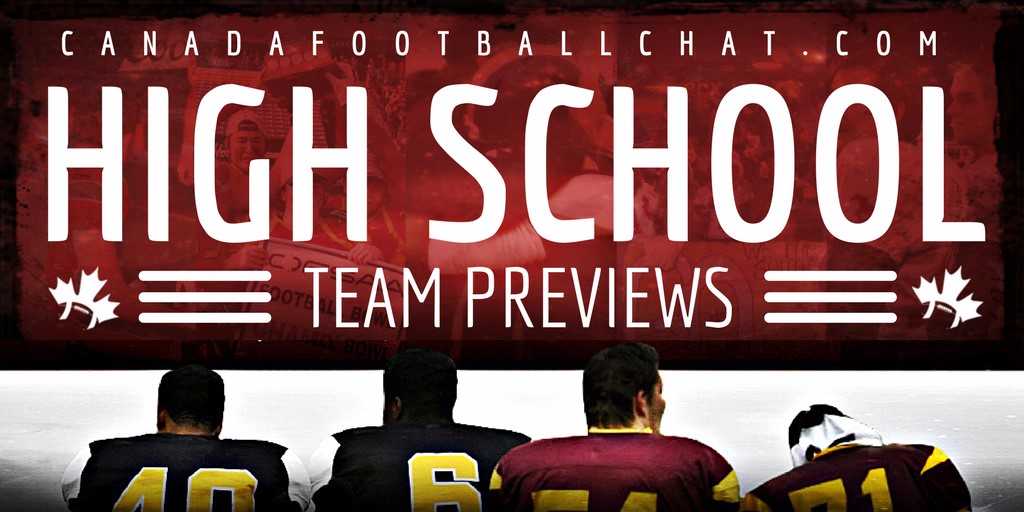 Leading up to the start of the high school season, we will be posting high school team previews from June to September as part of our comprehensive season coverage. Canadafootballchat.com (CFC) has tapped into our network of coaches to produce high school team previews for the 2017 season. The #CFCteampreviews highlight top returning players, team strengths, and toughest opponents.
CFC also will bring you the national high school football rankings known as the #CFC50. Last year's final rankings were the most controversial to date…and we heard about it. Whether you agree or disagree, we love hearing from you. For an explanation of how the rankings are computed, please scroll to the bottom of the page.
Ecole L'Odyssee Olympiens (NBHSFL – 12-man div – Eastern Conf, Moncton, NB)
When the greater Moncton, and outlying areas only French High School's population grew past 1000, the Province built the area's second French High school, Ecole L'Odyssee in Moncton. Along with excellence in academics, the new school also strove to provide competitive athletic programs, including a football team.
With every new program comes a grace period to become established. That being said, French Canadians take their football very seriously, and the students, coaches and parent's of L'Odyssee are no different.
By in 2014, less than ten years after forming a team, the Olympiens dominated New Brunswick's 10-man league, winning the Provincial title by more than 60 points. Hungry for more the team opted to play the next season against schools, with larger populations, in the provinces 12-man Division.
"It was voluntary to go up, the kids wanted more competition", recalls new co-head coach Marcel Metti, "We didn't have the greatest trend of football, we were only ten years old and had not had the best success per say, so for us to have a successful season in ten man, and them wanting to go up shows the development of the program".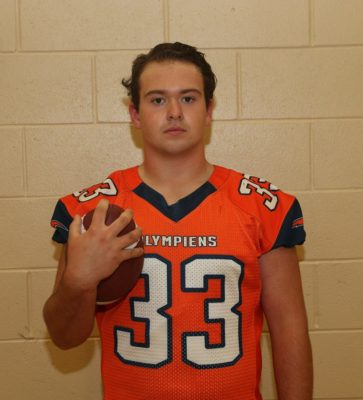 Graduating senior Davis Stenhouse, a junior when they won the championship recalls the transition from ten man to twelve:
"Winning was something really special, we had worked hard about it, and talked about it. Every team has that goal, but for us it was a really big goal. Our coaches told us if we went out and competed and won a championship we could go up, we wanted to go up, so decided to get it done."
10-man football is NB is every bit as competitive and embraced by those who play it and follow it, but Stenhouse did notice a difference.
"Ten man is awesome, it's exciting; it's football, but twelve man was more competitive. Both have great athletes, it's just at a different level. These guys are really competing, and there's more on the field trying to get to next level football than guys who were just playing high school football," he said.
Their first season in the province's Eastern Conference ended in a first round loss to one of the divisions oldest programs, the Riverview Royals. The two teams met again in the 2016 quarter final, this time with the Olympiens beating the Royals. They went on to play Leo Hayes in the semi final, a game which they lost on the score board.
"This year our goal as graduates was to win a championship, not to get to the play offs and see what happens. Unfortunately we didn't, but we made the semis, and that's the first time our school has done that. It sucked we didn't win, but at the same time we made it further than anyone before us," said coach.
With the end of this season came the realization the team was going to lose several key players, including: QB David Patry, CFC100 OL Charles Lavallee and utility player Davis Stenhouse.
Coach Metis reflected: "Losing our QB, Patry is substantial. It's tough to replace a kid with that much talent, his eyes for the game, his flow on the field and his leadership is going to be hard to replace. Stenhouse played both OL and DL and was a specialist as well, he was the hype that never stopped, it was easy for the kids to build around his emotions, he was bitten by the sport and that's hard to replace."
The other key offensive threat the team lost to Mount Alison University was guard, Charles Lavallee, a beast on the field who was admired by all who knew him.
An analysis of the 2018 squad seemed bleak to coaches, with only 7 seniors, 8 sophomores and 21 grade 10's returning. Realizing it would be a challenge to find appropriate positions for their athletes, coaches presented the team with yet another decision: remain in the 12-man division, or return to 10-man where they could potentially have more success.
"With key losses, we gave them the option to return to 10 man and go for the banner, or stay in 12 man and juggernaut the season out. We're here to coach the sport and will follow what the kids want."
The team unanimously decided to remain where the were and continue developing their young program as a legitimate threat in the 12 a side version of the game.
Along with the loss of key players the Olympiens, long time head coach Jonathan Diodatti, resigned from his position. Defensive coordinator Marcel Metis and offensive coordinator Kris Kennedy are sharing the many duties of the head coaches position.
Metis started with the team in 2004 as an equipment and team manager, and eventually gained the trust and knowledge to coach the linebackers. After taking some time off to attend university, Metis returned to the team where he eventually ran the defense.
Metis is already finding out the extra work that comes with running a team, but is "embracing the challenge" while remaining the teams DC. The Olympiens run a hybrid 3-4, and a traditional 4-3 in some situations.
"I like to play the edges a lot. I don't think there's one play we don't blitz", lauged Metis, "for the most part we run a zone coverage, but I love to send the heat." To succeed with this style of defense, coach Metis is aware the team needs a "good lock down DB unit, and a solid core up front" will allow them to run the 3-4 solidly.
"We have 3 solid D linemen: Jeremy Bujolb, Ben Frew and Justin LeBlanc who will give us a strong interior core to help us be strong against the run. We're still in the discovery mode at DB, we're looking for athletes to cover the edge right now"
The team's linebacking core had a significant lose with Steve Richard's graduation, but feel confident in his replacement, Andre Hyflop's, potential to control the middle of the field.
"Richard was a shut down LB, he made clean solid hits. You could put him on anyone, and that person would make sure they didn't have the ball, we're going to miss him for sure. Hyflop is a kid who studies the game, he brings us schemes before you know what you're going to do, his IQ is something special. He's keen on his hard fundamentals and loves the contact and plugging the middle," said coach Metis.
With last season's offensive talent, the Olympiens ran an option offense. Patry at QB, and the OL components on the team had made this a viable offensive strategy. Metis recalls that Patry was "competent at reading the field, and knew when to pull or not to pull".
Offensive coordinator Kris Kennedy and his assistants are still in the development phase of their new play book, which will take more shape during their camp. Along with losing their quarterback and key line assets, the teams two running backs have opted out of their senior season to pursue other ventures. With these losses, and not having much time to assess potential replacements the teams play book remains a "work in progress".

One task at hand for the Olympiens is to find a new QB. Presently they are assessing Devon Niles, a Junior, at the new signal caller.
"Devon is very solid, he works harder off the field than on. I'm not sure how he's going to do at the position, he started at WR in grade nine, which means something in 12 man football. He's the size of his brother who's in grade 12, he runs faster than anyone on our team, and has a solid arm."
With the development of a new QB comes the need to protect him. Coach Metis is confident in the ability of grade 11 lineman, Dale Deo Precieux.
"He's a solid mass of a kid who's up to filling Charles' shoes. He's up to filling those tasks, and goes above and beyond with the off field work. He's a solid blocker, and has quick hands and feet for someone his size, he's a big force to be messing with"
Another offensive threat Metis is excited to see develop is HB/WR Benois Cormier, a super athletic option who is "built like an adult in the twelfth grade".
Overall, Coaches Metis and Kennedy aren't changing too much in their inaugural season. Their goal for the year is of course to win the provincial championship, which Metis recognizes will require an all hands on deck approach.
"It will take a lot of commitment from our kids and coaches to get it. Our main goal is to make everyone mesh together form our new coaching staff to our young team, big class of grade tens, try to build a decent culture for the future of the program."
To achieve this, Coach Metis believes the mortar to solidify the program will come from unity. "If I can make all my kids believe in a system, whether we're winning or losing, so long as everyone believes in it, then that's success on our end."
The road to maintaining and enhancing the Olympien's young program, and to chasing the dream of winning a 12 man crown for their school does require the team to win against some tough competition in their division.
The teams biggest game of the regular season will be at their annual L'Acadia bowl, where they battle the areas other Francophone school, the Mathieu Martin Matador's.
"This game has the most crowd base and biggest hype. They empty both schools, it's quite a thing to see."
This isn't the game Coach Metis is most looking forward to. He, along with every player I've interviewed thus far, are counting down the days until they can take another shot at the undefeated, two time champion, CFC50 ranked Tantramar Titans.
"Our goal is to get to the number one spot, to have redemption for last year, and to do that you've got to beat the best, and that's Tantramar."
Ecole L'Odyssee Olympiens  (NBHSFL – 12-man division, Moncton, NB)
Head Coach(s): Co-head coaches Marcel Metis, Kris Kennedy
#CFC50 Ranking: n/a
2016 Record: 4-1-2
Key Returnees: Jeremy Bujolb, Ben Frew, Justin LeBlanc, Andre Hyflop, Dale Deo Precieux,
Benois Cormier
Key losses: QB David Patry, CFC100 OL Charles Lavallee, and utility player Davis Stenhouse, LB Steve Richard
Number of returning players: 7 seniors, 8 sophomores and 21 grade 10's
"X" Factor: n/a
If you would like your high school team previewed, please contact 

[email protected]

.
CLICK HERE FOR 2016 FINAL CFC50 RANKINGS
How is the #CFC50 evaluated?
The #CFC50 rankings considers all conference and non-conference games (in Canada and the United States) while scrimmages are not evaluated (there is no such thing as an exhibition game – those are non-conference games).
Leagues included in rankings: British Columbia AAA Varsity, Alberta Tier One, Saskatchewan 12-man 4A, Manitoba AAA Varsity, Ontario OFSAA Bowl AAA qualified teams, Quebec Juvenile Division 1, New Brunswick 12-man, Nova Scotia Tier 1.
The #CFC50 is a relative ranking that considers top tier leagues from all eight high school playing provinces (minimum one team represented from each province).  The CFC Scouting Bureau consists of CFC Reporters, CFC Scouts, and also selected local reporters and scouts who submit local ranking results on a weekly basis.  This is the eighth year that Canadafootballchat.com has ranked the top high school teams in Canada.
Join the conversation online #CFC50 #CFCteampreviews

Advocating for football prospects one story at a time.