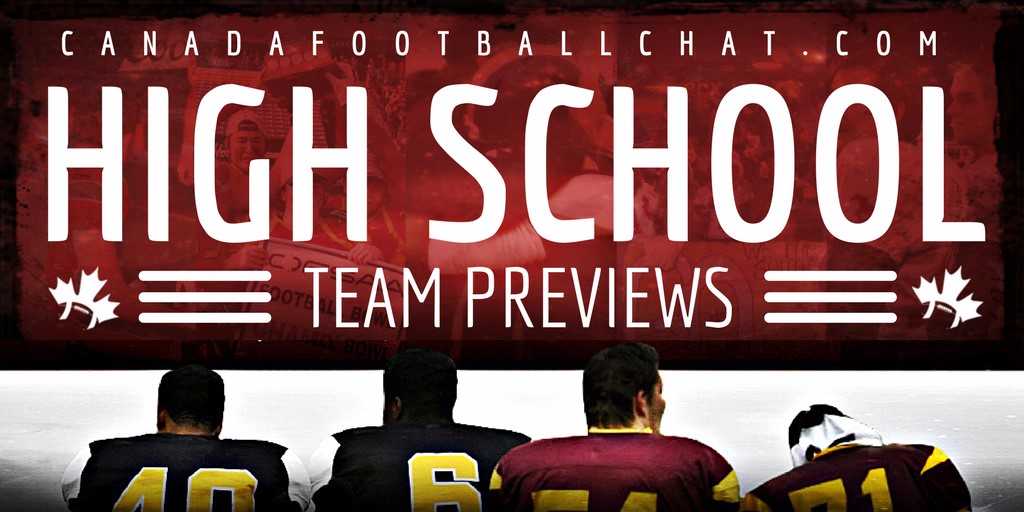 Leading up to the start of the high school season, we will be posting high school team previews from June to September as part of our comprehensive season coverage. Canadafootballchat.com (CFC) has tapped into our network of coaches to produce high school team previews for the 2017 season. The #CFCteampreviews highlight top returning players, team strengths, and toughest opponents.
CFC also will bring you the national high school football rankings known as the #CFC50. Last year's final rankings were the most controversial to date…and we heard about it. Whether you agree or disagree, we love hearing from you. For an explanation of how the rankings are computed, please scroll to the bottom of the page.
Northeast Kings Education Center Titans (NSSAF – Div II, Canning, NS)
While they may be in the smallest football playing province in Canada, they definitely have one of the biggest hearts. The Northeast Kings Education Center Titans (NKEC), plays in division 2 of the NSSAF and is going after Central Kings (reigning provincial champions) this upcoming season with a vengeance.
"CK is the team to beat; they're the defending champs. They are a great program, a great team with a good coaching staff. We have a saying, if you want to be the best you have to beat the best and right now, they are the best," said defensive coordinator for the Titans, Andrew Hartnett.
"We always go into each year expecting them to have a good team because they like to maintain a standard of success. We have a great rivalry going on with them; we've faced each other the last three years in the Provincial final. I expect us to have another great head to head matchup this year."

'Tenacious' is the word that the Titans are going to be focusing on this year as they go into the new season.
"We never give up. We always battle and we make sure they all know we are here," commented Coach Hartnett. "Hopefully, we can repeat our past successes and make another deep playoff run. Each year we strive for the kids to play the type of football we coach them to play so if we can succeed in doing that, whatever happens throughout the season is a bonus."
Coach goes on to say that every week is going to be anyone's game. There are no guarantees.
"We like to refer to it as the NASCAR division; even though we only have 6 teams each team is even and very competitive. With only the the top four teams making the playoffs every year, it's a battle and it makes the regular season worth playing for," he explained further.
In addition to Central Kings, Millwood is looking to step up as well as they have a good core of players returning and pretty good coaching staff. Also, Avon View will be another force to reckon with as well as JH Gillis. West Kings will have improved for this next season as well. Coach Hartnett is looking for his team to play tough against all these teams.
Let's look ahead to this season and who is going to be the players to watch and who won't be stepping on the field for 2017.
"We have a good core returning to us this year, kids that have been in the program since grade 9 – 10 and are ready to take that next step. Logan Potter (DE, RB – J), Logan Scott (O-DL – J), Dyton Blackett (QB, LB – S), Ethan Golding (O-DL – S), Alex Pineo (O-DL- S) Zack Kaiser (SB, HB – S) are all returning and will be a year better," said Coach Hartnett. "We keep our O Line intact, where we have Scott, Pineo, Golding, Hazen Keizer, Bryce Robar, Ian McClellan and Andrew Keddy returning so we're looking forward to big things from them."
11th grader, offensive lineman, Logan Scott, is described as the "difference maker" on the O-line. He's a big, strong, athletic player with a great attitude for the game according to Coach. Running back, Logan Potter, is another offensive player who is a threat to take it to the house every time he touches the ball. He's a powerful runner who likes to "punish tacklers". Receiver, Zack Kaiser, should solidify the outside run and passing game and will be used significantly in the Titans red zone offense.
Scott said that he is looking forward to bonding with new teammates and reconnecting with old ones. Of course he wants to also win the provincial banner. With his personal expectations for the season is to give 100% for his team and do whatever he can to put them in a better position to win, he knows they have some tough competition.
"Our toughest opponent will defiantly be central kings, we've met them at the finals for the last 3 years and they always have a good team and play with a lot of pride," he commented.
To lead this offense is quarterback/linebacker, Dyton Blackett, who is expected to have a solid year. Because he is going into his senior year, the coaching staff will be looking to identify a younger player to take over for Blackett at the quarterback spot and will get to see some playing time. Blackett also plays linebacker and will be a "formidable presence" to the backing core.
Defensively, Potter will also be the athlete that other teams are going to have to pick out and identify on every play. He lines up all over on defense and will be a difference maker. Also look for defensive lineman, Alex Pineo, who is described by coach as "a great three tech with quick first step, and comes with an attitude". With a non stop motor, he apparently likes to wreak havoc.
Potter believes that their toughest opponent next year will probably be Central Kings.
"I think this because for the past two years of me playing on this team it has always been us and central kings who are the top teams in this league" he said. "I'm really looking forward to stepping up as a leader on my team and this year I will be playing different positions which will be fun."
With the team characterized as a "run first" offense, they will look to establish their presence early and force the other team to adjust to what they do.
"We rely on our O line for strong, physical play to dictate the tempo of our offense," said Coach Hartnett. Defensively, NKEC plays smash mouth football and are known to be very physical. If you want to see big hits and old school football, you'll want to watch this team for the upcoming season.
Unfortunately, there will be some players that you won't be seeing run on to the field this season. Coach Hartnett said;
"We had a high turnover rate this year of seniors. We lost a kid that has played for us for the last 7 – 8 years from peewee, up, Kier Frank Rogers. Griffin Abbott, our starting tailback and corner moved on as well as Darren Higgins, a kid we had since grade 9. Jordan Simon, our QB the last two years and also a kid we had since grade 9 has moved on. Both played an integral part in our offense and defense," he explained. "On our backend, we lost Kelvin Upshaw, arguably one of the hardest hitters we've had. It's a big loss, but one you expect. Being on the three year cycle prepares you for situations such as this."
The team doesn't have any one player as their "star" as they don't like to single anyone out. The coaching staff reinforces their "team" philosophy and stress that it's a team game and that all players are equally important to the success of the Titans. While there are several different players that could make a difference for NKEC, it is as a whole that this team will be in order to get back to the provincial championship game.
Coach Hartnett finished by saying, "We expect another exciting season from the best division in NSSAF football."
Northeast Kings Education Center Titans (NSSAF – Div II, Canning, NS)
Head Coach: Reg Ogilvie (5th season)
#CFC50 Ranking: NR
2016 Record: 7-3 (includes playoffs – reached provincial final, lost to Central Kings)
Key Returnees: Logan Potter (DE, RB – J), Logan Scott (O-DL – J), Dyton Blackett (QB, LB – S), Ethan Golding (O-DL – S), Alex Pineo (O-DL- S) Zack Kaiser (SB, HB – S)
Key Losses: Kier Frank Rogers, Griffin Abbott, Darren Higgins, Jordan Simon, Kelvin Upshaw
Number of returning starters: 14
"X" Factor: n/a
If you would like your high school team previewed, please contact 

[email protected]

.
CLICK HERE FOR 2016 FINAL CFC50 RANKINGS
How is the #CFC50 evaluated?
The #CFC50 rankings considers all conference and non-conference games (in Canada and the United States) while scrimmages are not evaluated (there is no such thing as an exhibition game – those are non-conference games).
Leagues included in rankings: British Columbia AAA Varsity, Alberta Tier One, Saskatchewan 12-man 4A, Manitoba AAA Varsity, Ontario OFSAA Bowl AAA qualified teams, Quebec Juvenile Division 1, New Brunswick 12-man, Nova Scotia Tier 1.
The #CFC50 is a relative ranking that considers top tier leagues from all eight high school playing provinces (minimum one team represented from each province).  The CFC Scouting Bureau consists of CFC Reporters, CFC Scouts, and also selected local reporters and scouts who submit local ranking results on a weekly basis.  This is the eighth year that Canadafootballchat.com has ranked the top high school teams in Canada.
Join the conversation online #CFC50 #CFCteampreviews

Advocating for football prospects one story at a time.