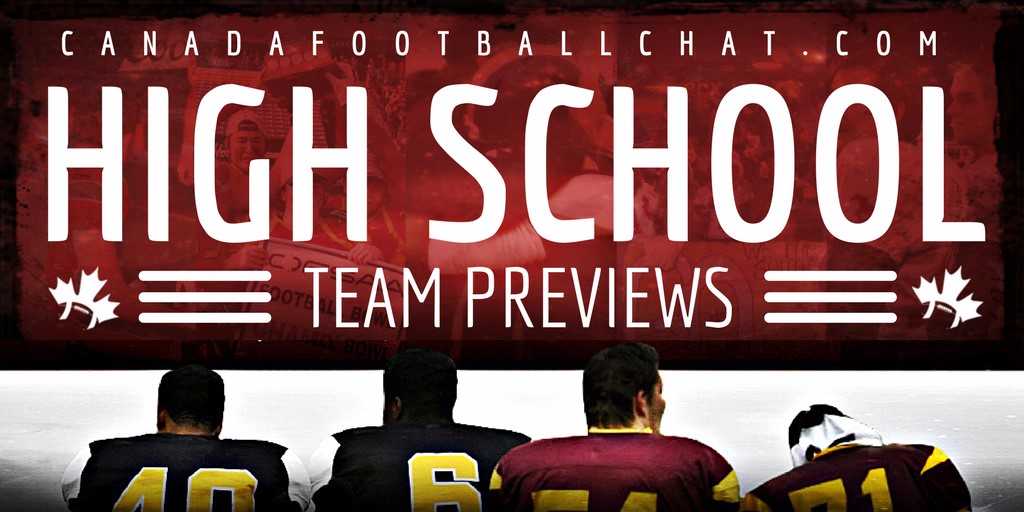 Leading up to the start of the high school season, we will be posting high school/Cégep team previews from June to September as part of our comprehensive season coverage. Canadafootballchat.com (CFC) has tapped into our network of coaches to produce team previews for the 2017 season. The #CFCteampreviews highlight top returning players, team strengths, and toughest opponents.
CFC also will bring you the national high school football rankings known as the #CFC50. Last year's final rankings were the most controversial to date…and we heard about it. Whether you agree or disagree, we love hearing from you. For an explanation of how the rankings are computed, please scroll to the bottom of the page.
Bluevale Collegiate Institute Knights (WCSSAA – Div. 1, Waterloo, ON)
Co-head coaches, Chris Wolf and Kevin Moogk will be looking to get their team into the playoffs this year.
With a record of 4-4 last season, they lost in the quarter finals of the Waterloo County Secondary School Athletics Association. It's not being in the Division 1 league as they have the likes of CFC50 ranked Jacob Hespeler and SJAM to contend with.
In the ten years that Coach Wolf has been with the program, he says that he is heading into this upcoming season with an open mind.
"Continue to improve both individually and collectively as a group, and make the A Playoffs (see where the season will go)," he explained. 
The Knights will be returning six players on offence and six players on defense. This will help to keep the team "competitive" which is how Coach Wolf is describing his team for the season.
Both Andrew Regier and Ryan Berkin won't be back next year, however, they will have Drew Ferguson, Garret Reid, Luke Horst, Kyle McNee, and Jordan Schmidt back.
We spoke with Jordan Schmidt who told us that he tore his ACL this spring and doesn't think that he will be playing this upcoming season as he won't be finished his rehab in time.
"But, I'm looking to get strong and fast recovery so when I come back for my 5th year, I will be faster and stronger then ever," he said. 
Schmidt goes on to say that he believes his team has a lot of talent.
"We have a lot of great athletes who are willing to put in work."
While the Knights run a balanced attack on offense with a variety of formations, they do either a 4-3 or 3-4 on defense depending on their strategy.
In addition to the returning players to watch listed above, Coach Wolf says look out for Maverick Venter who he says could have the potential to be the team's "X" factor this year.
"[He's] a dynamic playmaker at multiple positions on the field," says Wolf of Venter. 
Bluevale Collegiate Institute Knights (WCSSAA – Division 1, Waterloo, ON)
Head Coach: Chris Wolf (10 years), Kevin Moogk (4 years)
#CFC50 Ranking: n/a
2016 Record: 4-4 (lost in quarter finals)
Key Returnees: Drew Ferguson, Garret Reid, Maverick Venter, Luke Horst, Kyle McNee, Jordan Schmidtt
Key Losses:Andrew Reiger, Ryan Berkin
Number of returning starters: 12
"X" Factor: Maverick Venter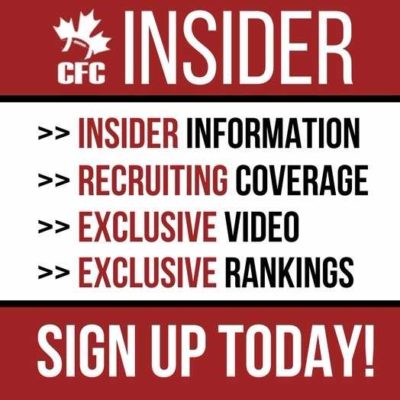 If you would like your high school team previewed, please contact 

[email protected]

.
CLICK HERE FOR 2016 FINAL CFC50 RANKINGS
How is the #CFC50 evaluated?
The #CFC50 rankings considers all conference and non-conference games (in Canada and the United States) while scrimmages are not evaluated (there is no such thing as an exhibition game – those are non-conference games).
Leagues included in rankings: British Columbia AAA Varsity, Alberta Tier One, Saskatchewan 12-man 4A, Manitoba AAA Varsity, Ontario OFSAA Bowl AAA qualified teams, Quebec Juvenile Division 1, New Brunswick 12-man, Nova Scotia Tier 1.
The #CFC50 is a relative ranking that considers top tier leagues from all eight high school playing provinces (minimum one team represented from each province).  The CFC Scouting Bureau consists of twenty-seven CFC Reporters, CFC Scouts, and also selected local reporters and scouts who submit local ranking results on a weekly basis.  This is the eight year that Canadafootballchat.com has ranked the top high school teams in Canada.


Advocating for football prospects one story at a time.