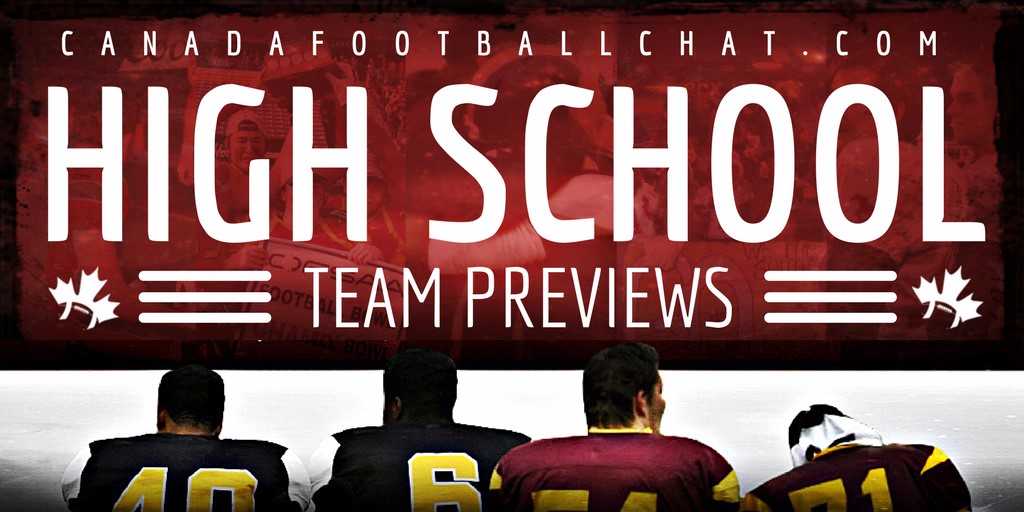 Leading up to the start of the high school season, we will be posting high school team previews from June to September as part of our comprehensive season coverage. Canadafootballchat.com (CFC) has tapped into our network of coaches to produce high school team previews for the 2017 season. The #CFCteampreviews highlight top returning players, team strengths, and toughest opponents.
CFC also will bring you the national high school football rankings known as the #CFC50. Last year's final rankings were the most controversial to date…and we heard about it. Whether you agree or disagree, we love hearing from you. For an explanation of how the rankings are computed, please scroll to the bottom of the page.
Robert Bateman Timberwolves (BCHSFA-AA Eastern Conference)
The Robert Bateman Timberwolves will be back at it with Head Coach, David Mills, at the helm. Entering his second season as head coach, he was co-head coach for 2014 and 2015, but has been with the program since day one in 2010.
For the 2016 season, Bateman had 100 yards passing, 3 touchdown passes to 8 interceptions, 818 rushing yards to go along with 5 rushing touchdowns, as well as 100 yards receiving with 3 touchdowns. Defensively, they reported 184 tackles, 3 sacks, 3 fumble recoveries, 8 interceptions, and 2 defensive touchdowns (BCHSFB).
This year's team will return six players on offense and six players on defense. Some of those losses include linebacker Dawson Davis, who committed to York earlier in the year, lineman Greg Poirier and quarterback/safety, Aiden McDonald.

They will be bringing some key returnees in running back/linebacker, Brock McCartney, receiver/defensive back, Dylan Roach, and running back, Braeden Verleur.
For the Timberwolves, they haven't stuck to one main system year after year on offense. They evaluate who their personnel are and then work the play book around that.
"Offensively we have done a lot of things over the past few years and a lot has been dictated by our personnel.  When we had Justin Douglas (team Canada Rugby Sevens) and then Ben Cummings (current UBC RB) running the ball for us, we were an 'I' formation team," Coach Mills explained. "We then went to a single back spread for a couple years and in 2016 we went old school with the flexbone triple option. For 2017, we are looking to be more of a single back team, with a 50/50 run-pass balance."
Defensively, they will run a 3-4 which they have done the past couple of years.
It will be on the shoulders of pivot, Logan McDonald to get his team on the board. This young athlete is going into grade 11, but is a "really smart kid with a good arm and has a great work ethic".
"We are really looking forward to him leading out Varsity team for the next two seasons," says Coach Mills.
McDonald is also looking forward to next season and compete. "I love the intensity and atmosphere of the game. We should have a talented and well rounded team next year, so I'm looking forward to seeing how well we do," he says. "I expect to improve my knowledge of the game and get a better football IQ and continue to improve in all aspects of this game. Also, as a leader I expect Bateman to reach our top potential this season and continue to build our program and get closer to a provincial championship."
Other offensive players to keep your eye on are running back Dylan Roach who coach says is a good route runner with good hands. "We are looking for Dylan to be an impact player for us on offense this year," comments Mills.
Defensively, defensive end/linebacker Tanner Duncan will be a great addition to have back since he missed most of the 2016 with an injury. Defensive back, Sam Davenport, will also be expected to have a big year on both sides of the ball.
"Davenport is a 3 sport athlete at Bateman. Very athletic with a great work ethic and attitude, we are expecting a big year from him on both sides of the ball," says Coach Mills. 
The "X" factor for the Timberwolves is Isaiah Peters, a receiver/defensive back who is entering his second year of playing football and is dynamic on both sides of the ball. Coach Mills believes that Peters is going to develop "tremendously" over the next two years.
Peters says, "The thing I looking forward to the most about football is playing with my great teammates and just being in the football atmosphere." He thinks his toughest opponent this year will probably be G.W Graham. In order to prepare for Graham and all their opponents this upcoming season, Peters will be working on his hands, footwork, and working out for the summer.
"My personal outcome for this season is to become more of a leader on and off the field, also giving my 110% in practices and games," he says.
Peters also recently competed in the Fox 40 Prospect Challenge – West Coast and played very well for his first time at the #CFCFPC.
TD team east 14-19. Isaiah Peters making the catch. 40 sec left in the game #CFCFPC @BCHSFB

— CanadaFootballChat (@chatfootball) May 13, 2017
Looking to the season, Coach Mills believes that their toughest opponent will be Abbotsford Senior who will be the team to beat, not only in their conference, but overall in AA.
"Seeing how well they did in AAA last year and the fact that they are returning one of the best running back's in the province makes them a heavy favorite in my book," comments Coach Mills. He goes on to say, "SRT had a strong junior team last year so I am looking for them to be tough in their return to AA Varsity."
Bateman's quarterback has differing opinions from his coach on this as he says, "I think our biggest opponent would be Seaquam Secondary because they were AA provincial champions last year and have some talented returning players". 
But he adds, "We will be well prepared because we will be able to match up against any team and use our versatility. There will be lots of practice, film, and preparation needed".
Regardless of who is thought to be the toughest opponent, both coaches and players will be working to surpass all their opponents and hoist the trophy over their heads come December.
*UPDATE (June 23, 2017) – Since this article was written, Isaiah Peters sustained a spinal chord injury during spring camp and will not be returning to contact sport. According to his head coach, David Mills, it was explained to him that there is a good prognosis of him playing sport again once he has had the appropriate time to recover as he was a basketball and track athlete as well. Unfortunately, contact sport in the future, of any kind, will not be possible for Peters. (This information was provided by Coach Mills, Robert Bateman Football)
Robert Bateman Timberwolves (BCHSFA-AA Eastern Conference)
Head Coach: David Mills (2nd season as HC)
#CFC50 Ranking: n/a
2016 Record: 2-3 regular season (4-5 overall), lost in 1st round of playoffs
Key Returnees: Brock McCartney (RB/LB), Dylan Roach (WR/DB), Braeden Verleur (RB)
Key Losses: Dawson Davis (LB), Greg Poirier (OL/DL), Aiden McDonald (QB/S)
Number of returning starters – OFFENCE: 6
Number of returning starters – DEFENCE: 6
"X" Factor: Isaiah Peters (WR/DB)
If you would like your high school team previewed, please contact 

[email protected]

.
CLICK HERE FOR 2016 FINAL CFC50 RANKINGS
How is the #CFC50 evaluated?
The #CFC50 rankings considers all conference and non-conference games (in Canada and the United States) while scrimmages are not evaluated (there is no such thing as an exhibition game – those are non-conference games).
Leagues included in rankings: British Columbia AAA Varsity, Alberta Tier One, Saskatchewan 12-man 4A, Manitoba AAA Varsity, Ontario OFSAA Bowl AAA qualified teams, Quebec Juvenile Division 1, New Brunswick 12-man, Nova Scotia Tier 1.
The #CFC50 is a relative ranking that considers top tier leagues from all eight high school playing provinces (minimum one team represented from each province).  The CFC Scouting Bureau consists of twenty-seven CFC Reporters, CFC Scouts, and also selected local reporters and scouts who submit local ranking results on a weekly basis.  This is the eight year that Canadafootballchat.com has ranked the top high school teams in Canada.
Join the conversation online #CFC50 #CFCteampreviews
Advocating for football prospects one story at a time.