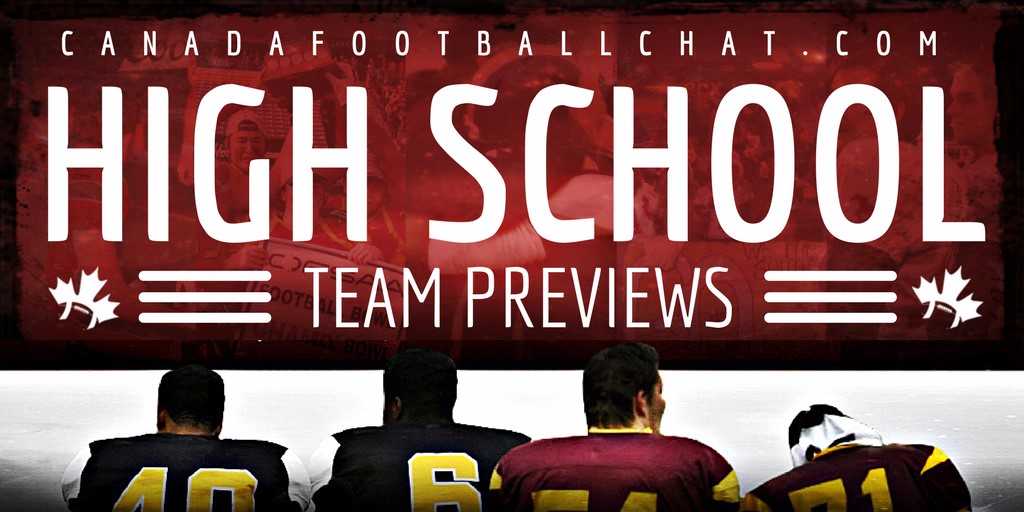 Leading up to the start of the high school season, we will be posting high school/Cégep team previews from June to September as part of our comprehensive season coverage. Canadafootballchat.com (CFC) has tapped into our network of coaches to produce team previews for the 2017 season. The #CFCteampreviews highlight top returning players, team strengths, and toughest opponents.
CFC also will bring you the national high school football rankings known as the #CFC50. Last year's final rankings were the most controversial to date…and we heard about it. Whether you agree or disagree, we love hearing from you. For an explanation of how the rankings are computed, please scroll to the bottom of the page.
Pitt Meadows Marauders (BCHSFA-AA Eastern Conf., Pitt Meadows, BC)
Being the Tier 2 Provincial Champions in the British Columbia High School Football League will add confidence for the Pitt Meadows Marauders as they move up a level and will face some tougher competition in the varsity, AA Eastern Conference.
"We are expecting very tough competition from the other teams in our conference," comments the head coach, Bubba Montabello who is entering his first season with the team as head coach, but has been coaching the Marauders for the past five seasons. 
"I believe that all the teams here are well coached and will come to play every single game and sleeping on any of these teams will be a mistake."
For a team that likes to "pound the ball" offensively, they will be changing it up a bit this year with developing their pass game to add to their ability to score points on the board.
That task will be handed off of quarterback, Tato Ferreyro who also plays safety for the Marauders.
"This will be his first full year at safety, but he has excellent range sideline to sideline and his time at QB gives him a great understanding of routes and defending the pass," says Coach of Ferreyro. "He will also come up and make solid sure tackles."
Tato says his is looking forward to being back in the AA division as they were Tier 2 last year. He expects his team to challenge and win the AA provincial championship and to have a better season then last year. He goes on to say that Windsor Secondary will be the team that he thinks will give them the most trouble.
"I think our toughest opponent will be Windsor Secondary school as they beat us in grade 10, but we haven't played them since and it should be a good matchup," he said. "I'm excited for the bigger and better competition."

Tato is looking to prove to people that he can play football at a high level and to make the most of this upcoming season in order to get recruited to the next level – he also has a goal of making the CFC100 top prospects list, he says.

Another player to watch on offense is running back Brandon Hunt, who has great "vision and patience". Coach describes Hunt as an explosive player and can make plays to get through the first level. "He improves his game every year and I expect great things from him in his senior year."
Defensively, the Marauders play gap responsibility defense with an emphasis on proper tackling. "We make sure our players come up hard and make great tackles and play to the whistle," explains Coach Montabello. 
With Ferreyro covering the backfield, there is one mammoth of a lineman up front that will be hard to get by. CFC100 Giovanni Manu, a 6'7, 300-pound athlete (and, yes, he is an athlete), has all the tools to dominate the game on both sides of the ball. Coach Montabello is excited to see what this kid brings to the game this year.
With these two players to watch, the "X" factor of the team goes to Tayden Mountford, the "emotional" leader. "He is the player who gets everyone pumped and ready to go with his enthusiasm for the game and his big plays on offence and defense," says Coach Montabello. 
They will need every bit of that emotion as they start in a new conference and play in an "unknown" territory so to speak. Coach Montabello keeps level headed about it all, though.
"Like every team going into a season, we are playing to win a championship. However, we play in a very tough conference so in order to achieve that goal, we must come to compete and play every single day in practice and games."
If there was one word that Coach Montabello can describe his team going into the 2017 season as their head coach, it's "Dedication".
"What I have witnessed in spring is all these players are dedicated to becoming better and improving everyday.  It is a great quality to have in a team and makes my job as the head coach so much easier."
Pitt Meadows Marauders (BCHSFA-AA Eastern Conf., Pitt Meadows, BC)
Head Coach: Bubba Montabello (1st season as HC, 5th season with PMSS)
#CFC50 Ranking: n/a
2016 Record: Tier 2 Provincial Champions
Key Returnees: Tato Ferreyro, Brandon Hunt, Tayden Mountford and Giovanni Manu
Key Losses: n/a
Number of returning starters – OFFENCE: 8
Number of returning starters – DEFENCE: 8
"X" Factor: Tayden Mountford
If you would like your high school team previewed, please contact 

[email protected]

.
CLICK HERE FOR 2016 FINAL CFC50 RANKINGS
How is the #CFC50 evaluated?
The #CFC50 rankings considers all conference and non-conference games (in Canada and the United States) while scrimmages are not evaluated (there is no such thing as an exhibition game – those are non-conference games).
Leagues included in rankings: British Columbia AAA Varsity, Alberta Tier One, Saskatchewan 12-man 4A, Manitoba AAA Varsity, Ontario OFSAA Bowl AAA qualified teams, Quebec Juvenile Division 1, New Brunswick 12-man, Nova Scotia Tier 1.
The #CFC50 is a relative ranking that considers top tier leagues from all eight high school playing provinces (minimum one team represented from each province).  The CFC Scouting Bureau consists of twenty-seven CFC Reporters, CFC Scouts, and also selected local reporters and scouts who submit local ranking results on a weekly basis.  This is the eight year that Canadafootballchat.com has ranked the top high school teams in Canada.
Advocating for football prospects one story at a time.