credit: Owen Mertens Photography
If there has been one team that has been synonymous with Halton Championships, it is the Burlington based Nelson Lords. Nelson have won the Halton Championship in back to back years. Head coach Jeff Brock believes that a three-peat is more than possible, it is the expectation for the CFC50 No. 29 ranked Nelson Lords this season.
private]
"As always, our goal is to bring home the Halton Championship. Nelson is looking for a three-peat in 2018. We have scheduled some tough competition in Non-Conference action as well to prepare us for a Halton title and beyond."
Nelson went 7-1 last season but 0-2 in out of conference games, but Brock believes these out of conference games against elite competition will better Nelson, perhaps even for an OFSAA run, which is also on the team's agenda.
"With OFSAA moving to Ottawa, there is no room for mistakes if we hope to be in the Nation's Capital at the end of November."
The 2018 edition of Nelson will look to improve on their 7-1 mark as they come into the season with many of the same faces from last season but with a more seasoned look. With another year of experience, Brock is excited at the experience his team will enter the year with.
"Last year was largely a rebuilding season after many key graduations from the 2016 OFSAA Championship team. A number of players gained valuable playing time which should bode well for 2018. Both our junior and senior teams ended the season with tough losses which will only serve to motivate our program this fall."

Keagan Hall (credit: Owen Mertens Photography)
Nelson will definitely stand tall at the quarterback position with 6'5 Keagan Hall. Hall is a team Ontario selection and certainly knows the offense and how to command it. A student of the game, his teammates are eager to share the field with him.
"(Keagan) coming up from junior is easily ready to play at the senior caliber, he has lots of work with the Burlington Stampeders," says running back Jake Mitchell.

credit: Owen Mertens Photography
Mitchell is looking for a big return to form after an injury riddled 2017 season. Nelson is hoping Mitchell can return to his 2016-form when he helped lead Nelson to an OFSAA title. The running back alludes to the mental difficulty of being injured last season and speaks to a possible solution.
"2017 was a long season due to injury, everything is in motion, I have been working out since I have been cleared. I plan on playing more defensive back this year to help keep my head healthy"
Instead, it will be Luca Rosiello who will carry most of the running back duties. Rosiello could be a real X factor for Nelson as he is coming off a strong summer season in Burlington.
"Rosiello comes off a strong summer season in Burlington. A tough runner who will be asked to carry much of the load on the ground for Nelson. He will bring a hard-nosed style to the skill group for the Lords."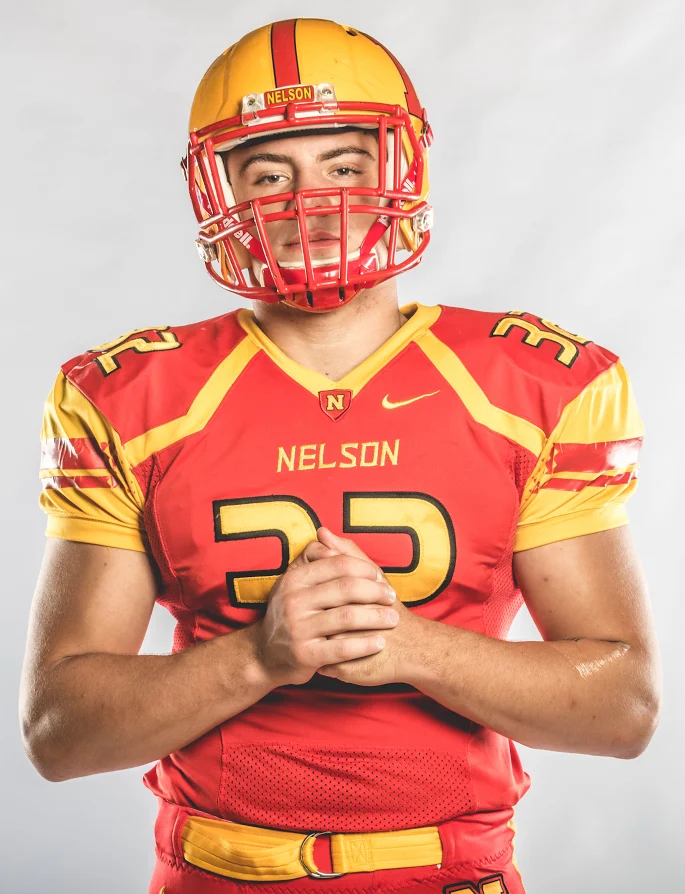 credit: Owen Mertens Photography
Nelson's defense begins and ends with CFC100 linebacker Zachary Ihasz. Not only is Ihasz the leader of the defense but he is the team's biggest playmaker. Arguably one of the top linebackers in Ontario, Ihasz is a game changer who will attract many eyes on him this season.
While each player on the team has a unique story and narrative heading into the 2018 year, they are all working towards one common goal – that is winning the Halton Championship once again and returning to OFSAA.
"We have all been working hard in the off season, we all have the same goal. We want to win another OFSAA championship," says Mitchell.
Nelson Lords (GHAC) – Burlington, ON)
2017 RECORD: 7-1
CFC50 2018 RANKING: No. 29
HEAD COACH: Jeff Brock
NUMBERS OF SENIORS: 25
KEY LOSSES: OL Connor Graham, QB Jared Currie
PLAYERS TO WATCH: Keagan Hall (QB), Jake Mitchell (RB), Brenden Day (WR), Brantt Burnstein (OL), Zachary Ihasz (LB), Carter Galambos (LB), Evan McGillis (DE)
X-FACTOR: Luca Rosiello (RB)
[/private]
Advocating for football prospects one story at a time.