On Wednesday at Episcopal High School in Virgina, CFC 100 Graydon Campbell signed his Letter of Intent with NCAA FCS team William &b Mary Tribe.
This past fall, the 6'3, 270 pound offensive lineman from Greely, Ontario verbally committed to NCAA Division 1's William & Mary Tribe.  Since receiving his first offer back on March 8th, 2014 from the Elon Phoenix, Campbell received numerous others including University of Marshall Thundering Herd, Bucknell Bison, James Madison University Dukes, Old Dominion Monarchs, Monmouth Hawks, Liberty Flames and Buffalo Bulls.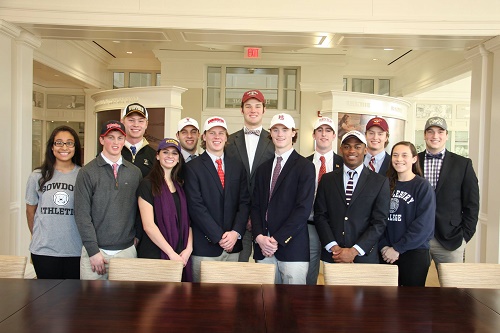 During the second week of training camp with his high school team, Episcopal Maroon in Alexandra, Virginia is when Campbell made his choice.
"I was sitting in my dorm room on the phone with my mom going through all the pros and cons as I truly thought about what I wanted for the next four years and what would set me up for the rest of my life," recalled the CFC 100 standout.  "Aside from the academics and the athletics, William & Mary felt like a home for me."
"It is a small place in a small town out in the middle of Virginia. William and Mary is one of the best schools in the US and the fact that I could go there for practically free, well it's hard to turn down."
During his career with the Maroon, he has been selected as an All-Conference and All-State Lineman. The offensive lineman has also suited up for the St. Mark Lions of the National Capital Secondary School Athletic Association (NCSSAA) and the South Gloucester Raiders of the National Capital Amateur Football Association (NCAFA).
Last week, Campbell was selected as a CFC 100 ranked player for the third consecutive time.
(twitter: http://twitter.com/vohra_ameeta)
Advocating for football prospects one story at a time.