CanadaFootballChat.com brings you the Top 10 National High School Games of the Week.  Each week, we will share with you the must see games of the week.
CLICK HERE TO VIEW CFC 10 NON-PUBLIC SCHOOLS
10) NEW BRUNSWICK (PLAYOFFS):
Riverview Royals @ CFC#45 Leo Hayes Lions
Friday November 6th, 7:00pm, Scotia North
As the 12-Man New Brunswick High School Football League (NBHSFL) proceeds to the semi-final round, CFC#45 Leo Hayes Lions remains undefeated.
However, they face a team that they did not have to play during the regular season portion of the schedule – the Riverview Royals.  Both teams met in an exhibition game and the one thing that came out of that was that the Royals were the only team that came close to knocking off the Lions. The Lions won that exhibition 28-21.
Offensively for the Royals, Matt Dixon will be the one to watch for and the Lions will need to shut him down.  On the other side, wide receiver Aaron Jenkins is expected to provide leadership on offence and help the Lions gets points on the scoreboard.
With a berth in the 12-Man Championship Final on the line, expect this game to go down to the wire to determine an outcome.  If the Royals defence and special teams comes up huge in this game, the Lions could be handed their first loss of the 2015 campaign.
9) NOVA SCOTIA (CHAMPIONSHIP):
Auburn Drive Eagles @ Sackville HIgh Kingfishers
Saturday November 7th, 2:00pm, Saint Mary's Huskies Stadium
While Division 1 regular season is winding down this week in the Nova Scotia Student Athletic Federation Football League (NSSAFFL), a championship will be handed out this weekend in Halifax.  The Division 2 final goes this Saturday pitting the defending Division 2 champions, Sackville High Kingfishers against a newcomer to this division in the Auburn Drive Eagles.  Last year. the Eagles competed in Division 1.
The Kingfishers have been undefeated so far in 2015 while the Eagles only come into this final with one loss.  What makes this matchup more intriguing is that both teams up until this point have not met each other in 2015.
While the Eagles are a virtual unknown, the Kingfishers have some key players on both sides of the ball that will be expected to deliver season best performances in order to defend their championship.  On offence, pivot Justin Morgan will have several options of who to hand the ball to in slotback Jalen Loppie, running back Tyrell Young, wide receiver Chris Roberts and running back Jordan Whitford.
Moreover, defensive end Adrian Brown will play a prominent role for the Kingfishers as well as Josh Miller on the secondary.
Overall, this game should be a good one at Huskies Stadium.
8) ONTARIO:
Brantford Colts @ CFC#50 Assumption Lions (CHAMPIONSHIP)
Saturday November 7th, 5:00pm
With Ontario coming on board this week in the playoffs and many of the #CFC50  earning byes into the next round, this game will be an interesting one in the province because its a rematch of the 2014 Brant County Secondary School Athletic Association (BCSSAA) Championship.
Not only did the Lions win last year's game, but also this year's regular season contest by a margin of 35-6. What that score is not indicative of is the major improvement the Colts have had in a span of a year. The Colts' defence will be key in this game and have a trio of players are expected to anchor the unit in Ethan Cole, Gutch Salinas and Tucker Kelly.
However, the Lions boasts two-way standout Nolan Putt.  He is dangerous when he has the ball in his hands and the Colts need to stop him from any sort of production in Saturday's championship.  Additionally, quarterback Jhamal Sewell will try to create some offensive magic with offensive targets in Raymond Martino and Kevin Cann. On defence, Jamal Chase will lead the secondary.
"I believe this will be a very competitive hard fought game from start to finish," commented Lions Head Coach Ray Martino in an interview with CFC about the Championship Final.
7) MANITOBA:
Garden City Gophers @ CFC#4 St. Paul's Crusaders (PLAYOFFS)
Friday November 6th, 6:00pm, IGF
With the Winnipeg High School Football League (WHSFL) postseason in high gear, CFC#4 St. Paul's Crusaders are two games away from reclaiming the John Potter 'AAA' Championship they lost in 2014,
Under Friday Night Lights the Crusaders will battle a team whom they only just met with two weeks ago in the Garden City Gophers. Back on October 22nd, the Crusaders took that game 36-6.  Despitie that previous score, this is the semi-final round and with a lot at stake expect the Gophers to mount a serious threat against the Crusaders.
What highlights this game is a pair of #CFC100 players will be on opposing sides.  Defensive back Marcel Arruda Welch will anchor the Gophers' defensive unit while Matt Kaneski will guide the Crusaders on the line of scrimmage.
For the Gophers to have any success against the Crusaders, they have to contain Remis Tshiovo, who has been on a tear this season.
Ultimately, the fans will be engaged in this semi-final from start to finish.
6) BRITISH COLUMBIA:
Notre Dame Jugglers @ CFC#10 Vancouver College Fighting Irish
Friday, November 6th, O'Hagan Field @  Vancouver College
As we enter the final week of regular season play in BC High School Football, one of the longest-running rivalry games closes out the schedule when the Notre Dame Jugglers (1-3) visit CFC#10 Vancouver College Fighting Irish (4-0) in the 59th Archbishops' Trophy game on Friday afternoon.
The hosts, the Fighting Irish, clinched the regular season Western Conference Triple A title last week in their 20-0 win over last year's Subway Bowl runners-up, the previously undefeated Mt. Douglas Rams. In the win, quarterback Jacob Samuels threw a 57-yard touchdown pass to Aidan Fay, who finished the day with two catches for 70 yards, and also hit Rysen John with four passes for 72 yards. On the ground, Jasper Schiedel carried 20 times for 83 yards and a score, while Michael Le rounded out the scoring with 20 carries for 81 yards and a score. On defence, Brandan Chandra led the effort with eight tackles while Takashi Kimura recorded seven. Other standouts included Isaiah States, Jag Sandhu and Chris Ellis who each recorded six tackles, and Bobby Singh Jr., who recorded two tackles and an interception.
On the other hand, the Jugglers are coming off a high-scoring 55-44 defeat at the hands of the New Westminster Hyacks. In the loss, Anthony Crescenzo threw for three touchdowns and ran in for two more but was unable to orchestrate a comeback. Steve Moretto caught two back-to-back touchdowns of 32 yards and 80 yards, while Brenden Woodman also caught a 26-yard pass for a score.
Vancouver College leads the all-time Archbishops' Trophy game series 31-26-1, and have won the last 11 in a row. Will the Fighting Irish continue the streak, or will the Jugglers end their Archbishops' Trophy drought? Tune in Friday to find out!
Source: British Columbia High School Football
5) ALBERTA:
CFC#40 Raymond Comets @ CFC#27 L.C.I. Rams
Thursday, November 5, 7:00 p.m., University of Lethbridge Community Stadium  (Lethbridge)
There are lots of Championship Games this week that deserve billing but you can't beat a good ol' Rams/Comets match-up at the end of the season to determine who will host next week in the first round of Provincials against the third place team from Calgary.   Both teams have a healthy dislike for each other dating back to the early 1990's and this year's regular season game was won by the Rams 41-20 giving them home field advantage for the rematch.  Since that game on Oct. 2 neither team has lost so someone's roll is going to end on Thursday.
Source: Alberta Schools Athletic Association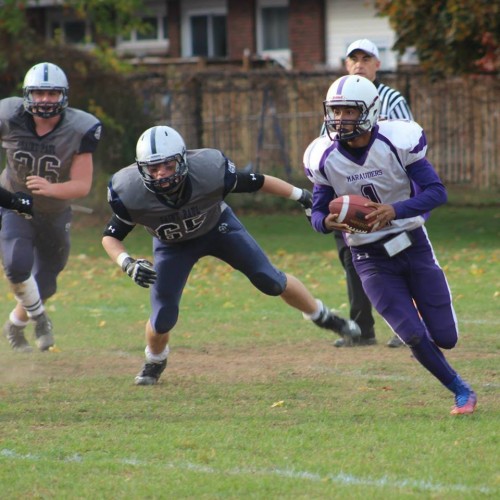 4) ONTARIO:
Blessed Trinity Thunder @ CFC#13 AN Myer Marauders (PLAYOFFS)
Friday November 6th, 5:00pm
History often repeats itself and this is the case and point for these two teams in the Niagara Region High School Athletic Association (NRHSAA).
Exactly one year ago, CFC#13 AN Myer Marauders and Blessed Trinity Thunder faced each other in the 'AAA' semi-finals.  The Marauders came out on top 28-7. Earlier this fall, the Marauders won their regular season contest, dismantling the Thunder 41-0.
The one thing that the score doesn't reflect is the historical competitiveness that this rivalry has demonstrated throughout the years.  With the winner of this game heading to the 'AAA' Championship Final, fans can expect another heated battle with the stakes so high.
Donovan Venegas will be the one to watch for on the Marauders defence.  Throughout the 2015 campaign, he has been a nightmare for opposing offences with his tenacity and aggressive style of play.
Offensively, pivot Tre Ford will lead the unit as he has consistently done throughout the season.
However, special teams is an area the Marauders have excelled in and that could be the one thing that determines the outcome.
Fireworks are set to ensue in Niagara once again this weekend as this one is expected to be a thrilling battle.
3) ALBERTA:
Harry Ainlay Titans @ Paul Kane Blues (PLAYOFFS)
Friday November 6th, 7:30pm
Yes, a non #CFC50 contest is ranked in the top 3 "must see" games but this one is a big one in the Edmonton Carr Division of the Alberta Schools Athletic Association (ASAA).
If their previous game last month is any indication, Paul Kane Blues and Harry Ainlay Titans are on course to deliver another close game, this time in the postseason.  Back on October 9th, the Blues pulled out a 26-14 win over the Titans.
Defence will be huge in this contest.  Colton MacNeil and the Titans defence need to keep Blues pivot Brendan Guy as well as Tanner Buchanan and Keaton Zaychkowsky in check throughout the entire game.
Equally, Julian Pawlychka and the Blues defence have to halt quarterback Cody Olson as well as his main targets Tadi Siwira and Jonathan Rosery from getting points on the scoreboard.
With the stinging disappointment still lingering from last month's loss, the Titans want redemption and will be seeking it in this semi-final. The intriguing storylines are so good that the unknown is how this one will unfold.
Edmonton is in for a treat under Friday Night Lights!
2) QUEBEC:
CFC#31 Cure Antoine LaBelle Wolves @ CFC#23 College Notre Dame Cactus (PLAYOFFS)
Saturday November 7th, 1:00pm, College Notre Dame
In a rematch of the 2014 RSEQ Juvenile Division 1 Bol D'Or Championship. #CFC50 squads Cure-Antoine LaBelle Wolves and College Notre Dame Cactus are involved in this postseason heavyweight bout.
In their last two meetings, the margins of victory have been so small that it will be hard to predict the outcome of this game with the exception that it could result in a tight, low scoring affair.  While the Wolves won the Bol D'Or Championship 28-23 over the Cactus in 2014, the Cactus escaped with a 17-16 victory in the middle of September during regular season play.
The Wolves will have to find an answer for Cactus running back Theodore Seabom who has rushed for 1216 yards on 199 carries and tallied nine majors so far this season. On defence, Gabriel Coutu and Andriy Nikulich will be tough for the Wovles offence to bypass.
However, the combination of pivot Samuel Cloutier and receiver Guillaume Ranger has been unstoppable in 2015.  Cloutier has completed 128 passes in 218 attempts for 1836 yards and 18 touchdowns,  Ranger has tallied 18 majors and amassed 900 yards on 46 receptions.fort the Wolves.  Those two will figure prominently in the Wolves success, should the team be victorious on Saturday.
Daryl-Jean Charles and Oliver Grenier will steer the Wolves defence.
"Our match-ups have always been games to remember," commented Wolves coach Jason Hogan.
1) SASKATCHEWAN:
CFC#16 Campbell Tartans @ CFC#5 Leboldus Golden Suns (CHAMPIONSHIP)
Friday November 6th, 5:15pm
For the second time this fall, this Regina Intercollegiate Football League (RIFL) 4A Schwann Conference Championship Final is ranked as the top national "must see" game of the week.
With the history and tradition surrounding the rivalry between #CFC50 teams Campbell Tartans and LeBoldus Golden Suns in recent years, there is always a special epic aura whenever they compete.  Their rivalry has always lived up to the bill of great expectations of delivering a dramatic battle throughout the entire four quarters.
Back on October 9th, the Golden Suns defeated the Tartans 31-20.  However, fans should remember that the Tartans have been the only team to defeat the defending champions – that victory coming last year.
For the Tartans to win this battle, their offence is going to have to get past #CFC100 and Schwann Conference Lineman of the Year Nicholas Dheilly as well as #CFC100 defensive back Rylan Lucyk.  Additionally, the Tartans defence have to be able to handle the offensive attack of Golden Suns pivot Brayden Kuski and Offensive Player of the Year Semba Mbasela.
All-Star pivot Brayden Wagg will guide the Tartans offence as he is the catalyst in making plays happen.  On defence, the leadership of Kane Knauss, Josh Hagerty, Carter Stusek and Avery Tiefenbach is crucial to their success in stopping Kuski, Mbasela et al.
Will the Tartans be able to take down the Golden Suns and snap their grip on the City Championships?  Regina is in for another epic, warrior-like fight between two strong football programs that will come right down to the last whistle.
"It is the City Championship and we expect a hard fought battle between two very good football teams," commented Golden Suns Head Coach John Foord in an interview with CFC.   "This is the fourth year in a row that LeBoldus and Campbell have met in the 4A City Final and it is always exciting game."
Advocating for football prospects one story at a time.