CLICK HERE FOR ENTIRE #CFC100 LIST
With this second list, CanadaFootballChat.com would like to introduce you with those players that are ranked in the TOP 10. Here is the "BIG 10":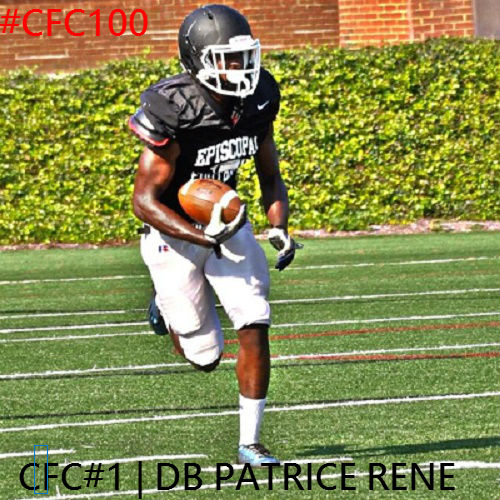 1) PATRICE RENE – 6'1, 190 DB (ONTARIO):
The 6'1, 190 pound defensive back from Ottawa, Ontario has taken the top spot for the 2nd consecutive time. After a lengthy recruitment process which began in 2013, the defensive back opted for NCAA Football Bowl Subdivision (FBS) Rutgers Scarlet Knights.
As the most sought after prospect nationally, Rene netted 28 NCAA Division 1 offers including ones from Rice Owls, Wisconsin Badgers, Syracuse Orange, Oklahoma Sooners, Wake Forest Demon Deacons, Virginia Tech Hokies, Virginia Cavaliers, Vanderbilt Commodores, Tennessee Volunteers, Temple Owls, Nebraska Cornhuskers, North Carolina Tar Heels, Northwestern Wildcats, Penn State Nittany Lions, Kentucky Wildcats, Indiana Hoosiers, Duke Blue Devils, Boston College Eagles, Minnesota Gophers and Mississippi State Bulldogs..
"I'm committed to playing the toughest schedule in the country, in the number 1 media market in the world" commented Rene about his decision back in August.  "I'm committed to attending one of the top universities in the world."
"I'm committed to winning a Big Ten Championship.  I'm committed to excellence. I'm committed to Rutgers."
Rene became the third consecutive Ottawa area prospect to grab the top spot in the #CFC100 CLASS 2016 RANKINGS joining  2014 CFC #1 pivot Michael O'Connor and 2015 CFC #1 defensive end Neville Gallimore in this elite group.
The defensive standout is currently suiting up south of the border for Episcopal Maroon in Alexandra, Virginia.  Previous to the Maroon, Rene has suited up for the St. Peter Knights of the National Capital Secondary School Athletic Association (NCSSAA) and Orleans Bengals of the National Capital Amateur Football Association (NCAFA). He trains at Gridiron Academy with Victor Tedondo.
2) CHASE CLAYPOOL – 6'5, 203 ATH (BRITISH COLUMBIA):
This past July, the 6'6, 213 pound athlete from Abbotsford, British Columbia announced on ESPN U that he chose to commit to NCAA FBS team Notre Dame Fighting Irish.
"It's relieving knowing I made a great, great choice and made my family proud but the recruiting process was really fun," commented Claypool after his announcement in an interview with CFC.
During his recruitment process, Claypool racked up more than 12 NCAA offers including ones from Arizona Wildcats, Mississippi State Bulldogs, Nebraska Huskers, Washington Huskies, Oregon Ducks, Rice Owls, Nevada Wolfpack, Rutgers, Utah, San Diego State, University of Michigan Wolverines and Washington State Cougars.
Currently, he is suiting up for Abbotsford Collegiate Panthers of the British Columbia High School Football Association (BCHSFA).
3) DANIEL JOSEPH – 6'4, 250 DL (ONTARIO):
The 6'4, 250 pound defensive lineman from Brampton, Ontario chose to commit to NCAA Division 1 FBS team, Penn State Nittany Lions this past June.
With his commitment, he is set to join forces with running back Akeel Lynch on the NCAA team.
Joseph received multiple NCAA offers including Bowling Green, Duke, Illinois, Iowa, Iowa State, Maryland, Miami, Michigan State, Nebraska, New Mexico, Rutgers, Stanford, Syracuse, Toledo and Vanderbilt.
This fall, Joseph is completing his final season with Lake Forest Academy in Illinois.  Previous to Lake Forest Academy, Joseph played for Brampton Bulldogs of the Ontario Varsity Football League (OVFL).
The CFC # 3 ranked player's older brother is Iowa Hawkeyes defensive lineman Faith Ekakitie.
4) JESSE MEYLER – 6'5, 285 OL (ONTARIO):
The towering 6'5, 285 pound offensive lineman from Toronto, Ontario will be joining NCAA Division 1's Northwestern Wildcats.
"Northwestern is a team that is on the come up," expressed Meyler in an upcoming article on CFC.  "I'm excited to be a part of a team that is about to be great."
Meyer is suiting up alongside CFC #1 Patrice Rene with Episcopal Maroon in Alexandria, Virginia.
Previous to the Maroon, the offensive lineman played for both the Sir Wilfrid Laurier Blue Devils of the Toronto District Secondary School Athletic Association (TDSSAA) and Toronto Thunder of the Ontario Varsity Football League (OVFL).
5) AMEN OGBONGBEMIGA – 6'1, 210 LB (ALBERTA):
In late June, the 6'2, 209 pound linebacker from Calgary, Alberta announced verbally committed to NCAA Division 1 Football Championship Subdivision (FBS) team, Oklahoma State Cowboys.
In addition to the Cowboys, Ogbongbemiga received an offer from Nevada Wolfpack.
Currently, Ogbongbemiga is trying to help #CFC50 top ranked Notre Dame Pride of the Calgary Senior High School Athletic Association (CSHSAA) win their fourth consecutive Provincial Tier 1 Championship. In 2014, he was selected as a Calgary Division 1 All-Star.
This past spring, the linebacker was selected as a Calgary Area Midget Football Association (CAMFA) All-Star for his season with the Hilltoppers.
6) NATHAN ROURKE – 6'2, 200 QB (ONTARIO):
Still in search of his first NCAA Division 1 offer, the 6'2, 200 pound quarterback from Oakville, Ontario is continuing to make waves south of the border.
The offensive standout from Burlington, Ontario has been selected as a first Capitol Hyundai High School Highsman for the 2015 season for his play with Alabama prep school team, Edgewood Academy Wildcats.
This is quite a prestigious honour for Rourke as his selection puts him in contention for the overall year end High School Highsman honour.
Rourke joined the Wildcats this past spring after stints with both the Burlington Stampeders of the Ontario Football Conference (OFC) and Holy Trinity Titans of the Halton Secondary School Athletic Association (HSSAA).
7) BENJAMIN ST-JUSTE – 6'3, 175 DB (QUEBEC):
This past June, the 6'3, 175 defensive back from Montreal, Quebec accepted an offer from  NCAA Division 1 team, Michigan Wolverines.
St.Juste has been playing for CEGEP Division 1 team, Vieux-Montreal Spartiates.  In 2014, the team won the Bol D'Or Championship in triple overtime over Champlain-Lennoxville Cougars.
Previous to the Spartiates, the defensive back suited up for RSEQ Juvenile Division 1's Cure-Antoine LaBelle Wolves.
8) DESHAWN STEVENS – 6'2, 226 LB (ONTARIO):
The 6'2, 226 pound linebacker from Etobicoke, Ontario is currently playing with Connecticut Prep team, Kent Lions.
Stevens began his gridiron journey with the North York Grizzlies Association.  Among the other teams he has played for include the Metro Toronto Wildcats of the Ontario Varsity Football League (OVFL) and Don Bosco Eagles of the Toronto District Catholic Athletic Association (TDCAA).
The defensive standout has received numerous honours during his career including seven Defensive MVP and three Overall MVP Awards.
At this point, a handful of NCAA teams have already expressed interest in Stevens including Buffalo, Connecticut, Duke, Georgia Tech, Maine and Massachusetts.
9) DOMENICO CIPRIANI – 6'4, 275 DT (ONTARIO):
The 6'4, 275 pound defensive tackle from Toronto, Ontario is attending Bradenton, Florida's IMG Academy.
Previous to IMG, Cipriani played north of the border for Villanova College Knights of the Conference Independent Schools Athletic Association (CISAA).
10) BRUNO LABELLE – 6'4 210 TE (ONTARIO):
After a year-long recruitment process, the 6'4, 210 pound tight end from Sainte Therese, Quebec verbally committed to NCAA Division 1 Football Bowl Subdivision (FBS) team, Cincinnati Bearcats.
In addition to the Bearcats, Labelle received four other NCAA Division 1 FBS offers.  Those include Buffalo Bulls, Bowling Green Falcons, Ball State Cardinals and Toledo Rockets. Additionally, Minnesota Gophers and Indiana Hoosiers were courting the Quebec tight end.
"It was an unbelievable feeling to know that I will finally realize my dream to play college football," expressed Labelle in a recent interview with CFC.
(twitter: http://twitter.com/vohra_ameeta)
Advocating for football prospects one story at a time.