Surprise sums up the feelings of #CFC100 Sage Doxtater.
Last week, the 6'7, 300 pound offensive lineman from Glencoe received his first NCAA Division 1 offer from Football Championship School (FBS) team Illinois State Redbirds.
"When I was asked to call Dan Clark at ISU, I was really excited and kind of shocked to get an offer at the very first contact," recalled Doxtater of how the offer came to fruition. It is a great honour to get an offer."
Doxtater is planning to officially visit Illinois State in early July.
The #CFC100 has received mail from several NCAA schools including Oregon, Florida State and Eastern Michigan. Additionally, there is interest from additional schools such as Florida, Central Florida, Toledo, Buffalo, West Virginia, Wake Forest, UCONN, Nevada, North Dakota, Ball State and Texas Tech.
However, Doxtater has to make a decision by the fall as he will be graduating in January 2016 and move on to university/college football soon after.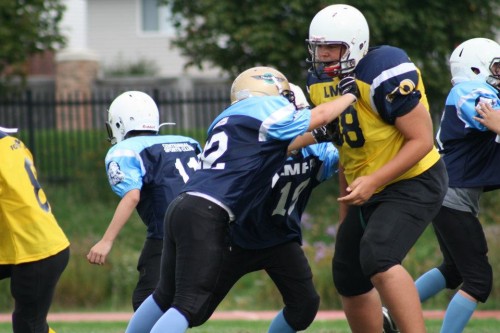 The offensive lineman began his gridiron career in grade seven as he competed in the London Minor Football League (LMFA). Other teams Doxtater has suited up for include Forest-City Thunderbirds of the Ontario Football Conference (OFC) as well as the London Jr Mustangs of the Ontario Varsity Football League (OVFL).
While he attended Glencoe High School in grades nine and 10, there was no football team.  Therefore, Doxtater made the move and joined Canada Prep Academy.
"I love playing the US schedule," said the offensive lineman who will begin his second season at the varsity level this fall.  "We play really tough teams and the competition is fantastic and the film we get from that is good because coaches there know our competition."
In his quest to improve as a player and gain more exposure, Doxtater has participated in several camps including Michigan State, Nike The Opening, Rivals, Sound Mind Sound Body, Texas Tech, West Virginia, Buffalo, North Carolina, Old Dominion, Elite Big Man Challenge in Michigan. North of the border, he has also taken part in Super Elite's and Western University's Camps.
Doxtater was a participant in the 2015 Ontario Prospect Challenge (OPC). This past month, he was ranked in the first edition in the 2016 #CFC100 Rankings.
"I was proud to make the #CFC100 list," expressed Doxtater of his inclusion in the rankings.  "I think it is hard for anyone to rank individual players in football since everybody has to work together as a team."
While he is content with making the #CFC100, the work doesn't stop there as he would like to make a leap in the rankings and realize his ultimate gridiron dream in the process.
"My focus is just on getting stronger, faster and improving my technique," elaborated Doxtater, who will be training at Combine Fitness this summer.  "If that helps me move up in the ranking that is great."
"I am just determined to reach my goal of a Division 1 scholarship with a team that can help me to develop as a player and where I get to play."
Overall, the #CFC100 credits the individuals who have been main sources of encouragement and motivation which have enabled him to reach great heights in his gridiron career thus far.
"I am grateful to have so many people who have supported me and given me good guidance this far – from my mom and my family to coaches, teachers and teammates," expressed Doxtater.
(twitter: http://twitter.com/vohra_ameeta)
Advocating for football prospects one story at a time.