The #CFC100 recap reviews the performances of CFC100  players as well as some potential future stars. If you have an athlete in the CFC100 and you would like CFC to accurately acknowledge their season, please submit a weekly box score or stat line to: [email protected].
Performance highlights:
Sidhu shines in Kushnir Boot
Hallschmid excels on both sides of the ball in big win
White leads team on defense for big city final championship
*Note – some information was not available at press time and will be added as it becomes available. Please let us know if there are inaccuracies in the reports below.
The Fox 40 Prospect Challenge (FPC) is a series of elite showcase games that feature the best tackle football players from across Canada aged 10-19 years. Tournaments are played in Central Canada (ON) and the West Coast (BC).
CLICK HERE FOR #FPC FACEBOOK PAGE – CENTRAL
CLICK HERE FOR #FPC FACEBOOK PAGE – WEST COAST
GET REGISTERED! GET COACHED! GET RANKED!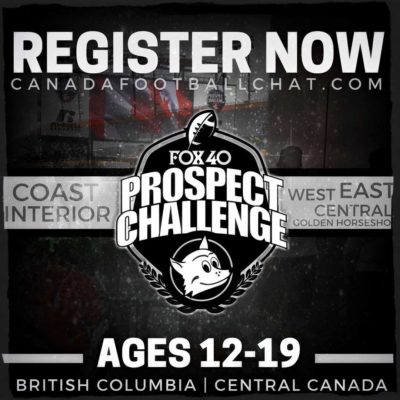 Advocating for football prospects one story at a time.