The #CFC50 No. 39 Cobequid Ed. Centre Cougars are gearing up for the playoffs and starting to gain serious momentum with an impressive 6-1 record on the season. They will head to Dartmouth this week to take on the 2-4 Dartmouth Spartans, a team with much more talent than their record suggests.
Led by head coach and offensive coordinator Brent MacPhee, the CEC Cougars have thrived this season with their mix of run and pass on offence and their ability to grow as a well-rounded team from week to week.
Coming off a huge 41-19 win against Horton, the Cougars are playing their best football at just the right time and making their claim as major championship contenders.
The Dartmouth Spartans are led by head coach Louie Velocci and he is making the most of a pivotal rebuilding season. Velocci has already seen improvement in his young group and the Spartans have plenty of athletic talent to give any team in the league a competitive game.
Coming off a tough 40-28 loss to Sackville High, the Spartans have dealt with the kind of growing pains any rebuilding team can expect to go through.
"We are in the first year of a rebuild year and as such we continue to develop as a team," Velocci said. "I am very proud of how we have been able to win two games so far and in three games hold the other team to one touchdown or less."
With an offence led by a quarterback as athletic as they come in J.J. Stairs, the Spartans offence presents problems for any defence it lines up across. Coach Velocci and the Spartans are coming into this challenging matchup knowing that they can compete with anybody.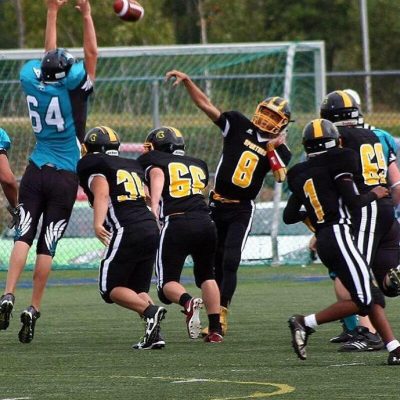 "In each of these game we have had at least one or two TD's called back or we would have hit well above our belt. We haven't had any game where we were blown out and I think that we have provided our opponents a good competition and some great football."
Coach MacPhee attributes the Cougars strong season to the balanced effort of the his squad, particularly the Cougars offence which has scored a lofty 228 points since being shutout in their week one loss to Citadel.
"We can score from far out, we have big play potential," MacPhee said. "Our defence has been doing a good job of shutting down other team's runs and we have outstanding special teams play."
The Cougars explosive offence is led by quarterback Dustin Pettigrew, receiver Riley Gabriel and running back/slot receiver Kamryn Matheson. The Cougars have done a great job this season of getting the ball to their playmakers and the Spartans will certainly have their hands full on defence.
"We've found a way to get the ball to our receiver Riley Gabriel, he's been having an outstanding season," coach MacPhee said. "He's helping stretch the field and we're able to run a little bit so basically we have the most balanced offence we've had in quite a few years actually."
The Cougars suffered a tough loss to Citadel in week one, but their young players have developed immensely since that opening game.
"We had a lot of young players in their first game, so now they're starting to understand the game, the games not as fast to them," MacPhee said. "Since then, those younger guys have settled in."
It is the Cougars offence which causes so much trouble for opposing team's, as they possess game-changing weapons at quarterback, running back and receiver.
The Spartans will have to find a way to somehow contain CEC's high-powered offensive unit. Coach Velocci knows that his defence will have to play at a high level in order to have a chance.
"CEC is pretty aggressive and can execute very well – we will need to ensure that we play fundamental football and not give up contain at any position," Velocci said. "It will be a grind out kind of defense for sure."
The Spartans have plenty of weapons on defense to aiding in this effort though, with a an outstanding group of linebackers, defensive linemen and cornerbacks.
"On Defence we have three amazing linebackers, Ben Brumm, Matt Leckie and Lourenz Bowers who will be key," Velocci said.
The Spartans will look to defensive ends, John Southcott and Daniel Velocci, to lead the way in trying to contain CEC's athletic quarterback, Dustin Pettigrew, as Coach Velocci expects the two edge rushers to have a large impact against the Cougars. Malachi McCombie and Daminonte Beals are two cornerbacks that will be tasked with locking down Cougar playmakers like Gabriel and Matheson.
The Spartans present significant challenges on offence as well, with their explosive rushing attack and dynamic quarterback play. Coach MacPhee is not taking the Spartans lightly as his team prepares for a big playoff run.
"Spartans have a very good run game and what makes it even worse for us is they have two running backs so we can't just key on one guy," offered coach MacPhee. "They have a good receiver and a pretty athletic quarterback so they have some nice athletes playing offence."
The Cougars have done a good job keeping offences in check this season, but it will take a lot of effort to keep the pure speed and athleticism of the Spartans wrapped up for a full four quarters.
"We better recognize our keys and trust them because once those guys get into the open field, I mean we saw what they did when they played Horton and they were exceptional, they're very fast," MacPhee said. "The best way to beat a fast team is not letting them get up to speed."
"Coach Davis will have these guys getting into their gaps, controlling their gaps and hopefully funnel the ball to our tacklers. If they don't, it's going to be a long game for us. If they get into the open-field, they are fast."
We believe this matchup will be another competitive showing from the Spartans, who have done a remarkable job putting some young talented pieces in place to have early success in a rebuilding year.
The Cougars are too well-rounded to shut down completely though, as their offence can beat you in a variety of ways while their defence and special teams can make the ultimate difference in a ball game. We expect the Cougars to march into the playoffs with another big win.
This matchup between the #CFC50 No. 39 Cobequid Ed. Centre Cougars and the Dartmouth Spartans is set to kickoff tonight at 8:30 on the Spartans home field. This is the last game of the regular season for both teams and it is a must-win for the Spartans.
About Canadafootballchat.com
Canadafootballchat.com (CFC) is the number one national amateur football website (source: ComScore.com) and most respected source for high school and recruiting news in Canada.  CFCs mission is to promote players, coaches, administrators, teams, & leagues from coast to coast. Powered by 40+ local reporters, CFCs content driven network covers Canadian NCAA & CIS recruiting, and high school players & teams like no one else.
About CFC Insider
The 'CFC Insider' section is for the fan, player, coach, parent, looking for MORE. The mission of this exclusive membership section is to give more recruiting news, exclusive rankings and multi-series stories as well as coach-player instructional videos. To become a CFC INSIDER member, CLICK HERE!
Advocating for football prospects one story at a time.