CFC50 Holy Cross Crusaders vs. CFC50 Centennial Chargers
Friday, November 3rd 12th, 7:30 pm at SMF Field in Saskatoon.
It's the 7-0 Crusaders against the 6-1 Chargers.
It's the 4A City Final.
Holy Cross will arrive at SMF Field on Friday night chasing history. The Crusaders are the winners of six straight 4A City Championships and will look to become the first Saskatoon school to win seven consecutive titles.
Both schools are fresh off semi-final victories, and hungry to bring a banner back to their home gym.
In 2016, Centennial defeated Holy Cross in the regular season, entering the city final undefeated. However, the Crusaders continued their magical run, winning their 6th straight city championship and defeating the Crusaders in a thriller.
These two teams met in week six of the regular season, a game that was thoroughly dominated by the Crusaders as they marched to a 27-3 victory. The Crusaders were dominant on the ground and were led by senior running back Tanner Szakacs. Szakacs ran wild against the Chargers, totaling 223 rushing yards and a touchdown on 19 carries. He'll be the focal point of his team's offense once again Friday night as he looks to carry his team into the record books.
Szakacs week six performance against Centennial.
The Holy Cross offense is led by star quarterback Matthew Wilson. Wilson is fresh off a dominant showing against St. Joes in the city semi-final, where he threw for 293 yards and two touchdowns and added 66 yards and a score on the ground. He's one of the best dual-threat quarterbacks in the nation, who'll have his chance to cement his legacy at Holy Cross with a victory under the lights on Friday night.
Wilson spoke to me before the season got underway about how crucial another city championship is for the Crusaders.
"Every time I put on the Crusader jersey I think of the guys that wore it before me and to live up to the tradition we have at Cross. I have got lots of friends who were pivotal in the previous six city championships and it is not just a desire to win it anymore, its an expectation. It is extremely important for me to win this game because no one wants to be the guy to "end the streak", being the quarterback you shoulder a lot of the responsibility," said Wilson. 
https://www.instagram.com/p/Bah9nThA1nZ/?taken-by=matthew.jwilson
Meanwhile, Centennial's offense is led by a talented combination of seniors, quarterback Taran Prefontaine and receiver Dillan Heintz. Prefontaine led the city in passing yards and touchdowns during the regular season but was stymied in week six against the Crusaders. Holy Cross held the talented pivot to only 47 yards through the air, while talented grade eleven safety Ramsey Derbas added a pick to his season stat line. For the second straight season, Derbas has led the city in interceptions and will aim to make yet another big-time play against the Chargers.
These are Saskatoon's two perennial powerhouse programs and it's to no one's surprise they are meeting up in the city final for the third time in four years. However, Centennial is no longer satisfied with just making it to the big game and are looking to come away with a title and end the Crusaders winning ways. Don't expect this Holy Cross program to give in easy. They're battle tested and are prepared to lay it on the line, as they aim to write their names in the record books. Both teams are led by prolific passers, each roster a tremendous tailback and are anchored by a destructive defense. This game has all the making of a classic. Expect this matchup to be a lot closer than the week six edition, as these two teams are to evenly matched for another one-sided affair. With the Saskatoon 3A City Final being played before this tilt, it's going to be a spectacular doubleheader at SMF Field, headlined by two of the top high school programs in the country.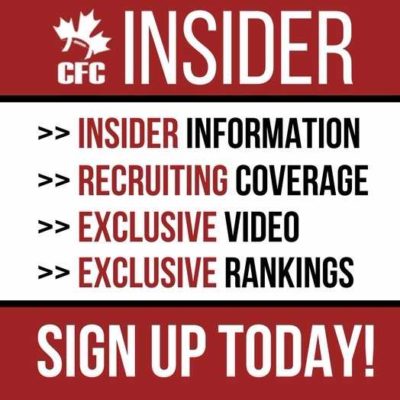 Advocating for football prospects one story at a time.