CFC50 No. 20 Campbell Tartans vs. CFC50 No. 17 Centennial Chargers
Saturday, November 11th, 1:00 pm at Mosaic Stadium, in Regina.
It's the Tartans, and it's the Chargers.
It's a rematch of the 2010 4A Provincial Championship.
Centennial will roll into Regina on Saturday afternoon chasing their first provincial title in school history. The Chargers matched up with Campbell in 2010, in this very game where they fell short to the Tartans 14-9 in overtime.
Both programs are fresh off city championship victories, defeating longtime champions and will be hungry to end their 2017 seasons with a provincial championship.
The Tartans are newly crowned city champions after they took down the five-time defending champions, the Leboldus Golden Suns. Campbell finally reclaimed the South Side Supremacy in a thriller, as they defeated their arch-rivals in the biggest game of the season in Regina by a score of 27-25.
Campbell Tartans celebrate city title. pic.twitter.com/yMkV6CH74h

— Rob Vanstone (@robvanstone) November 4, 2017
View from the stands….City Champs!! @TartansFootball @CoachRyanHall pic.twitter.com/tVv2okqpsD

— Patrick Maze (@patrickmaze) November 4, 2017
Meanwhile, in Saskatoon, Centennial claimed their first city championship since 2010 and only their second in school history. The victory ended the Holy Cross Crusaders six-year reign as the city's Saskatoon's top dog. Entering the contest, Centennial had fallen to Holy Cross in two of the past three city championships and had their eyes set on revenge all season long. However, the Chargers snuck past Holy Cross in an overtime thriller, winning 34-28. It was a monumental victory for Centennial, who have been chasing the Crusaders for the better half of this past decade. However, their work is not yet done. The Chargers must quickly turn their attention to the provincial championship.
Cent wins 4A City Championship 34-28 in First OT. Great game by both teams. @centcollegiate @StoonPubSchools pic.twitter.com/tW6iPw18im

— SSSAD (@sssad12) November 4, 2017
Taran Prefontaine will look to quarterback his school to their second championship in eight days. Prefontaine excelled throughout the season, racking up 1566 yards passing and 19 touchdowns, leading Saskatoon 4A in each statistic. He's excelled in his senior year, and Taran hopes he has one last big game left in him, as he aims to conclude his high school football career with a provincial title.
"We are very fortunate to have the opportunity to compete for the provincial title. It would be hard to put into words what this would mean to the team and school. For a lot of our guys, this is our last high school football game and to go out on top would be pretty special. A lot of people counted us out already before the first round of playoffs and then again for the city final, but in our dressing room, we know what we are capable of," said Prefontaine.
Reciever Dillan Heintz has made big-time grab after big-time grab, and he'll aim to continue that trend tomorrow afternoon against Campbell. Heintz led the city in receiving yards and touchdowns, and he was able to make yet another clutch catch against Holy Cross in city championship as Prefontaine spotted him in the back of the end zone with time winding down in the fourth quarter.
Meanwhile, in the backfield grade eleven running back Thomas Coghill has emerged as one of the top players at his position in the province. Coghill was nearly unstoppable against Holy Cross, rumbling his way to 216 yards and three touchdowns. 21 of those yards came on an overtime run, where Coghill found the house and won the city title for the Chargers.
#CFC100 offensive linemen Rodeem Brown has helped open gaping holes for Coghill all season long, and his hard work hasn't gone unnoticed. Brown is as talented of a recruit Saskatchewan has seen in years, and he has the attention of U-Sports schools around the nation everytime he steps onto the field. Look for Centennial to ground and pound the ball on Saturday, as they'll look to follow the blocks of Brown as he clears the way in the run game.
On the opposite sidelines, Campbell has been anchored by a strong defensive unit all season long, and that narrative remains consistent entering Saturday's title game. Senior linebacker and #CFC100 Josh White is one of the top football players in the province, a title he has earned after his impressive grade twelve season. White led Regina in defensive points with 141 and tackles with 59, while adding a sack, an interception, and two fumble recoveries. He'll be tasked with shutting down this high powered Centennial offense, with talent lined up all over the unit.
"They like to run the ball behind Rodeem Brown who's an outstanding offensive lineman so we will plan to shut down the run game to stop them," said White, when asked about what he's seen in film from Centennial.
Taran Prefontaine will have to be aware of a pair of talented ball-hawking defensive backs for the Tartans. Aidan Mann and Drew Lawrence each recorded three interceptions during the regular season and they'll aim to make yet another big-time play come Saturday afternoon.
On the offensive side of the ball for Campbell, the offense is led by a dynamic connection between a pair of seniors. Quarterback Matt Rivers has shown he's a capable dual-threat quarterback, throwing for 1058 yards and seven touchdowns through the air while adding 288 yards and six majors on the ground. However, Rivers has proved to be prone to turning the ball over from time to time, as he recorded twelve interceptions during the regular season.
Fellow grade twelve Bennet Stusek has been Rivers go to target all season long. Stusek is a true possession receiver and one of the best pass-catchers in the province. He led the city in receptions in 2017 with 44, while adding 515 yards and five touchdowns. Stusek has lined up for the senior team since grade nine, and this season will be his last opportunity to bring back a banner to Campbell.
It's fitting that Saturday's contest will take place on November 11th. Campbell and Centennial will take the field to battle for the Bud Weaver Memorial Trophy. Bud Weaver was killed while on duty with the Royal Canadian Air Force during the Great War in 1941. Weaver, who was a football superstar in Saskatchewan and is commemorated with the provincial championship trophy being named in his honor.
Prior to 1946, a provincial championship in Saskatchewan was an event that had never occurred. However, just before the game in that very year a group of University of Saskatchewan Huskies coaches and players got together and purchased a trophy, and named it in honor of Weaver and other Huskies who died in the Great War., take a moment to appreciate and reflect on the Canadian soldiers who fought to protect our country.
Whatever you are up to this Saturday afternoon, take a moment to appreciate and reflect on the Canadian soldiers who fought to protect our country such as Bud Weaver.
Each of these teams entered 2017 chasing after the perennial powerhouse in their city. However, each slayed the dragon and became city champion. Centennial will enter this one desperate to bring home a provincial banner. They've yet to win a provincial championship in their school's history and will be presented with a prime opportunity tomorrow afternoon. If you're in the Regina area, come on down to Mosaic. This will be the first provincial championship this beautiful new stadium has ever hosted and it should be a good one. With many of these kids knowing each other from provincial teams, expect there to be no holding back as these kids fight for the right to become provincial champions. Campbell and Centennial are two of the finest programs in the nation and are each very deserving finalists, however, only one can remain standing.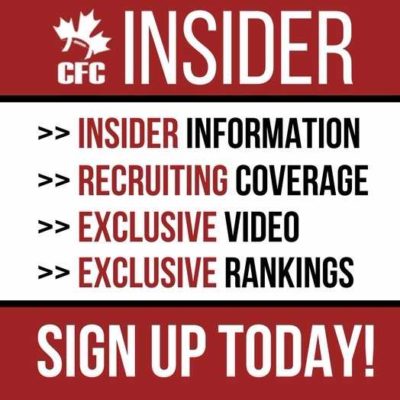 Advocating for football prospects one story at a time.