We will be covering the #CFC50 Games of the Week (GOTW). The West and Atlantic regions will be done together while Ontario and Quebec will be done separately.
While this will be generally geared towards the #CFC50 ranked teams, we want to hear from you if there are great rivalry games or exciting matchups, regardless of tier or division. Send us a 'heads up' by Monday each week and we'll see what we can do: [email protected].
*Note: Some information was not available at press time. It will be added as it becomes available. All quotes are obtained firsthand unless otherwise stated. Rankings are from the previous week

CLICK HERE FOR WEEK 8 RANKINGS
CLICK HERE FOR 2017 HIGH SCHOOL SCORES
CLICK HERE FOR 2016 FINAL CFC50 RANKINGS
How is the #CFC50 evaluated?
The #CFC50 rankings considers all conference and non-conference games (in Canada and the United States) while scrimmages are not evaluated (there is no such thing as an exhibition game – those are non-conference games) and forfeit* wins are not considered toward overall record.
Leagues included in rankings: British Columbia AAA Varsity, Alberta Tier One, Saskatchewan 12-man 4A, Manitoba AAA Varsity, Ontario OFSAA Bowl AAA qualified teams, Quebec Juvenile Division 1, New Brunswick 12-man, Nova Scotia Tier 1.
The #CFC50 is a relative ranking that considers top tier leagues from all eight high school playing provinces (minimum one team represented from each province). The CFC Scouting Bureau consists of CFC Reporters, CFC Scouts, and also selected local reporters and scouts who submit local ranking results on a weekly basis. This is the eighth year that Canadafootballchat.com has ranked the top high school teams in Canada.
The Fox 40 Prospect Challenge (FPC) is a series of elite showcase games that feature the best tackle football players from across Canada aged 10-19 years. Tournaments are played in Central Canada (ON) and the West Coast (BC).
CLICK HERE FOR #CFCFPC FACEBOOK PAGE – CENTRAL
CLICK HERE FOR #CFCFPC FACEBOOK PAGE – WEST COAST
GET REGISTERED! GET COACHED! GET RANKED!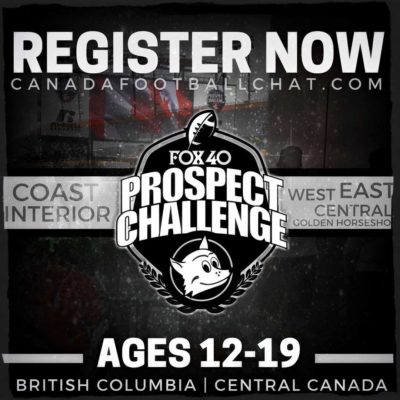 Advocating for football prospects one story at a time.