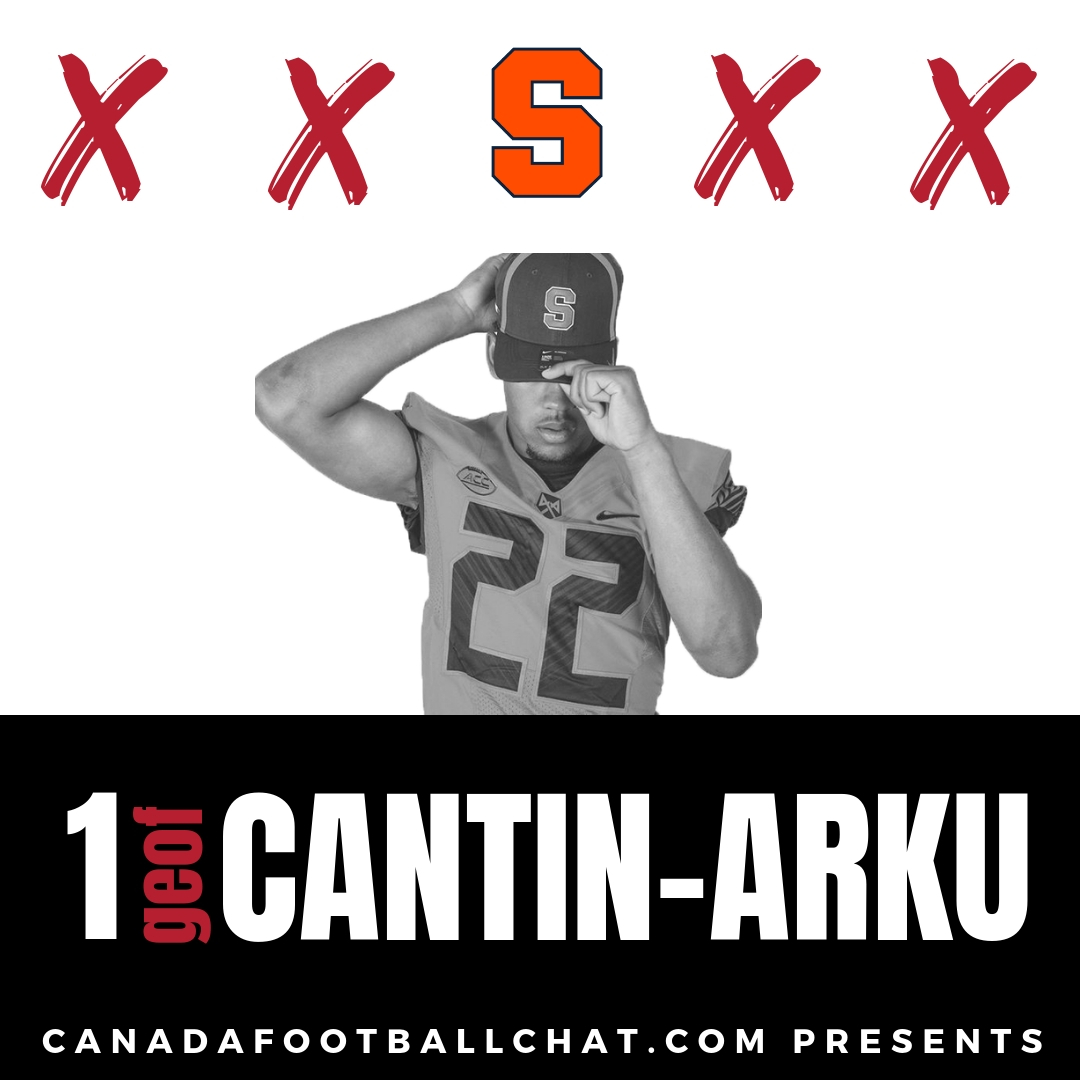 After finishing 1-8 the year before, CFC60 Geoffrey Cantin-Arku helped lead Garneau all the way to the CEGEP DI Bol d'Or in 2018, and now he's looking to write the same type of story playing at Syracuse with CFC100s Tyrell Richards, Patrick Davis and fellow CFC60 commit Matthew Bergeron.
NCAA EARLY SIGNING DAY TRACKER
The Orange were the only NCAA offer on the board alongside U Sports interest, and he received the offer after a lights out camp day that overwhelmed the staff back in June. Most of the time it's a long drawn out process, but Syracuse sent their offer on Tuesday, and by Friday Cantin-Arku already delivered the good news.
The Canadian connection continues.@Geofcantin is officially Orange.#BeTheA19ha #NSD19 pic.twitter.com/iVcaC6RaSP

— Syracuse Football (@CuseFootball) December 19, 2018
There's a reason why we ranked him number one on the CFC60 October Edition, and CFC Lead Analyst Clint Uttley sees a bright future ahead for the athletic prospect,
"Cantin-Arku is primarily a defensive player. Ever since we identified him during the 2017 season, we thought he was a bonified NCAA prospect. If you get a chance to watch his film, you'll get a chance to see a young man who lined up all over the field and demonstrated he can do just about anything from a defensive perspective." he explains.
"Let's just call him – a real sharp Swiss Army knife. Arku recently committed to the Syracuse Orange, this might very well be one of their biggest steals out of the CEGEP system in the last number of years. Arku reminds me of former Washington Huskie's all PAC 10 free safety, Shane Pahukoa. Arku is probably one of the better defensive prospects I've seen in a long time."
Cantin-Arku finished this past season with 55.5 tackles, 5 TFLs, two interceptions and one sack while helping Garneau flip their record from 1-8 to 5-4 and a spot in the league finals. He's preparing to join a Syracuse team on the rise as well, who finished with their highest win total since 2001 with a 9-3 record and a berth in the Camping World Bowl against West Virginia.
Advocating for football prospects one story at a time.