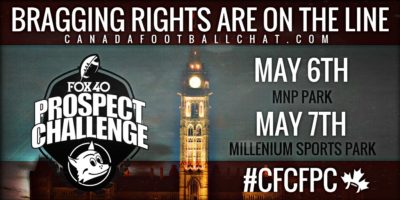 To say the Fox 40 Prospect Challenge (#CFCFPC) is growing is an understatement. This year, we will see two additional provinces participating in the largest Canadian football tournament ever. Both British Columbia and Quebec are sending teams to compete in this years CFCFPC. In addition, we saw an international minor team play in Hamilton this past weekend from Cleveland, Ohio.
According to Coach Franco Farinaccio for Minor Team East, he thinks this expansion is great.
"I think it is great that it is expanding. it is a good way for players in different regions to see how they match up against each other," he explains. "Hopefully, it will continue to expand so the rest of the country can take part in such a well run event."  
That being said, on Sunday, May 7th at 12:25pm, the Minor Team East will play against the Minor Team Central at Millennium Sports Park in Ottawa.
Leading the charge for Team East will be three quarterbacks; Noah Cardinal, Felix-Antoine Antoine Lavoie, and Humzah Rana. Cardinal and Lavoie are able to move around and make things happen with their feet and their speed, while Rana is more of a "traditional passer" according to Coach Farinaccio.
Offensively, the team has quite a bit of talent at the skill positions and they are hoping to get the ball out to these players in order to capitalize and score points.
"Offensively it's always a bit of a challenge in a game like this because of the limited number of practices," explains Coach Farinaccio. "We have a lot of talent in the skill positions and we've tried to keep things simple. Hopefully, we can get the ball to our playmakers and they can make something happen."
On defense, Coach says he's impressed with the strength of their front seven and believes that they will be okay on that end.
"Defensively, I am really excited to see out front seven play. We aren't allowed to blitz much or be too sophisticated on defence so it is important for us to have guys who can win their one on one battles. I think we have guys who can do that," says Coach Farinaccio. 
During the limited practices that the team has been able to get together for, they have been focusing on team coherence between players and coaches.
"To be honest, a lot of practices have been spent focussing on just trying to gain a familiarity with each other, players with each other, coaches and players and all of us with the system." Coach Farinaccio goes on to say that they have done a lot of system work to ensure that everyone is on the same page come game day. 
Some players to watch for the game are receivers James Donnelly and Cordel Epale. Both players have the potential to create big plays on offense. Defensively, defensive ends, Luca Farinaccio and Emmett Young are both fast, strong and "relentless" in their pursuit according to Coach Farinaccio.
"I think they both will have opportunities to shine."
Final thoughts from Coach Farinaccio and his team's opportunity to come out with a victory on Sunday.
"Well, this isn't our first year, but I believe the goal for us is to provide a fun, but competitive environment in which the athletes can see how they match up against their peers from different regions. Games like this attract people who are serious about their sport and want to see how they match up against the best from other regions. Hopefully, our guys will be up for the challenge."
Kickoff is at 12:25pm on Sunday, May 7th at Millennium Sports Park.
Advocating for football prospects one story at a time.