When the Moncton High Purple Knights of the New Brunswick High School Football League (NBHSFL) take to the field this Saturday, the team will be once step closer to achieving significant objective for the program.
"At Moncton High, we have recently set a long term goal for our football program to strive to be a top ranked team in Canada," commented Purple Knights Head Coach John Allanach.  "We are putting our kids up against solid programs whenever we get a chance."
"We had a great scrimmage with Fredericton High School back on September  4th and now we get to face perennial Nova Scotia Powerhouse Citadel this Saturday with our in season bye."
On Mount Allison's new Alumni Field, the Purple Knights will play an exhibition game against CFC#30 Citadel Phoenix of the Nova Scotia Student Athletic Federation Football League (NSSAFFL).  Kickoff is 6:30pm.
Both of these teams come into this contest with a wealth of success and experience. Last season, the Purple Knights won the NBHSFL 12-Man Championship while the Phoenix won the NSSAFFL Provincial Tier 1 Title.
Allanach said that this game has been in the works for several years between the two teams.
"The original discussion actually took place at an AUS Football camp back in 2009; I met Mike Tanner and he said "yeah the Purple Knights should come see us some time"," recalled the Purple Knights Head Coach.  "I had played with and against some great talent coached by Coach Tanner and figured it best to wait on it."
"I tucked it away until just recently when the climate was right for us to leave our comfort zone and play some big dogs. I spoke to Jeff Lawley [Citadel Phoenix Co-Head Coach and Defensive Coordinator] back in the spring and we realized both teams would have a bye week and then everything started to fall into place."
As for the choice of venue, the Sackville, New Brunswick location was ideal for a couple of main reasons.
"Mount Allison was an easy choice as a "neutral" site; their recent grid iron success and field renovations made it very appealing to piggy back their Homecoming weekend," explained Allanach.
Another lucrative feature of hosting this game is that it coincides with the CIS Interlock involving AUS and RSEQ teams.  Prior to this contest, Alumni Field will entertain one of those games as the Mount Allison Mounties will take on Sherbrooke Vert et Or at 2:00pm.
"We are also thankful to Mount Allison University for offering their new facility to put this on," said Phoenix Offensive Coordinator and Mounties alumni Jon Dyer.  "It's a big weekend for them and all parties involved are happy this has come together."
"We have a great stage on the Saturday night of Mount Allison's Homecoming weekend at their new turf field to showcase high school football in the Maritimes. We're hoping for a big crowd and quality football. In a game like this, it's less about the win or loss and more about representing your program and giving the kids a unique opportunity on a big stage. It's going to be a lot of fun."
For their part, the Phoenix is ecstatic to have the opportunity to play their New Brunswick counterparts. Overall, they hope to take advantage of the chance to measure up their play against a formidable Maritime high school opponent.
"This game is a great thing for New Brunswick and Nova Scotia football," expressed Dyer.  "It's probably been decades since a high school team from each province have faced off against each other and this will be great experience for all of the kids involved."
"This was great initiative by both teams to make this game happen. It's not an opportunity than comes around too often given the timeliness of both of us having bye weeks in our regular season schedules. I really don't recall these two teams ever facing off so there isn't a history or a rivalry of any kind. They are the defending New Brunswick provincial champions and we consider it a privileged to play this game."
As for the game itself, both teams will feature some of the top players in the Maritimes.  However, both teams are expecting the unexpected tricks and plays on the field on Saturday night.
"Neither of our teams is very familiar with each other or their style of play," elaborated Dyer.  "We've had some film exchange to help us prep but we really don't know what to expect and how we match up."
Despite that, the Phoenix has brought themselves up to speed on a couple of aspects of the Purple Knights' game, especially a key component on their defensive unit.
"They have some great athletes on their team," assessed Dyer.  "Moncton's linebacker Bailey Feltmate is an anchor for them on defense and a great athlete; he needs to be accounted for."
"They run a deceptive offense with some explosive players so our team is going to need to stay disciplined and control their gaps."
In addition to Feltmate, quarterback Caleb Ryder, guard Luke Holmes, defensive back Jacob Murray as well as third year standouts and team captains Justin Whyrha (defensive back) and Jonah Rollins (defensive line).
Disappointed by the start of their season, the Purple Knights hope to get back on track this weekend.
"We came out flat and complacent in game two of our regular season and did not get the job done as a team versus Scott O'Neil's Tantramar Titans who are amongst the top teams in our Eastern Conference," evaluated Allanach.  "We are looking to rebound by re-establishing our run game and getting our defense to shed blocks and pursue to the ball to the best of their ability. We rely on lots of different players to step up and make a difference."
While the Phoenix comes into this game with an undefeated record in the NSSAFFL, it hasn't been smooth sailing, especially given the slim margin of victory over Charles P Allen Cheetahs last week. Ultimately, the Phoenix has a plan of how they will tackle this game.
"For us, it's been a hot and cold start to the season," explained Dyer.  We aren't going to lean on any specific players but if we want to be successful, we need to set the tone for the game on the line of scrimmage on both sides of the ball."
"It's an exhibition game so we are hoping to get a lot of players some valuable game experience and showcase our roster from top to bottom. "
However, the Phoenix is dangerous on both sides of the ball.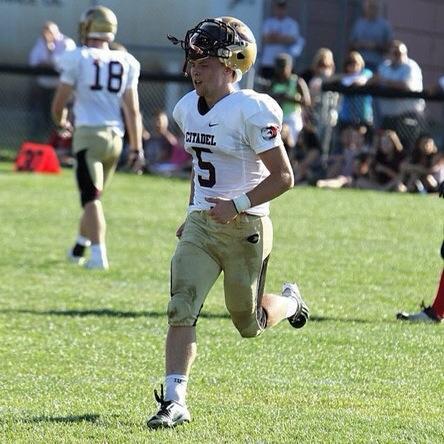 It starts with their 1-2 punch at quarterback with Cameron Valardo and Monecko Clayton.  In addition to their pivots, the Phoenix will count on running backs Jack Campbell and Tyrique Dixon-Bowden for offensive output.  Additionally, their offensive line will be anchored by Oliver Grant.  Defensive back Jonah Williams as well as linebackers Max Gallant and Jacob Morgan will bring their physical, smart playmaking abilities to the Phoenix defence.
"Citadel is well coached, athletic and aggressive," added Allanach.  "It will give our team a fantastic opportunity to work on technique versus a team that can straight out play some serious ball."
Beyond Saturday's game, it is unclear if this will become an annual fixture or a once of a lifetime experience for both programs.  While both teams are optimistic it is hard to say with the evolving nature of high school football in both provinces.
"Although it would be fantastic to do something like this every year, with our league changing formats and teams in Division 1 so frequently, we can never really count on bye weeks to have the opportunity to play against Moncton or any other NB High school team," elaborated Dyer.  "This may be a one-off event but hopefully not."
"I think a lot of our players, parents, and fans are very excited."
Allanach echoed Dyer's sentiments on the future of this event.  Moreover, the Purple Knights will also be exploring exhibition game opportunities with other provinces.
"We would have to evaluate the entire endeavour before committing to an annual event," explained the Purple Knights Head Coach.  "Both teams have their own agenda on how to best move forward and we will have to wait and see."
"I have friends who coach in Quebec and it could be interesting to play some ball in "la belle province" at some point soon with our program."
However, one thing that is certain is that another gridiron chapter between two Maritime provinces will be scripted in Sackville, New Brunswick.  As both football programs will assess how they fare against opponents from outside their province, each team plans to soak in the opportunity to showcase talent and skill.
"New Brunswick and Nova Scotia football have been playing some great games every summer at the provincial level," reflected Dyer.  "Those games have helped grow the sport and raise the bar for both our provinces."
"This is simply an extension of that relationship. We get a little bit of a measuring stick to see how we match up with teams outside our regular competitors and it brings a lot of attention to the quality football that both our provinces put on each fall.  This is a win-win for everyone involved and we are very thankful and excited. We are representing football in Nova Scotia and Citadel as a high school program. "
(twitter: http://twitter.com/vohra_ameeta)
Advocating for football prospects one story at a time.