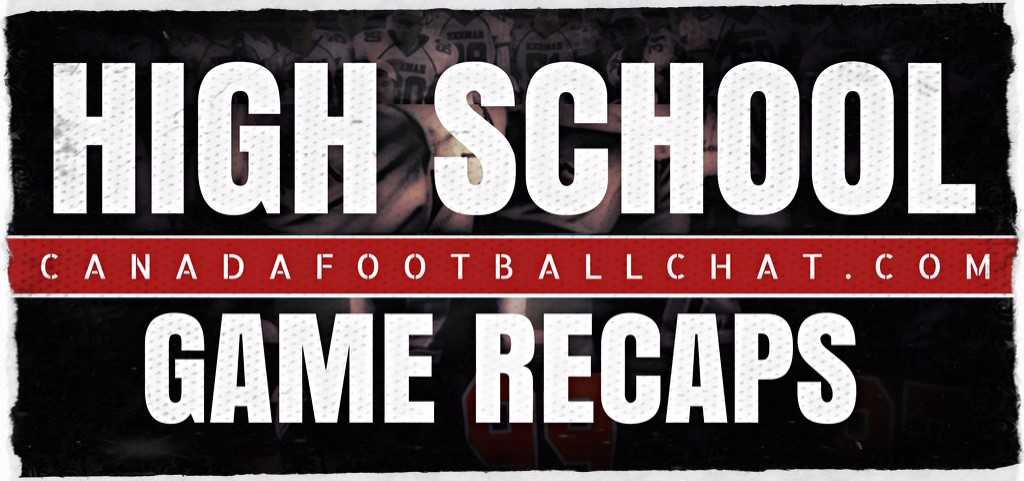 CFC50 No. 48 É. sec. Curé-Antoine-Labelle LES LOUPS  vs CFC50 No. 34 É. sec. du Triolet Harfangs
HARFANGS Win 21-14
It seems the Harfangs have found a rhythm QB Yanik Daigle racked up 362 yards with 1 TD thanks to receiver Estuard-David Posadas Pereira who had a day with 6 receptions for 166 yards, averaging 28 yards a catch. The Run game wasn't as effective, however, defensive player Emerik Charon was brought in for the short yard game having 2 carries for 2 yards and 2 TDs. Who said you needed huge yards to score. For the Wolf Pack, les Loups untimely turnovers played a roll, the air attack of QB Shawn Grenier was not as effective as the ground game as Divine Willy Diakesse had 20 carriers for 202 yards and 2 majors for the Pack. Triolet is now 3-1 while the Wolf pack fall to 2-2 setting up for this week's matches.
Triolet play at home vs Saint-Jean Eudes while Les Loups travel to a Blizzard to face Séminare Saint-François.
É. sec. Roger-Comtois PATRIOTS  vs É. sec. Armand-Corbeil SCORPIONS
SCORPIONS WIN 44-6
Scorpions found their offence and their run game spreading the ball over 5 different ball carriers for 3 majors and attacking through the air when needed for another 2. The cap to their decisive win was defensive player, William Dubois, who took his interception to the house for a pick 6.
The Patriots simply could not find the answer to the Scorpions recharged defence having only 147 yards of total offence on the day. The Patriots need to find a grove or it's going to be a long, shortened season. Having only scored 27 points over 4 games, things don't look too bright.
CFC50 No. 21 Collège Charles-Lemoyne DYNAMIQUES  vs CFC50 No. 40 Collège Notre-Dame CACTUS
DYNAMIQUES win 24-21
What was to be the battle of the divisions, two top QBS did not happen. QB Kalean Trepanier was not in this game, but that did not slow down the offensive power of CCL. QB Noah Gravel stepped up throwing 8 for 16 250 yards and 1 TD. Jean Christophe Cloutier contributed to the offence carrying the ball 3 times for 22 yards and 1 TD. But is was defensive play that shined having 3 sacks, 1 INT, and 5 TFLs.
The Cactus QB struggled a little in this game compared to others throwing 11 for 27 attempts for 144 yards and 1 INT. So they went to the ground game where CFC100 Merton Theagene had 16 carries for 119 yards and 2 TDs. Phillippe Alexandre Pitre capped off the scoring with his short yardage major.
The difference in this game came down to special teams. CCL kicked perfect on 1 field goal attempt and 3 conversions while the Cactus missed theirs and that was the difference.
Collège Jean-Eudes AIGLES  vs CFC50 No. 9 Saint-Jean-Eudes CONDORS
CONDORS  WIN 16-8
Let's just say this about both offences, they ran into defences that came to play a hard, intense game, so we'll just go right to the defensive story here. The Aigles defence led by Mathieu Murray, had 6 tackles and 10 assisted tackles, and Xavier Thibaudeau had  7 solo tackles which held the Condors offence to 16 points – not a bad day. However, the Condor's defence stepped up in a huge way. Lead by Justin Cloutier, who was a beast and had a phenomenal day, registered 10 tackles, 1 assisted, 3 sacks, 1 INT, and 2 TFLs. He was part of a defence that stepped up all around having 4 interceptions on the day, 7 sacks, and 8 tackles TFLs. It's no wonder this game was a low scoring game.
 CFC50 No. 3Séminaire Saint-François Blizzard vs Académie Saint-Louis ARSENAL
BLIZZARD WIN 20-0
It's hard to get on the scoreboard when the offence has just one of those days. Arsenal's offence just could not get the ball rolling. Between quarterbacks Ludovick Ellysin and Mathieu Bellavance, Arsenal were only able to accumulate 89 yards of offence in the air, having to go to the run game. Running back Yann Pruneau had 24 carriers for 85 yards.
The Blizzard did what they do, control the ball and control the clock. RB Thomas Desrosiers had 18 carriers for 145 yards with a major. The defence stepped up and did what they do, 4 sacks, 1 INT, 5 knocked down passes, and 13 TFLs. The Blizzard may be 4-0 on the season, but this is new territory for the team. They typically have a stingy defence with high power offence. Right now, their defence has held their identity, however the offence is only averaging 19 points per game, which is by far not the typical picture for them.
RSEQ D1B
Académie les Estacades ESTACADES vs CFC25 No. 6 Séminaire Saint-Joseph VERT ET OR
VERT ET OR WIN 44-14
Estacades basically struggled all day sharing the QB position between Gaberiel Courchesne, 2/4 for 90 yards, 2 TDs, and 1 INT, and Cederic Tremblay, 3/8 for 37 yards, 2 INT, the most offensive production came from receiver Oswald Bryan Ayi Ayih with 120 yards and 2 TDs.
The Green and Gold did what they do and spread the ball around offensively, but the standouts for them was receiver Xavier Gaillardetz with 117 yards and 2 TDs, and RB Dominic Caron with 15 carriers for 96 yards. The Green and Golds defence had a day too, 3 INTs, and 3 sacks with defensive lineman Julien Desrosiers having 3 of those sacks, 1 TFL, and 1 KD, but his fumble recovery scoop and score was the scoring icing on the cake. It's always cool seeing the Big D-line carry the ball to the endzone.
Polyvalente Deux-Montagnes  CENTURIONS vs É. sec. Pointe-Lévy CORSAIRES
CORSAIRES WIN 47-26
Corsaires went on a complete offensive tear this week. QB Antoine O'Dohoerty Lincourt lit things up throwing 22 completions for 42 attempts for 390 yards and 4 majors, while RSEQ D1B Player of the Week, CFC100 Dylan Djete, had 11 catches for 218 yards, 2 TDs, and 2 runs for 70 yards –  adding in 36 special team yards for a total of 324 all purpose yards. RB Mikael Aubin added in 2 majors pounding the ball on the ground.
Despite the Centurions coming out on the short end, they had some offensive life. With a rotation at the QB position over the last 3 games, Centurions started Matis Sardinha who has had the most offensive production at the position for the Centurions. 17 for 27 197yards and 2 touchdowns, it seems Centurions found the air attack, the ground game was spread out over 6 ball carriers with William Boisseau carrying the ball 7 times for 102 yards and 1 TD.
CFC25 No. 3 Collège Bourget VOLTIGEURS vs CFC25 No. 19 Collège Laval MARAUDERS
VOLTIGEURS WIN 22-14
Battle of the undefeated did not disappoint. This was a tight game and the Voltigeurs offence had to rethink their strategy. With a high scoring run and shoot offence, the Marauders defence did something no team in D1B has been able to do yet. That's hold the Voltigeur's running back under 100 yards. Jayden Josiah Theodore was not only held under 100 yards, but off the scoreboard.
So to the air everyone went. Voltigeur's QB Simon Boudreault threw for 12 completions 222 yards and 2 touchdowns edging out the Marauders. But the Marauders did not go quietly. QB Victor Charland threw 22 completions 238 yards 2 touchdowns also, but it was the 5 sacks and 1 INT that made the difference. Defensively, this game looks like a mirror of each other. Each defence had 5 sacks, Voltigeurs just won the battle in the trenches having 10 TFLs, and coming out on top of turnovers with Louis Vincent having 2 interceptions on the day.
CFC25 No. 8 É. sec. Saint-Stanislas PATRIOTES vs Collège de Lévis COMMANDEURS
PATRIOTES  WIN 31-24
This was an exciting game from start to finish, but let's just call a spade a spade. If you watched this game, then you found out these teams simply do not like each other. This is a rivalry at its best.
Patriots offence stayed on track and did what they do and spread the ball around to multiple receivers and running backs. Back at the starting QB position was Cedric Bernal going 13 for 22 266 yards and 2 TDs, however a couple of untimely interceptions stalled the offence. The Patriots defence lead by Anthony Sofio and Mathis Varin, has had better days, however stepped up when needed – shutting down the Commandeur's offence on a few fourth down conversion attempts.
Commandeurs, although faltered on 4th down conversions, still took it to the Pats defense. Thomas Cloutier threw 15 for 30 207 yards and 2 TDs on the day, however it was the one man wrecking crew of #4 Nathan Lacasse. Lacasse was the standout player in this game and would not be denied despite double coverage having 11 catches for 153 yards and 3 touchdowns, adding in 5 carriers and 50 yards on the ground.
Advocating for football prospects one story at a time.