No. 45 Tantramar Titans vs Riverview Royals Semi Final
Saturday November 4, 1pm at TRHS, 'the Marsh'
The last time these two met in week 5, the Titans blew a thirteen point halftime lead, losing 27-26 with the game ending on a failed 2-point TRHS conversion. The loss was the Titans first in two years, and as much as they hated losing to rival RHS, they remain the incumbent 2 time Provincial Champions with their sights set on a third. The Royals have been salivating to get back to the final ever since their last second loss to Tantramar in 2015. Hungry for their first Provincial title, the Royals journey to claim the trophy will include a trip to the Marsh where these two Nationally ranked programs will throw down for the right to play in the final.
Since their week 5 rumble. the Royals beat a physical St. John Greyhounds, and then went on to lose a nail biter against the FHS Kats, the team they went on to beat in the quarter finals. All of these games required grit and resolve from those on, and off the field.
The Titans on the other hand have had two teams fore fit after the first half, one of which came during the quarter final against the 1-6 Mathieu Martin Matadors, and in the last week of regular season play they beat the Harrison Trimble Trojans, who finished the season 0-7.
With the teams as evenly matched in talent and capability as they are, RHS head Coach Guy Messervier believes the Titans path to the finals may be to their disadvantage.
"We've had one of the toughest schedules, we really haven't had that many easy games, our season has prepared us for what ever is coming. It's one thing to win by 41 points at half, but that doesn't really build your character or resiliency, when you basically have no opposition all year, how are you going to react when you do?"
Aware his team has had an easy season. the Titans head coach. Scott O'Neal and company. have been using practice to prepare their crew.
"We've played no body, we really haven't had a game since Riverview, so that concerns me," lamented O'Neal. "Riverview has really been in the playoffs in their minds since."
Asked how he and his staff compensate for the lack of quality game reps for his players development O'Neal explained it all comes down to practice.
"We've had very physical, high tempo practices. We've been spending lots of time on the sled and conditioning to try and simulate, but how do you simulate that speed? They're so fast," reflected O'Neal.
The speed O'Neal refers too is in reference the Royals offence and defence. Offensively, RHS has fine tuned a lethal combination of ground and air attacks thru out the season. Their QB Logan Grossman and WR's Green and Barton combined with hard nosed runners Gregory Stoyles and FB Brady Morrison provide offensive coordinator, Pete Comeau, with a rare coaching opportunity.
"It's a lot of fun, we've always had a good fleet of skilled athletes with fairly good athletic IQ's, it's been a unique experience at RHS," said Comeau.
Although the Comeau is the General of the Royals high octane offence, Grossman is the guy on the field getting it done, something he credits to the leadership and teaching of Comeau. Most often between series Grossman can be seen talking with his crew about what they are seeing, which he then correlates to what he's seeing and relays to Comeau in the booth. The units physical talent, combined with player and coaches analysis has created a nightmare for defences.
Titans defensive coordinator, Peter Estabrooks, was impressed with the Royals when they played, but has also noticed the teams improved run game thru film.
"They're a good team, they've got a lot of things they do well. If you line up and take the run away, they'll throw. They exploited some things on us," commented Estabrooks.
The area the Titans were most exploited was defending the pass, something they have addressed with some personnel shifts, but since their game the Royals running game has greatly improved, giving Estabrooks more to consider.
"They always have a good run game, sometimes it just takes a little longer to develop, but when you can throw that helps your run game as well. All of a sudden you can't stack the box and run cover zero and bring that extra guy, they'll kill you in the pass."
The Titans defence is as solid and balanced as a high school team could hope for. Up front, are seniors Riley Tower and Ryan Cadman, two street brawling beasts capable or wreaking havoc. Backing them up is a trio of LB's capable of stopping the run and dropping into coverage, should stand out junior DB Lucas Cormier.
Coach Comeau referred to the diamond shaped defensive unit as a diamond shaped "Bermuda Triangle you don't want to go into!"  Comeau described the Titans defence as having no visible "chinks in their armour" . Comeau went on to share a theory of his, that as an OC, if you can name six of the other teams defenders you know you're in trouble. Through our conversation, Comeau named nine of them, and realizes scheming around a few of them will not help as the entire unit plays so well.
"The Titans set the bar for work ethic and intensity, if that's not matched on the field, there's no need to get on the bus. They know the game, they understand whats going on around them. TRHS will work at stopping any of our big plays, to defend that you have to give up something, that's the balance of the chess match, prepare for everything and hope we have the right combinations to succeed," he said.
The other aspect of the teams success will require the Royals defence to contain an explosive Titans offence, featuring their prototypical ground and pound assault. The Titans backfield has the dynamic assault threat of two distinctly different RB's in Prescott and Longpre.
Prescot,  a freakishly athletic brute, explodes into defenders upon contact will give RHS something to think about up the middle, while Longpres slalom like ski moves will try and carve up the fringes of the Royals vicious defence.
Previously, the Titans would go to the pass should another team stop there running game, but this year they've been more prone to mix up the pass and run despite the defences success. The last time these two met Titans QB Vogels connected several times with dual threat defender/ WR's Lafford and Cormier.Should the Royals be able to derail the run game, or attempt too, the Titans also have a legitimate passing game with QB Vogels and WR's Lafford and Cormier.
A key, and deciding factor in the last meeting between these two was special teams. TRHS missed all of their extra point attempts, including their final 2 pointer which would have given them the win, while on the flip side of their teams, the Titan's blocked two punts, and an extra point attempt.
Both teams have addressed their shortcomings, either with personnel change or varied formations, each aware this game could very likely come down to a single point again.
Coach Messervier is approaching the game optimistic that with some "luck and hark play" his team can beat the Titans again:
"It's going to be hard to beat them twice, I know they're going to be pumped, they're looking out for the challenge, it's two good programs going head to head again, most likely this game will be better than the final."
Coach O'Neal isn't concerned his won't be up for the challenge either:
"We'll be ready for it, the boys want to play. You've trained for this since August, they want to play football. I don't see problems with us getting motivated to play, plus it's Riverview, the guys remember October, they have emotional baggage ready to be unleashed."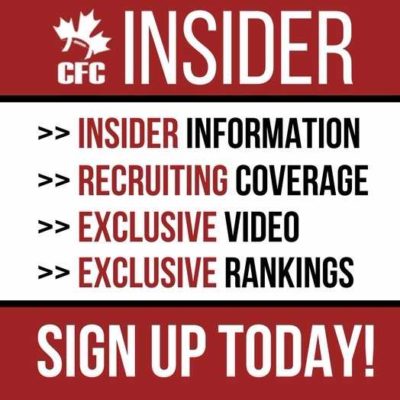 Advocating for football prospects one story at a time.