Pool B Quarter Final #2 Fredericton Black Kats vs #3 Riverview Royals
Friday, Oct. 27 @ 7:00pm, Scotia South-Fredericton
The last time these teams met not only determined who would have home field advantage for the play offs, but for the Kats it was a do or die game. With the No. 5 Lions beating the No. 1 Knights the previous evening meant a 3-way tie for 3rd, and do too season records, a Kats loss to RHS would have meant elimination.
The Kats pounced all over the Royals early and sustained a lead throughout. The Royal's offence struggled with their usually efficient passing game, however, QB Grossman still went 13/22 on the day with 3 passing touchdowns, giving him 17 for the regular season.
With the passing game not what it normally was, offensive coordinator, Comeau went to the ground more often than normal, seeing running back Gregory Stoyles, fullback Brady Morrison, and slotback Trent Bannister combined an average 10.6 yards a carry on a tough Black Kat defence.
Stoyles, a senior and a rookie to the sport, ran with what seemed a more confident and angry stride, at times carrying several tacklers before the whistle. Stoyles has yet to score a touchdown, which doesn't concern him as much as racking up first downs for his team. When asked how the Royals can beat FHS, on their turf, the converted hockey player replied with a veterans poise.
"We need to come off with a better start, it's happened a couple times where we started slow, we usually find a way to bounce back. I think we'll be ready this Friday, the boys will be a little more riled up," he said.
The Kats were able to stop two of Grossman's frantically orchestrated drives that would have put them in the lead, one of the drives stopped on an interception where CB Sebastian Brown jumped a route and picked a Grossman pass.  Later in the game, down by 4, the Royals were moving into striking distance when a Brown scooped up the ball after a high snap sailed over Grossman's head, killing the Royals final attempt at scoring.
Brown , a senior, played defence in previous years, but has been used this year as a slot back. Prior to the match up with RHS Brown approached his coaches and suggested they play him in their secondary to help try and control the Royals aerial assault.
"I told our DC to put me in and he did, I just tried to go and make plays and it worked, we have a lot of talent, we just put the pieces together," commented Brown.
Not only did Brown's return to the defence impact his team, but he was still used on the offensive side of the house where his speed and hands netted the team a critical catch on a third and long situation.
After watching the film Brown felt he had a decent game, but is planning on studying more to help him dissect the Royals wide receiver, #1 Jackson Green.
"#1 caught a nice pass on me, I could have defended that a bit better. When I was one on one with him I played back about ten, I was a bit scared of him hes so elusive and fast, but this week I think I'm going to give him a bit more pressure," explained Brown.
Royal's quarterback, Logan Grossman, has been breathing film all week trying to figure out how to beat the Kats, something he realizes will require an all hands on deck approach.
"To win it will take hard work and concentration. We let up last game and Fredericton took advantage. We will mentally prepared like never before, and they'll see the true Royals football team," said Grossman.
While Grossman and his team travel the two hour drive west to 'Freddy', Brown and his den of Black Kats will be pacing and chomping at the bit to get this game over with to advance to the semis, but like the quarterback he is trying to stop, Brown knows this W will take more than his efforts.
"Riverview is going to come at us strong, last week definitely was not their best game. We have to practice hard and come out harder at them."
The Kats head coach O.J. Burnette couldn't agree more."We're preparing with the mindset we didn't get their best game, we know that they're going to be better, if we're going to win we're going to have to be better," he said.
One of these things the Kats will have to improve upon this week to become 'better' is to find new ways to create confusion for the Royals defence with their multi formation offensive systems, something which even caught RHS coaches off guard.
"They came up with some stuff on offence, different formations we didn't recognize until we watched film later. As coaches I think we sometimes forget we should be watching our kids, but end up being spectators, that happened a little bit, this week we will be a little more vigilant" shared RHS head coach Guy Messervier.
Coach Messervier was confident that the Kats would add new plays to this weeks game, something FHS head coach O.J. Burnette hesitantly shared with CFC.
"We like to save some stuff for when we need it most. They saw a bit of that, each week everyone's searching for those two or three wrinkles to keep someone off balance a bit."
One thing the Kats will be doing is running the ball with their depleted stable of running backs. The Kats normally feature a one two punch out of the back field with Sam London and Ethan Stairs, but due to an undisclosed injury did not dress last week, and as of Wednesday is a 'game day decision' for Friday.
"With Ethan and Sam in the backfield it's a two headed monster. If you need five up the middle you give the ball to Ethan, if you're searching for a home run you give it to Sam, the two of them in the backfield is a weapon."
Another major loss to injury was rookie running back Riley Burtt who was a huge part of the Kats offence early in the season. With Burtt's knee injury and Stairs potentially out again, Burnette will rely again on the teams other running back, Gayo Isayo, to contribute again.
"Gayo is our third back, we usually wear a team down and then bring in fresh legs, he's mostly had big runs in the second half, he's had to step in from the beginning which is unfamiliar to him, but he's stepped up and carried the ball well."
Concerned for the lack of depth in his running back pool, Burnett will use the work horse he has in Sam London to carry the bulk of the teams load Friday night. London who scored twice last week, is descried as his coach as a 'home run' threat every time he touches the ball attributes his success to the beasts in: the Peters brothers and Simon Dean, who will also be wreaking havoc on defence.
The Royals defence has been studying as much film as they can on FHS to try and dissect what is happening on the field, and will be doing so with their leader #55 Aidan Steeves. The athletic DE returned to action last week but only on defence, where when 100 percent he plays offensive line and is featured on special teams. Steeves, a game changer, especially in critical downs, will be returning to his blocking duties this week as well.
"This week he's practiced and looked fine, I'm sure he's in some discomfort but he's not the kind of kid to complain," Messervier stated when asked about Steeve's role this week. With everything on the line the team is also allowing it's wide receiver, Jackson Green, to return kicks again. Green was limited to his receiving duties last week due to injury.
On the eve of the final practice both teams approach the game evenly matched. Both have won close games against tough opponents, and each lost in nail biting finales to MHS. The Kats need this game to continue on their path to reclaiming the Provincial crown, while the Royals are battling to stay their journey to claiming their schools first ever title, but for now, both their roads are intersecting again, to determine who will be continue on.
Kickoff is at 7:00pm, Scotia South-Fredericton.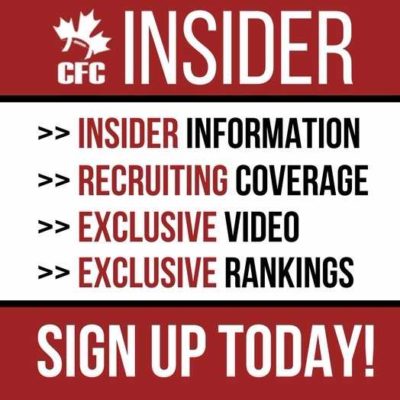 Advocating for football prospects one story at a time.