Moncton Purple Knights vs. CFC50 No. 42 Tantramar Titans
Saturday, Nov. 11 @ 2:00pm, MTA
This Saturday, the Moncton Purple Knights will travel 45 minutes east to the dreaded 'Marshland Jungle'  where they will throw down with the reigning provincial champion, the Tantramar Titans, for the right to hoist the Ed Skiffington Trophy.
The Titans enter the game a week after pummelling Riverview 35-0, while the Knights stride into the contest after crushing the Highlanders 51-0 in their semi. Some had accused the Titans of having an easier path into the playoff's, something Titan Head Coach Scott O'Neal agreed to in an interview with CFC; however, the Royals were the only team to have beaten the Titans in two and a half seasons just three weeks before, a loss TRHS DL/OL senior Ryan Cadman confessed awoke something in his team.
"After the loss everything was put into perspective, we realized we're not this invincible power house. Since we evolved into a technically sound team willing to work harder than we were to win, because you never want to feel that feeling again," he said.
Hard work indeed is a part of making it this far in the season. It's no surprise both programs have off season weight training programs available to players who wish to lift. MHS' program, 'Purple Steel' is often attended by Kinesiology students from near by Universite de Moncton, while TRHS athletes have the opportunity to lift with Mt. Allison coaches and players. Despite being voluntary, both programs have a high turn out, helping with performance and injury prevention.
The Knights enter the game considered by some as the underdogs not only because they lost to Tantramar in week two, but also because in the final week of regular season, the No. 1 ranked Knights were throttled by the No. 5 Leo Hayes Lions, 50-29.  When asked how his team has improved since the September loss to Tantramar, MHS head coach John Allenach seemed confident they had addressed what needed addressing.
"We put emphasis on the fundamentals, because the loss signified a lack of attention to details. We worked with individual positions, things like lower hand placement and footwork. It was a challenge for us internally."
The Knights run a wing-T offence which depends on timing, precision and intricate misdirections to mentally and physically overwhelm defences, something the Knights already did well in September.
A component of an effective misdirection offence is a quarterback that can not only sell the plays, but also carry the ball, something MHS QB Chris Cameron-Kogler does very well. Kogler scored 12 TD's for his team this year, and passed for six more. Kogler is aware of what it will take of him, and his team to dethrone the incumbent Titans.
"It will take execution on everyone's part, reading our keys, aligning properly, then just doing it without any mistakes" reflects the athletic senior.
Titans head coach Scott O'Neal acknowledged his concern for the threat Kogler poses, but realizes they also need to account for the other eleven purple clad Knights on the field.
"Their QB running is a concern, he's hard to contain. They're a tough team to play, they're well coached and have a lot of moving parts. They've got some size up front we're going to have to find a way to soften," shared O'Neal.
Another major piece of the Knights offence is RB Kyle Lewis, a powerhouse who with the help of his line will have to get past a Titans defence that has only allowed 49 points all year. This unit, with threats at all three levels,  plays fast, aggressive and intelligent football, something the Knights must account for.
Aside from intricate blocking schemes and hard nosed job execution, HC John Allenach revealed they will rely on other tactics to get first downs.
"Their LB's fly to the ball well and read keys well so we'll try and put them into some kind of conflict by giving them some conflicting reads to slow them down a bit."
Due to a conflict in start times, the game is being played on Mount A's turf, not the Titans grass home field, something the Titans offensive game plan has had to adjust too. Despite this Coach O'Neal, also the OC, isn't planning on changing much.
"Since we played them in September we've had a few personnel changes, but not alot. It was hot then and we weren't in shape, we're feeling good now and are healthy. So nothing has really changed other than we're in better shape, teams know what we're going to do, we're not a trickery team."
What the Titans "do" is run the ball effectively, and consistently with a text book adaption of what 'smash mouth football' truly might be. The teams running backs offer a vicious combination of interior and exterior abilities.
Prescott, a lineman in a RB's body, pounds teams up the middle while Longpre offers the engine to the teams signature jet sweeps. Both backs depend on their athletic and brutishly nasty offensive line, which like their RB's are capable of grounding and pounding a team in the trenches or down the alley ways of the sweep.
The Titans dare teams to stop their run to set up their pass,  and in the past two seasons displayed some efficiency with this blatant counter punch. But this year the team has successfully gone to the pass whether or not teams have stopped, or even adjusted to stop the run. QB Vogels has connected often with dual threat WR/DB Lafford and Cormier, one more thing for MHS QB Kogler is certain his team can overcome.
"Our defence will do what it's always done, play hard nosed football and communicate through it all. It's not one man's job but the defensive unit."
Anchored by two secondary captains, Ben George and David-Daniel Pendleton, who each played with a new rabidness against the Highlanders in last week's semifinal, seemed to be itching for a fight. Always intensely focused Pendleton is relying on the fundamentals preached by Allenach will overcome the potent Titans offence.
"We need to play technically sound and limit their play makers to making plays," Coach Allenach explained.
Coach Allenach expanded on some of what else it will take to not only win the provincial crown again, but to also beat Tantramar for the first time in over two years.
"We need to pay attention to detail on every play and n0t be in position to let them off the hook. We need to eliminate first downs. If successful on an early down, then on a second down make sure they are not able to get out of the hole."
Cadman, one of the Titans seniors and leaders shared what he felt will determine who will bring home Skiffington's trophy.
"It's about who wants it more. There's two good offences and two solid D's. It's hard to find cracks on either team, so it comes down to who's going to be more technically sound, fight harder and be more physical. T'he team that does that will walk away with the win."
Both teams bring to the battlefield this Remembrance Day a deep respect and passion for the game, and with that a mutual respect for one another. Kogler, along with every other senior will be playing his last high school game is approaching it the same as any other during his time as a Purple Knight.
"This game is just like any another, game is played the same way, field is the same, rules haven't changed, it's just a result of all the hard work us seniors and the guys have been putting in over the years, in the end, we're here to play to the best of our ability and I think that's what people will see."
Saturday November 11, 2pm at Mt. Allison Alumni Field, Sackville.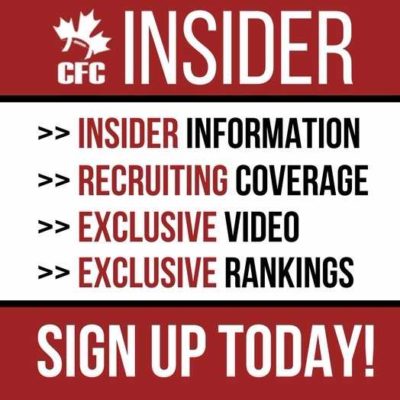 Advocating for football prospects one story at a time.