Every week canadafootballchat.com (CFC) will be getting the scoop on what went down in high school football and what's coming up the following week. If you have a game recap or upcoming preview, please submit it to [email protected]. CFC50 teams will not be featured in the high school roundup.
CLICK HERE FOR #CFC50 GOTW RECAP (West/Atlantic)
This past Friday night in New Brunswick had an ominous feel, the air was sharp and crisp as the scandals from our beloved Rocky Stone field made National head lines. The Globe and Mail sent a journalist and photographer to investigate the allegation of 9 L'Odysee Olympiens suffering head injuries in one game, while the CBC produced a feature video on allegations of racist comments in the stands during the September 29 game between RHS and MHS.
Despite both the Country's national news outlets being in the area, teams still prepared for their final regular season game, some with major play off implications.
Pool A                                                                                                    Pool B
#1 TRHS Titans (6-1)                                                                          #1 MHS Purple Knights (5-2, wins over RHS and FHS)
#2 L'Odysee Olympiens (3-4)                                                           #2 FHS Black Kats (5-2, win over RHS)
#3 BM Highlanders (2-5)                                                                  #3 RHS Royals (5-2)
#4 MM Matadors (1-6)                                                                      #4 SJHS Grayhounds (4-3, win over LH Lions)
#5 HT Trojans (0-7)                                                                           #5 LH Lions (4-3)
The NB 12-man league has 10 teams split into 2 pools, seeing the top 4 teams in each pool advancing. Many coaches in the league are urging a new system that would ensure the top 8 teams move on, instead of a worst case scenario situation such as this year, where one pool has only one program with a winning record, while the other is gridlocked with playoff built programs.
WEEK 7 RESULTS
Pool B
#5 Leo Hayes Lions 50-29  MHS Knights #1
After starting the season 0-3 the Lions came into this game on a 3 game winning streak, needing a win and a Grayhound loss in their out of division match up with the Olympiens.
The Lions who normally produce thru the air stuck got all of their TD's via their ground assault with QB Jonah Rawlines scoring twice and Garrett Doucette, Alec Ferris and Matt Lefleur also scoring. The defence and special teams each contributed with a TD on the day, seeing Shane Piers return a fumble and Matt LeFleur take a Knights punt to the house for his second on the day.
The Knights RB Kyle Lewis ran well all night, while QB Chris Cameron-Kogler called his own number scoring on one carry and connected with TE Ethan Dunnett and WR Ryan LeBlanc for 2 more on the day. On defence Jerome Gould had a great game forcing two Lions fumbles.
In the past 2 weeks the Lions beat #2 FHS and #2 L'Odysee, and despite the convincing win over #1 Purple Knights the Lions prideful season ended as the Hounds won their must win game as well.
#4 SJHS Grayhounds 27-7 L'Odysee Olympiens #2
The Hounds entered this game knowing they had to win to stay in, and they did this in a convincing and dominant fashion over the Olympiens.
SJHS moved the ball often and with relative ease on the ground behind a fast and technical offensive line, but have legitimate threats thru the air behind QB Alex Cassidy's arm.
#3 BMN Highlanders 50-7  MM Matadors #4
Both of these teams entered the game 1-5 which put them both ahead of the last place team, the 0-6 Trojans, which meant the loser of this game would be in 4th place, which meant playing the Titans in the quarters. Both teams prepared for this game as though it was the provincial final, as each have a legitimate chance at beating #2 L'Odysee in the quarters.
The Matadors stood toe to toe for most of the first half with the Highlanders but slowly fell behind. The Highlanders moved the ball steadily on the ground setting up 211 passing yards for QB Will McNally to a slew of receivers including:  WR/TE Parker Mac Intyre WR/TE Sam Moore and with German exchange student Lance Kreuger.
Matador WR Justin Pineau had a dynamic game scoring the teams TD and making several exciting runs for his team.
#1 TRHS Titans 41-0 HT Trojans #5
The Titans ended their season 6-1 on the Marsh against the struggling Harrison Trimble Trojans.
Titans RB Prescott had 3 rushing TD's, while Longpre added another on the ground, and two thru the air.
The play of the game came whenTitans WR, #80, Tom Lafford added to the lineage of his family's legacy of legendary Titans when he carried the ball 35 yards to the end zone for the teams other major on the day.
I have had the pleasure over the years of not only watching, but witnessing not only players but coaches from both teams displaying, character, honor and respect for this game since Tantramar opened its doors back in the early 70's. However, for me, today has to be marked as one of the most honorable special and respectful game's ever played on this Titan field. The score was 41-0 for the Titans. Harrison Trimble could have done like other teams and just packed it in or gave up at half time, however, they didn't. They kept grinding and fighting every play, they never gave up and they never threw in the towel or made excuses, which is a true testament to these players and coaching staffs values. But that's not all they did. The coaching staff, their players and the players and coaching staff of the Tantramar Titans gave the true meaning of what this game is really all about. A player from Tantramar, who could only dream of getting an opportunity to step on the playing field, who, never missed a practice, who always has a smile on his face and who brings the best out of people by making them smile, had his dream come true today. I'm speaking of Tom Lafford, # 80 for the Tantramar Titans. At the start of the 4th quater, with the ok of the officials and both teams, Tom was allowed to step onto the field and do what every boy dreams of doing, playing football. For 30 plus seconds that it took to run this play, every parent, teacher, fan, coach, player and student were smiling and cheering and some were even crying tears of joy for Tom when he scored his touchdown. Although I could not see his face, I pretty sure Tom was smiling and I'm sure he will remember this day for the rest of his life. I would like to thank not only the coaches, but the players of Harrison Trimble High School and Tantramar Regional High school, for displaying such high standards of honor, respect, integrity, heart, effort and dedication towards this great game. You are all true leaders and ambassadors of this sport, never forget that. There will always be haters, cowards or those who are jealous of what we can accomplish on the playing field, but they will never have what you have, heart and integrity. Thanks boys!!!

Posted by Robert LeBlanc on Saturday, October 21, 2017
10-Man Results
Oromocto 50-12 Harborview
Kennebecasis 39-14 Simonds
Hampton 36-0 Miramichi Valley
Sussex 33-14 Rothesay
10-Man Playoffs

Simonds vs St. Stephens
Sussex vs Oromocto
Hampton vs St. Malachy's
Rothesay vs Kennebecasis
12-Man Quarter Final Schedule
Pool A
#1 TRHS Titans (6-1) vs #4 Mathieu Martin Matador's (1-6), Sackville, Saturday at 1PM
The Matadors will focus their efforts on refining those things they will continue to improve on thru the off season and into 2018. Look for the Titans to strike early and often on their home field.
#2 L'Odysee Olympiens (3-4) vs Bernice MacNaughton Highlanders (2-5), Rocky Stone, TBA
The last time these two clubs met in week 2 the Olympiens barely scratched out the win, beating the Highlanders 7-0. In a conversation before Friday nights game against the Grayhounds, when made aware that the winner between Bernice and Martin would determine who the Olympiens would face in the quarters, head coach Marcel Metis laughed: "I want another shot at the Matadors!" , a team they pounded 35-0 in regular season action.
Highlanders QB Will McNally commented on the game:
"We've have worked just as hard if not harder then any other team in the province throughout this season, and have improved tremendously. We're especially hungry to beat them on Friday because we know the score in week 2 at the end of the game didn't represent who the better team was. We have all the tools we need to beat them, and we just have to execute on game day"
The Highlanders bring with them a balanced offensive unit that racked up 346 yards of total offence, 211 of which came thru the air.
L'Odysee OL Justin LeBlanc is equally as confident his team will have what it takes to play into November.
" I believe that we have what it takes to beat the highlanders but it wont come without some hard work because they are very much a good football team. but after our last two games being not the best were hungry for this win. i as well as my team are ready to put everything on the line for this game there well be absolutely no mercy"
Pool B
#1 MHS Purple Knights ( 5-2) vs #4 SJHS Grayhounds (4-3), Friday at 8PM, Rocky Stone
The Knights enter this game coming off a thrashing handed down by now eliminated Leo Hayes Lions, who carved up the Knights defence thru the air and ground.
The Hounds are coming off a solid win against L'Odysee but expect a tougher scrap when they line up across from the powerhouse Purple Knights.
These two teams met in week one , where the Knights won 23-12.
#2 FHS Black Kats (5-2) vs #3 RHS Royals (5-2), Fredericton, TBA
Round 2 of this clash is sure to be a classic as both teams begin preparing for the re match. Each team will be adjusting their defences in hopes of plugging the others strengths.
The Fox 40 Prospect Challenge (FPC) is a series of elite showcase games that feature the best tackle football players from across Canada aged 10-19 years. Tournaments are played in Central Canada (ON) and the West Coast (BC).
CLICK HERE FOR #CFCFPC FACEBOOK PAGE – CENTRAL
CLICK HERE FOR #CFCFPC FACEBOOK PAGE – WEST COAST
GET REGISTERED! GET COACHED! GET RANKED!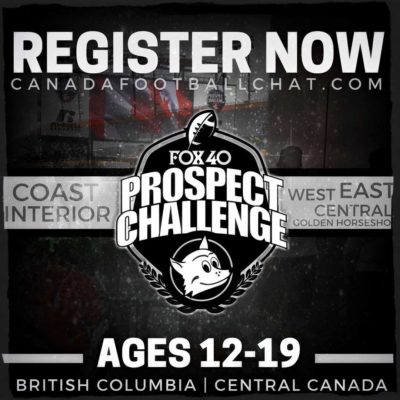 Advocating for football prospects one story at a time.
Tags:
Alec Ferris
,
Alex Cassidy
,
Bradley Peters
,
Chris Cameron-Kogler
,
Ethan Dunnett
,
Garrett Doucette
,
Greg Stoyles
,
Jackson Green
,
Jared Prescott
,
Jerome Gould
,
Jonah Rawlines
,
Justin LeBlanc
,
Kyle Lewis
,
Lance Kreuger
,
Logan Grossman
,
Matt LeFleur
,
Matt Taylor
,
Oliver Longpre
,
Parker MacIntyre
,
Ron Peters
,
Ryan LeBlanc
,
Sam London
,
Sam Moore
,
Sebastian Brown
,
Tom Lafford
,
Will McNally