What is the CFC Prospect Game Selection Camp?
The 2024 CFC Prospect Game Selection Camps is a series of premier youth football events featuring high school players born in 2008 and 2009 who are eligible to compete in the 2024 CFC Prospect Game on TSN.
*SCROLL TO THE BOTTOM FOR CFC SELECTION CAMP TOUR DATES*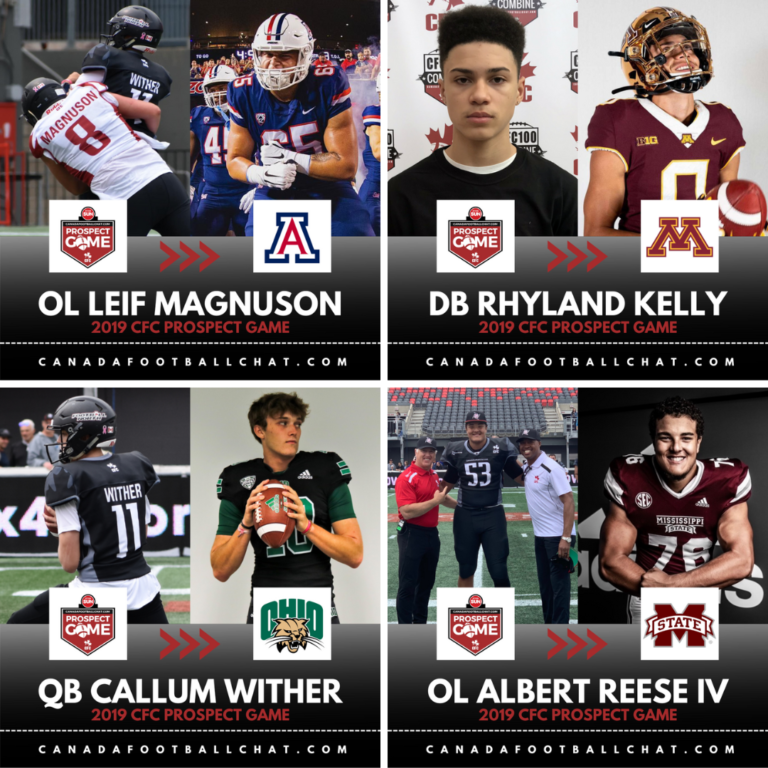 WHY SHOULD I ATTEND?
Evaluated for the 2024 CFC Prospect Game on TSN

Evaluated for CFC100 High School Player Rankings

CFC100 Scouting Bureau and CFC Selection Committee in attendance (CFC Prospect Game on TSN)

Improve combine and football skills 

Enhance recruiting exposure and compete against top competition

All participants receive Personal Profile on CFC

All participants receive verified 40 yard results

Learn popular combine drills used at all levels (NFL, CFL, etc.)

CFC travels to your location so it's close to home

Free T-Shirt and CFCINSIDER discount
2023 CFC PROSPECT GAME ON TSN RECAP
The 2023 CFC Prospect Game on TSN returned for the second straight year with the top 77 high school Canadian football prospects at TD Place Stadium. The third edition of the CFC Prospect Game on TSN featured CFL legends Davis Sanchez returning and Milt Stegall making his first appearance as head coach. Team Sanchez earned their second straight triumph with a 24-12 victory over Team Stegall.
EQUIPMENT NEEDED
Please bring proper footwear (field specific), helmet and shoulder pads
Registration for the upcoming CFC Selection Camp tour in February is NOW OPEN
Price: $225.99
*All dates, times and locations are subject to change. All participants will be notified.*
| | | | | |
| --- | --- | --- | --- | --- |
| Location | Date | Time | Facility | Address |
| Ottawa | February 3rd | 10:00 AM | Gee-Gees Dome | 200 Lees Ave, Ottawa, ON K1S 5S9 |
| Montreal | February 4th | 11:00 AM | Stinger Dome | 7200 Sherbrooke St. W, Montreal, QC H4B 1R2 |
| Winnipeg | February 13th | 10:00 AM | U of Winnipeg Field House | 350 Spence St, Winnipeg, MB R3B 2S4 |
| Regina/Moose Jaw | February 15th | 10:00 AM | Yara Centre | 1220 High St W, Moose Jaw, SK S6H 4R3 |
| Calgary | February 16th | 10:00 AM | Calgary West Soccer Centre | 11014 Bearspaw Dam Rd NW, Calgary, AB T3L 1S4 |
| British Columbia | February 17th | 9:00 AM | BMO Coastal Soccer Centre | 14600 20 Ave, Surrey, BC V4A 2C8 |
| Hamilton | February 19th | 9:00 AM | Redeemer Dome | 777 Garner Rd. E., Hamilton, ON L9K 1J4 |
| Halifax | February 24th | 10:00 AM | East Coast Varsity Dome | 10 Poseidon Ct, Dartmouth, NS B2Y 4T9 |
#CFCProspectGame on @TSN_Sports 🎬

Huge shoutout to Ocho Productions for producing some sizzle reels in Ottawa! 🔥

We will be holding CFC Showcases in July in Winnipeg, Saskatoon, Regina, Edmonton, Calgary and Vancouver! REGISTER NOW ✅ https://t.co/6Kf1ZtkffW pic.twitter.com/QBEoOKmb14

— CanadaFootballChat (@chatfootball) June 6, 2023
SOCIAL MEDIA LINKS 
Facebook.com/TSN
Instagram.com/TSN_Official
Snapchat: TSN_Official
YouTube.com/TSNCanada 
Twitter.com/chatfootball
Facebook.com/CanadaFootballChat
Instagram.com/cfc_football
YouTube.com/canadafootballchatlive 
#CFCProspectGame
#TSN 
CFC PROSPECT GAME QUICK LINKS
2023 CFC Prospect Game RECAP
2022 CFC Prospect Game RECAP
2022 CFC Prospect Game FULL HD
2019 CFC Prospect Game RECAP
2019 CFC Prospect Game FULL HD
Advocating for football prospects one story at a time.