Zachary Dodge did not choose football; football chose him.
Growing up Dodge was a little bit bigger and stronger than his classmates. He tried sports, but none fit quite like football. "All my life, I've always been bigger than everyone else. I've played house league hockey and was never good enough to make a competitive hockey team. The same happened with volleyball, so I joined my local football league and began loving football," says Dodge.
Standing at 6'1, 260lbs, Dodge battles in the trenches in all three phases of the game (offensive tackle, defensive tackle, long snapper). Winning the battle in the trenches is key to win championships something Dodge knows very well. "One of my most memorable football moments was playing for Team Ontario at the U-16 East Challenge, the gold medal game at Acadia University will be a memory I won't forget," says Dodge.
To keep up his high-level play, Dodge spends his free time working to improve his play. "This season I will improve by not taking any practices off and work hard day in, day out. During the off-season I will step up and work hard in the weight room to get stronger, but also not forget to work on my explosiveness, footwork, and reaction time," says Dodge.
That explosiveness is a key component of Dodge's game. "I believe what gives me an 'edge' is my explosiveness off the line [of scrimmage] and my raw strength and power to drive my opponents back," says Dodge.
Dodge is a smart young man who understands that academics will factor in earning a scholarship and playing football at the next level. "I am also looking to work hard in school to keep my grades up," says Dodge.
Unlike many young men who idolize professional athletes, Dodge finds inspiration in those closest to him. "The most influential people in my life are my parents because they motivate and support me through everything I do. My football coaches have also been very influential as they have taught me many things from football to life lessons," says Dodge.
Football is a sport unlike any other; it transforms young boys into men by teaching them countless important and valuable life lessons. "I would not be close to where I am today without football. I have formed many great friendships through football, the game has taught me many life lessons, built my character, been there as a stress reliever, and turned me into a leader," says Dodge.
Zachary Dodge (#99/#63)
6'1, 260lbs
Offensive Tackle, Defensive Tackle, and Long Snapper
Team(s): Regi Panthers, Kingston Grenadiers, and Team Ontario
Official Visits: n/a
Commitment: n/a
Class: 2020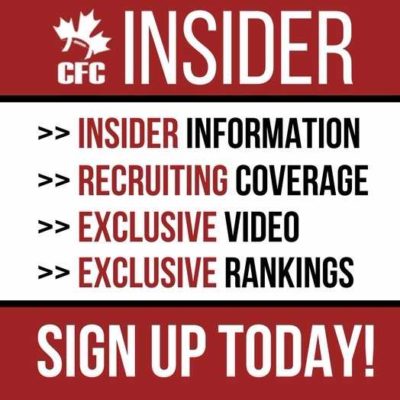 Advocating for football prospects one story at a time.