On Thursday, the nation's sights will be set on the Peel Region.
This week's National Game of the Week involves two #CFC50 Top 10 squads that will battle for the Region of Peel Secondary School Athletic Association (ROPSSAA) Tier 1 Championship. CFC#10 St. Roch Ravens will square off against CFC#4 Lorne Park Spartans for supremacy.
For their part, the Spartans know the challenge that the Ravens present to them.
"In championship games, you expect to play against the very best and I don't think there's any doubt about the St. Roch Ravens in that regard," commented Spartans Offensive Coordinator Ben Grant.  "The Ravens not only come into this contest undefeated, no one has even given them a game."
"Their closest result all season was last week's 27-6 win over the talented Mount Carmel Crusaders.  They led ROPSSAA in scoring as well as fewest points allowed; they have a number of OVFL players on their roster and a handful of Team Ontario players."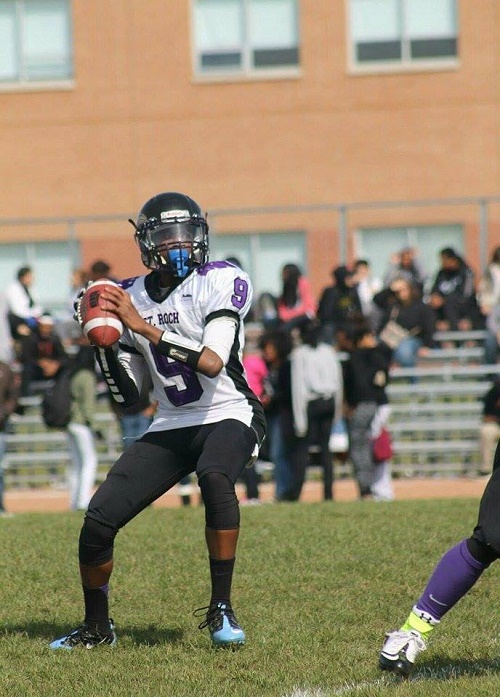 Last year was when the two teams met previously and they split the series 1-1. During the regular season, the Ravens earned a 21-0 victory over the Spartans.  However, the Spartans returned the favour in the ROPSSAA Tier 1 Semi-Final with a 22-14 win over the Ravens.
The Spartans have taken notice that the Ravens haven't lost a step despite massive turnover from the 2014 squad.
"A lot of their players from last season have gone on to play CIS football this year, but I believe they've been replaced by a group of even more talented individuals," elaborated Grant.
In his assessment of the Ravens' offence, Grant said the team is dangerous in both the ground and air games.
"St. Roch is an extremely flexible team on both sides of the ball," evaluated the Spartans Offensive Coordinator.  "This season they've successfully run a variety of different systems ranging from wishbone to spread. "
"If they think they can beat you through the air, they'll throw the ball around like they did in their win against Mayfield, and David Suzuki.  If they feel their advantage is on the ground, they'll pound it like they did last week against Mount Carmel."
The Spartans have to shut down the offensive trio of pivot Deandre Rose, running back Malcolm Miller and slotback Jamaal Nkrumah.
"Quarterback Deandre Rose can throw the ball extremely efficiently, but we haven't faced a ground game like theirs this season," assessed Grant.  "Running back Malcolm Miller is a tough inside runner with great speed and slotback Jamaal Nkrumah gets to the edge on the jet sweep faster than anyone else we've seen this year."
"Then there's the added difficulty of defending the speedy Rose who keeps it himself when nothing opens up downfield."
So how will the Spartans counter the Ravens offence and limit Rose, Miller as well as Nkrumah?
"We will be relying heavily on our front seven to limit the Ravens rushing attack and generate pressure in passing situations," offered Grant.  "Defensive backs Ricardo Barrett, Tyrell Richards, and Daniel Clarke have shut down every quarterback they've faced this season."
On the opposite side, the Ravens are equally anticipating a tough contest highlighted by a highly charged Spartans offensive unit.
"St Roch is looking forward to the ROPSSAA Final on Thursday versus Lorne Park," expressed Ravens Co-Head Coach Neil Majoros.  "They are a team with a dynamic offence who like to spread the ball around to their receivers."
"Their quarterback [Alex] Lavric has tremendous accuracy and has had a great season."
Ultimately, the Ravens' game execution plan will centre around three battles they must win over the Spartans.
"Keys to the game for us will be to get pressure on their quarterback , have our defensive backs step up in coverage and our offensive line protect our quarterback," described Ravens Co-Head Coach Jon Beresford.
As for the Spartans, the offence needs to find gaps in a relentless, aggressive Ravens defence in order to get on the scoreboard.
"They get great drive from their tackles, and an alarming speed rush from their ends, while Mariano Christiaans and the rest of the linebackers clean up what's left," added Grant. "When we're on offence, we'll have to make smart decisions and play mistake-free football."
Overall, the Spartans have to excel in all three aspects of their game in order to defend the ROPSSAA Tier 1 Championship.
"To win this game, we can't allow St. Roch to make big plays on offense or special teams, and we have to win the turnover battle," offered Grant.
Meanwhile, discipline and gaining the upper hand are the keys for the Ravens to snatch the championship away from the Spartans.
"For our team to be successful we will need to play under control, win the special team battle and continue to move the chains on offence," expressed Majoros.
CFC#4 LORNE PARK SPARTANS:
2015 RECORD: 5-0
PLAYOFF ROAD:  Earned bye in ROPSSAA Tier 1 Quarterfinals, defeated St. Marcellinus Spirit in ROPSSAA Tier 1 Semi-FInal 9-3
#CFC50 RANKING:  4th
 HEAD COACH:  Scott Price
PLAYERS TO WATCH: Alex Lavric (quarterback), Devin Condlin (wide receiver), Sean Cotter (linebacker)
CFC#10 ST. ROCH RAVENS:
2015 RECORD: 5-0
PLAYOFF ROAD: Earned bye in ROPSSAA Tier 1 quarterfinals, defeated Our Lady of Mount Carmel Crusaders in ROPSSSAA Tier 1 semi-final 27-6
#CFC50 RANKING: 10th
CO-HEAD COACHES: Neil Majoros and Jon Beresford (seventh season, 12 years overall with program)
PLAYERS TO WATCH: Deandre Rose (quarterback), Jamaal Nkrumah (slotback, kick return specialist), Daniel Clarke (safety) , Malcolm Miller (running back), Riccardo Barrett (#CFC100 – defensive back), Tyrell Richards (#CFC100 – defensive back)
(twitter: http://twitter.com/vohra_ameeta)
Advocating for football prospects one story at a time.