CanadaFootballChat.com brings you the National High School Previews and Predictions.  Each week, we will preview the must see games of the week province to province and provide a prediction of the outcome.
CLICK HERE TO VIEW #CFC50
CLICK HERE TO VIEW CFC 50 NON-PUBLIC SCHOOLS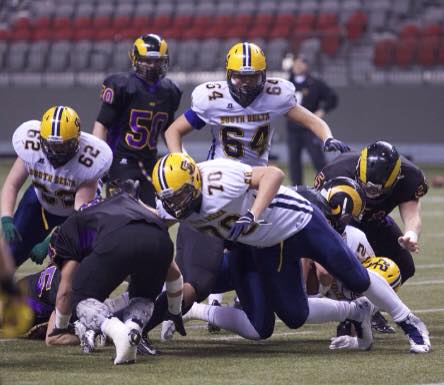 BRITISH COLUMBIA:
'AAA' Regular season begins September 25th
Handsworth Royals @ Carson Graham
Saturday, September 12 – Carson Field
Kickoff at 1:30 pm (PT)
Watch online at www.SportsCanada.TV

For the 2015 season's first BC High School Football game of the week preview, we cover the 29th annual Buchanan Bowl, a strong cross-town rivalry matchup between the Carson Graham Eagles and the Handsworth Royals.
The hosts, Carson Graham, lead the all-time series 18-10 and have won the past four Buchanan Bowls. The Eagles are without some familiar faces that were lost to graduation including running back Lucas Bill, their leading rusher for the past two seasons, and quarterback Mike Worthen, one of the top quarterbacks in AA Varsity last season leading the division in a number of categories including passing yards (1362) and passing touchdowns (17), but feature a key returning player in Flynn Heyes, who ranked eighth in the conference last season with 44 tackles and two sacks in a span of five games.
This year, the Royals graduated key pivot Mihai Lapuste and will look for a new starter under the guidance of quarterback specialist and head coach Jay Prepchuk. Another key player who will be missed for the Royals is Matthew Anderson, who led the league last season with 74 tackles and two sacks. A key returning player for the Royals is receiver Jacob Ghazizadeh who ranked fourth in receiving in the 2014 season with 23 receptions for 476 yards and two touchdowns.
Last year's closely-contested matchup between the two teams was won by Carson Graham by a final score of 49-48. Will Handsworth finally break the Eagles' Buchanan Bowl winning streak this year? Or will the Eagles extend their win streak to five? Tune in this week to find out!
Source: BC High School Football
ALBERTA:
CFC#1 Notre Dame Pride @  CFC#50 Raymond Comets
Friday, September 11, Don Steed Memorial Stadium, Raymond 6:00PM
What a way to kick things off this Friday, as Notre Dame's quest for the record of consecutive wins in Alberta high school football runs into the very program they are chasing.
After last week's season opening win over Holy Cross in Saskatoon, the Pride are now just 6 wins shy of the record of 39 set by the Comets from 1996-1999.
Knowing the Pride's rep the record probably isn't on their mind as much as the importance of just winning the next game but Raymond has "pride" as well and would love to stop the streak for the generation of Comets who came before them.
Great way to start the year!
Source:  Alberta Schools Athletic Association
PREDICTION: Notre Dame Pride 40, Raymond Comets 27
SASKATCHEWAN:
Evan Hardy Souls @ Aden Bowman Bears
Friday September 11th, 7:30PM
This is more a game of nostalgia if anything.  When the Evan Hardy Souls take to the field under Friday Night Lights in Saskatoon, it will officially mark the school's 50th anniversary game.
The Souls will mark the occasion by facing a tough Aden Bowman Bears squad.  This will be a battle between  Saskatoon Division 3A versus Division 4A team.
Kyle Newton will be expected to build on his standout performance last week against North Battleford Vikings where he registered over six tackles in the Souls 28-14 victory. Additionally, pivot Evan Bayliss and running back Carter McLean will try to create some offensive magic for the Souls.
"We enter the most difficult stretch of our schedule before we enter our 3A stretch," commented Souls Defensive Coordinator Wyatt Carleton.  "We play in our schools 50th anniversary game next Friday night against a very strong 4A Aden Bowman team."
"It should be a great experience and a great game."
Meanwhile, the one to watch for on the Bears is #CFC100 lineman Nathan Cherry. In the 2014 season, the Bears standout recorded two sacks, caught an interception and registered 19 tackles.
The Bears are coming off a 20-7 loss at the hands of St. Joseph Guardians and are motivated to spoil the special occasion for the Souls.
PREDICTION: Evan Hardy Souls 24, Aden Bowman Bears 21
MANITOBA:
Dakota Lancers @ Oak Park Raiders
Thursday September 10th, 5:00pm
Last year's WHSFL Provincial 'AAA' Champions begin their defence the same fashion they opened their season in 2014. The Oak Park Raiders will open their season against the Dakota Lancers.
In the 2014 game, the Raiders cruised to a 46-14 win.  However, #CFC100 Brady Oliveira was there…and this time he's not.  The Raiders will sorely miss the lack of offensive firepower. Not only has Oliveira departed, but a huge chunk of their defence has also moved on including Machuor Akau, Alex Eblering and Tyrone Hastings.
As for the Lancers,the team is looking to improve on their 4-3 record from 2014.  Pivot Colby Kyliuk will lead the execution of both the ground and air attack on the Lancers offence. Starting running back Somto Anyadike and receiver Conor Nedelec will be Kyliuk's main targets.
The Lancers expect Scott Brakel and Matt Rodgers to provide leadership on the secondary. Shimon Abramovich, Connor Kyliuk and Justin Kwitatowski will anchor the defensive line.
"The challenge will be to quickly bring these young players up to speed and minimize our mistakes to compete in the league," said Lancers Head Coach Raymond Jarvis earlier this year what the team needs to do to improve this season.
PREDICTION: Dakota Lancers 32, Oak Park Raiders 17
ONTARIO:
Games begin next week (September 16th) in certain regions
QUEBEC:
CFC#23 Saint Jean Eudes Condors @ CFC#4 Cure-Antoine Labelle Wolves
Saturday September 12th, Parc-Roi du Nord, 1:00PM
Not only is this a battle of two #CFC50 squads but also two undefeated teams early on in the 2015 RSEQ Juvenile Division 1 season.
If their last meeting is any indication, this will be another defensive battle.  It's close to a year ago since that game in which the Wolves escaped with a 13-5 win.
For the Wolves, quarterback Samuel Cloutier, receiver Guillaume Ranger, running back Marc-Arthur Jérôme and lineman Alexander Roger will lead the offense.  Additonally, defensive back Khennysou Louis-Jeune and linebacker Olivier Grenier are the ones to watch on defense.
While this game is early in the season, this one could have playoff implications down the road.  Expect this one to be another one to be decided by both defenses.
PREDICTION: Cure Antoine Labelle Wolves 14, Saint Jean Eudes Condors 10
NOVA SCOTIA:
Sir John A MacDonald Flames @ CFC#31 Citadel Phoenix 
Monday September 14th, Burnside Turf, 7:00pm
This is one rivalry that football fans in Nova Scotia fans have looked forward to over the years. With the Nova Scotia Student Athletic Federation Footballl League's (NSSAFFL) realignment this year, these two teams will meet twice in the regular season.
The last time CFC#31 Citadel Phoenix and Sir John A MacDonald Flames met was at the 2014 Turkey Bowl where the Phoenix extinguished the Flames 28-17.
However, these are two different teams from a year ago.
The Phoenix will have a quarterbacking one-two punch of Cameron Valardo and Monecko Clayton. On offense, the Phoenix hope Jack Campbell brings another performance like the one he did against the Cobequid Cougars as he tallied three majors and rushed for 220 yards.
However, for the Flames to be successful against the Phoenix, the team has to find cracks on both the offensive and defensive lines.
On defense, all eyes will be on Nova Scotia Player of the Year Jonah Williams.
Adam Bennett is coming of a valiant performance despite the Flames loss against the Cheetahs.  He scored a touchdown and racked up 134 rushing yards.
While this game is early in the season, it will set the tone of the NSSAFFL Division 1 season early on.  This could also be a preview of the Division 1 Championship Final this fall.
"We historically have had very close games over the years," commented Phoenix Offensive Coordinator Jon Dyer last year about the rivalry.  "One or two plays may make the difference."
PREDICTION: Citadel Phoenix 30, Sir John A MacDonald 17
NEW BRUNSWICK:
Leo Hayes Lions @ Oromocto Blues
Friday September 11th, 7:00PM
The New Brunsiwck High School Football League (NBHSFL) season begins on six different fronts this Friday.
One game that will be a competitve one to watch is between Oromocto Blues and Leo Hayes Lions.
In 2014, these two teams battled in Week 3 of the season and the Blues came out on top with a 41-20 victory.
For the Lions, wide receiver Aaron Jenkins will lead the offense.
PREDICTION: Oromocto Blues 37, Leo Hayes Lions 21
Advocating for football prospects one story at a time.