The countdown begins to CanadaFootballChat.com Ontario Prospect Challenge on the May 1st weekend.  In the days leading up to OPC, CFC will preview the teams, coaches and players participating in the big event.
For Austin Daya, his love for playing the game has been apparent throughout his gridiron career.
"Passion is the one word that describes the amount of heart and passion I have for the game," commented the 5'11, 165 pound defensive back. "It's something you can't really teach and it's something that I show in every game and every play."
"When you are passionate about something it shows in your dedication."
His passion for the game has carried him through his many gridiron experiences.  Among the teams he has suited up for in his career include Bill Crothers Colts of the York Region Athletic Association (YRAA) and Markham Raiders of the Ontario Varsity Football League (OVFL).
Overall, Daya enjoys playing his primary position for a couple of key reasons.
"I play defensive back because it is the position where I can use my athletic ability, football knowledge and size on the field," explained the Ontario standout.  "Playing defensive back requires you to be smart and recognize route combinations) fast and be calm under pressure."
"I love to shutdown receivers, make the quarterback panic on his decision to throw and lay some hits. I also like being that factor which makes quarterbacks afraid to throw to my side of the field."
However, being a defensive back doesn't come without some obstacles, which Daya in turn uses as motivation.
"I love the challenge that comes with playing defensive back," said Daya.  "You have to able to recognize route combinations, and always stay on your toes as big plays can happen at any time."
"Also defensive backs tend to be the last line of defence so if by chance a big play occurs, you are the last player to make the play and make the open field tackle."
On the field, the defensive back emulates NFL star Brandon Browner of the New Orleans Saints.
"He is an extremely aggressive and athletic player that has had success in the CFL and NFL," expressed Daya.  "He uses his size to his advantage and does not let receivers forget his presence on the field."
"I feel I standout defensively like Brandon."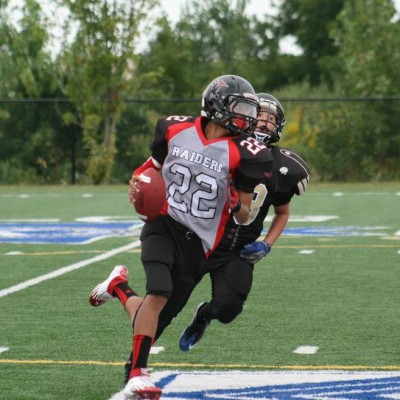 This weekend, Daya will once again make his presence known on the gridiron as he will take part in the Ontario Prospect Challenge (OPC0 as a member of Team Central's junior varsity squad. For his part, OPC is an adventurous gridiron step.
"I keep updated regularly with CanadaFootballChat.com and when I heard about previous players that had played in these OPC games," recalled the Team Central defensive back of how he stumbled upon OPC.  "I thought I should give it a try because I can always improve my game and learn something new."
Not only has he been satisfied with the OPC process, but had also taken away some special yet competitive memories.
"The experience has been great with the competition in the tryouts and learning new techniques from the coaches," said the Ontario standout.  "The highlight for me would be the intensity of competition during tryouts to earn a spot on this team."
"The atmosphere was great and the coaches were very encouraging."
Moreover, he has savoured the opportunity to work with an elite group of coaches.  However, he credits one coach in particular with playing a significant role in improving his game.
"I had the honour of being coached by Coach John Parkes [Team Central Head Coach]," added Daya.  "He was a very passionate coach who had lots of knowledge to embed and his competitive nature was very contagious."
"I'm very happy that I have had the opportunity to be coached under him as I can tell he knows what he is doing, and is a great leader who will help to prepare me for game day."
With the pressure of playing in a big event, being hosted at a large venue such as TD Place in Ottawa, Daya hopes to adapt, yet thrive under the circumstances.
"I'm just going to play with my heart like I always do, and have fun while doing it," offered the Team Central defensive end.  "The stakes are high and there is definitely some pressure but if I play like I know I can and contribute to the team as much as I can, pressure will be the least of my worries."
"Besides I'm used to playing under pressure."
In preparation for game day on Saturday, Daya has been taking training and reviewing initiatives aimed at giving him the best chance of success.
"I've been keeping up with weight and speed training with my team and on my own as well as studying game film to find what adjustments I need to apply to my game," elaborated Daya.
Overall, he is looking forward to competing with and against the best of the best from within the province.
"Playing on Team Central, there is a lot of local talent that I have played with and against on other teams," said the defensive back.  "I'm excited to travel and face some of the best players in other parts of Ontario."
With many players using the OPC as an opportunity to display their talents while performing in front of many spectators including recruiters, Daya is no exception. Set to graduate from high school in 2017, the defensive standout is keeping all his options open. Early on, there are five CIS schools that ranked at the top of his consideration list – Western, McMaster, UBC, Wilfrid Laurier and Queen's.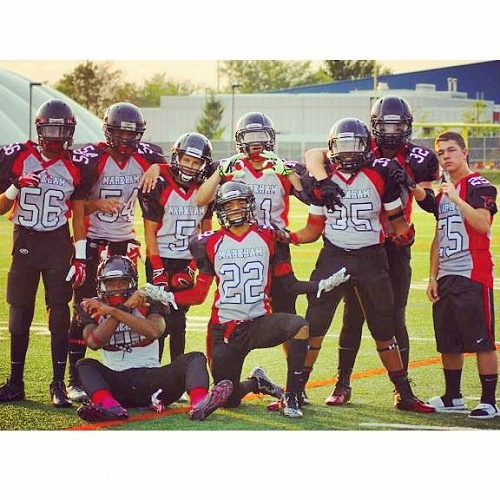 However, his current focus is on the task at hand on Saturday afternoon against Team East. Daya's main objective for OPC is centered on team cohesion and success.
"I want to make my mark and make sure everything I do on the field helps our team play at its best," added the Team Central defensive back.  "I want to establish a great connection with the whole defence so that our team chemistry will give offences a hard time with moving the ball."
Ultimately, Daya hopes to take what he has learned from the entire OPC experience and utilize it in his other gridiron endeavours, in the hopes it will equate to long-term success.
"I want to use my skills to help my team win," expressed Daya.  "I want to be known as a leader."
"I want to be a defensive back that makes quarterbacks think twice about throwing to and I always want to be on the offences' mind as to where I am on the field."
(twitter: http://twitter.com/vohra_ameeta)
Advocating for football prospects one story at a time.