The countdown begins to CanadaFootballChat.com Ontario Prospect Challenge on the May 1st weekend.  In the days leading up to OPC, CFC will preview the teams, coaches and players participating in the big event.
Evan Bodnar is driven to succeed in his gridiron career.
"I am driven to improve every day and I'm never satisfied with my previous performance," elaborated the 6'1, 180 pound quarterback.  "I am always willing to learn and improve."
Throughout his career with both the Korah Colts of the Northern Ontario Secondary School Association (NOSSA) and Sault Sabrecats of the Ontario Varsity Football League (OVFL), the offensive standout has demonstrated his adaptability and passion as an offensive leader.
"I believe it suits my personality as an individual, because I work well under any pressured circumstance and the good cognitive ability to work quickly," explained Bodnar of the quarterback position.  "The pressure that's on you as a player to make precision throws under a fast paced situation."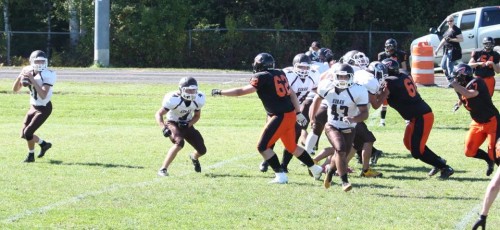 For Bodnar, there is one highlight that stands out amongst the rest in his gridiron career.
"My best football moment would be winning the city championship with all of my great friends in 2013," recalled the Ontario pivot.
On the field, he tries to emulate recent UCLA commit, Josh Rosen.
"I look up to and model my game after him because of his ability to escape quickly and finish the play with ease," said Bodnar of Rosen.
This weekend, the quarterback will be participating in the Ontario Prospect Challenge (OPC) as a part of Team Central's Varsity squad.
"It felt like an honour to be selected by my coach to attend the tryout, but I felt like it was a real highlight to make the team," reflected the Team Central pivot of OPC.  "The one tryout that I attended was definitely a good one."
"Getting to work the coaches and the skilled players that attended was great.  It was a great working with different coaches, learning their ways and also being able to learn from them."
As for handling the pressures of playing a major game in a big venue such as TD Place in Ottawa, Bodnar is going to take a calm, yet familiar approach.
"It's just like every other game," said the Team Central quarterback.  "Know your stuff, and stay relaxed, but most of all have fun."
"I have been training with my OVFL team on the weekends, working out every day and working on my throwing technique."
As the OPC will be an opportunity for many players to impress recruiters, Bodnar is no exception.  While he will graduate from high school this year, he will return back to Korah for a Victory Lap.  However, he is considering a trio of OUA schools – Western, Windsor and Guelph.
"I am very undecided as what to do in the future, but I'd like to attend a university with a great academic reputation,' added Bodnar.  "I'd like to play university football in Canada or the States."
For now, the pivot's attention is squarely on OPC and the chance to play alongside and against the best talent Ontario has to offer.
"I look forward to the personal challenge and also playing with great calibre players," commented Bodnar.  "I haven't had the opportunity to meet any other players by name, but what I've seen from the practice, they're all very skilled."
Ultimately, Bodnar would like to accomplish some key goals during OPC.
"I want to improve as a quarterback, practicing my speed, quickness and ability to read the defense," expressed Bodnar.  "As for team goals, meeting great football players and acquiring some of their knowledge of the game, but most of all win the game."
(twitter: http://twitter.com/vohra_ameeta)
Advocating for football prospects one story at a time.