With one more week remaining in both the Ontario Varsity Football League (OVFL) and Ontario Football Conference (OFC), teams are making their final push to secure their spot in the postseason.
In the OVFL, Cornwall Wildcats, Mississauga Warriors, Ottawa Myers Riders, Kingston Grenadiers, West Durham Dolphins, Cumberland Panthers, Sault (SSM) Sabrecats, Brampton Bulldogs and London Jr Mustangs all won their contests this past weekend.
Meanwhile, OFC winners included Brantford Bisons, Sudbury Gladiators, Huronia Stallions, Guelph Jr Gryphons, Hamilton Hurricanes and Toronto Jr Argos.
Here are the result from Week 8 action in both the OVFL and OFC:
(NOTE:  At press time not all stats/scores were received; therefore, this page will be continued to be updated as more information does become available)
ONTARIO VARSITY FOOTBALL CONFERENCE (OVFL):
CORNWALL WILDCATS 36, YORK SIMCOE BUCS 8:
At Joe St. Denis Field on Saturday early evening, Samuel Dugas scored a touchdown and rushed for 144 yards on 22 carries as the Cornwall Wildcats cruised to a 36-8 win over York Simcoe Bucs.
Nicholas Bowman racked up 58 yards on three receptions in the win.
Pivot Alex Douglas completed six passes in 13 attempts for 103 yards and three passing touchdowns.  Christopher Millward added four PAT's.
MISSISSAUGA WARRIORS 35, HAMILTON IRONMEN 34:
RECAP BY JOHN METCALFE
Warrior pivot Kevin John was the story as he kept the Ironmen defence off guard most of the afternoon scoring on runs from 8, 2, 4 and 9 yards away.  John then hooked up with Kian Schaffer Baker from 54 yards out for what would prove to be the decisive score for the winners.  Merrick Sproule was successful converting all 5 Mississauga scores.  The Ironmen actually built up a 24-7 lead from pivot Alex DiPietro hooking up with Cuicani Cameron for a 45 yard scoring strike, DiPietro running in from 8 yards away and Jacob Zivolak returning an interception 60 yards for the score.  David Benedetti converted those scores and hit an a 15 yard field goal.  DiPietro hooked up with Angelo DelSardo for the other Hamilton major which was converted for 2 with a pass to Austin Papalazarou.  A conceded safety rounded out the scoring.  Warrior kept their wildcard chances alive with the victory to move their record to 3-4.
OTTAWA MYERS RIDERS 35, METRO TORONTO WILDCATS 14:
At Esther Shriner Stadium on Saturday early evening, Ontario Prospect Challenge (OPC) Offensive MVP Jacob Spinella completed 22 passes in 29 attempts for 187 yards and four passing touchdowns  as the Ottawa Myers Riders earned a 35-14 victory over hosts Metro Toronto Wildcats.
Jesse Skucas tallied two majors and amassed 86 yards on five receptions.  John Russell had a 50 yard reception in the game for the Myers Riders.
KINGSTON GRENADIERS 36, TORONTO THUNDER 35:
On Saturday early evening at Loyalist Collegiate, Carter Matheson scored a touchdown and amassed 144 yards on eight receptions as the Kingston Grenadiers escaped with as 36-35 win over Toronto Thunder.
Dylan Fisher completed 21 passes in 40 attempts for 298 yards and two passing touchdowns for the Grenadiers.  Jeremy Pendergast racked up 46 yards on four receptions. Mike Bashall was successful on five conversion attempts and a rouge.
On defence, Konner Burtenshaw recorded a solo sack as well as registered three solo and 10 assisted tackles.
As for the Thunder, Daynar Facey tallied two majors and had 86 yards on four receptions as well as four PAT's.  Additionally, Andre Goulbourne scored a touchdown and rushed for 90 yards on 13 carries.  Steve Mpenga also had a score and rushed for 87 yards on 22 carries in the loss.
Pivot Alex Purvis completed eight passes in 16 attempts for 127 yards and two passing touchdowns.  #CFC100 Antoine Lyte Myers led the Thunder defence with seven solo and two assisted tackles.  Desron Keir Jr caught an interception and added five solo tackles for the Thunder.
WEST DURHAM DOLPHINS 28, OSHAWA HAWKEYES 12:
At Oshawa Civic Stadium on Saturday night, Mitchell Van Pelt completed 10 passes in 16 attempts for 191 yards and a passing touchdown as the West Durham Dolphins defeated the hosts Hawkeyes 28-12.
Kenan Clarke racked up 75 yards on three receptions in the win.  Robert Carmichael added four PAT's.
Dawson Odei led the Hawkeyes as he tallied a major and rushed for 123 yards on 23 carries.
CUMBERLAND PANTHERS 56, MARKHAM RAIDERS 8:
On Saturday night at Mount Joy, Justin Poitras completed 10 passes in 14 attempts for 208 yards and four passing touchdowns as the Cumberland Panthers crushed the Markham Raiders 56-8.
Quinton Gregory scored two touchdowns and rushed for 140 yards on six carries.  Additionally, Dylan St. Pierre tallied a major and amassed 113 yards on three receptions.
#CFC100 Kurleigh Gittens Jr scored a touchdown off a punt return for the Panthers. He was also successful on eight conversion attempts.
Baxter Balthazar scored a touchdown and rushed for 89 yards on six carries.
On defence, Gerrard Osakwe recorded a solo and three assisted sacks.  Additionally, he added three solo and five assisted tackles.
As for the Raiders, Mason Posival racked up 50 yards on five receptions and Tyler Munro rushed for 73 yards on 12 carries.
SAULT (SSM) SABRECATS 30, NIAGARA SPEARS 29:
At Kiwanis Field on Saturday night, the visiting Sault (SSM) Sabrecats handed the Niagara Spears their first loss of the regular season. The Sabrecats prevailed 30-29 over the Spears.
For the Spears, Jack Andrews registered eight solo and seven assisted tackles.  Zyer Harris added five solo and four assisted tackles in the loss. Adam Lockhart caught an interception as well as three solo and six assisted tackles.
BRAMPTON BULLDOGS 62, ETOBICOKE EAGLES 35:
On Sunday afternoon at Henry Carr Catholic Secondary School, Stone Sousa completed 10 passes in 18 attempts for 181 yards, rushed for 138 yards on eight carries, four passing touchdowns and a rushing touchdown to guide the Brampton Bulldogs to a 62-35 victory over Etobicoke Eagles.
#CFC100 Chris Osei-Kusi scored three touchdowns and racked up 129 yards on five receptions.  Malcolm Miller tallied a major and rushed for 195 yards on 17 carries in the win.
Ricardo Reyes added four PAT's.
Josheiwa Byron led the Bulldogs defence as he caught an interception and added six solo and five assisted tackles.
As for the Eagles, Justice Allin tallied three majors and rushed for 145 yards on 19 carries.  Treshaun Thomas-Wright added 75 yards on seven carries and 54 yards on four receptions in the loss.
Pivot Bryan Smith completed 12 passes in 17 attempts for 121 passing yards. Frederico Barcos was successful on three conversion attempts.
On defence, Dejuan Williams registered eight solo and seven assisted tackles for the Eagles.
LONDON JR MUSTANGS 31, CAMBRIDGE LIONS 29:
On Sunday evening at Wilfird Laurier University, the London Jr Mustangs capped off a three game stint in eight days with a thrilling 31-29 win over Cambridge Lions.
NOTE: Player & game stats not available at press time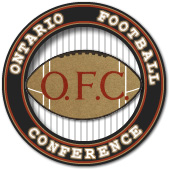 ONTARIO FOOTBALL CONFERENCE (OFC):
BRANTFORD BISONS 38, FOREST CITY THUNDERBIRDS 1:
GAME RECAP BY BRAD WARD
The Brantford Bisons will be heading to the playoffs in the Ontario Football Conference for the second consecutive year after their 38-1 victory over the Forest City Thunderbirds on Saturday. This was the Bisons fourth win in a row as they completed their regular season with a 6-2 record, good for fourth place in the OFC's South Division.
The Bisons opened the game utilizing their power run offense while mixing in an efficient passing game by quarterback Matt Krason while the defense continued their strong play of not allowing a single point in four consecutive games. This led to the Bisons taking a 3-0 lead in the first quarter on a field goal by Andre Toic after fullback Branden Corbett rumbled for  30 yard gain and runningback Kevin Cann caught a screen pass for 30 yards.
The Bisons opened things up in the second quarter when Toic faked a third down punt and gained a first down with a 26 yard run. The Bisons passing game took over with Krason throwing touchdown passes to Toic and Cann which Toic converted for a Bisons 17-0 lead at halftime.
The Bisons put the game out of reach in the second half when Cann returned a punt for a 70 yard touchdown and scored his third touchdown of the game with a 10 yard run while Corbett also punched one in from the one yard line. Toic converted the touchdowns for a Bisons 38-0 lead as the game wound down. The Thunderbirds finally got on the scoreboard with a single point on a missed field goal with one minute left in the game, the first point allowed by the Bisons defense in four games.
The Bisons defense were led by linebacker, Ty Kelly, who recorded four quarterback sacks and cornerback Alix Dufrat who had two interceptions.
"This was a good game for our players to begin to prepare for the playoffs. Our offense was balanced, defense very tough and the special teams stepped up their game. I am looking forward to the challenge we will face with Guelph in the first round of the playoffs. It should be a great game." said head coach Kelly Ireland.
The Bisons take on the Guelph Jr. Gryphons in the first round of the playoffs in Guelph during the weekend of July 25th-26th. The Bisons were the only team to defeat the Jr. Gryphons this season, a 30-20 victory on May 30th.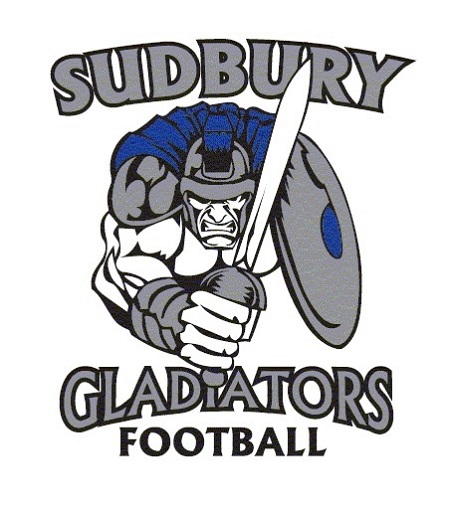 SUDBURY GLADIATORS 16, NORTH HALTON CRIMSON TIDE 9:
NOTE: Player & game stats not available at press time
HURONIA STALLIONS 49, NIPISSING WILD 14:
Mounting a 30-7 halftime lead, the Huronia Stallions never looked back in their game against the Nipissing Wild.  The Stallions tamed the Wild 49-14.
Riley Gravelle and Kyle Regimbold scored for the Wild in the loss.
GUELPH JR GRYPHONS 35, BURLINGTON STAMPEDERS 28:
NOTE: Player & game stats not available at press time
HAMILTON HURRICANES 45, TWIN-CITIES PREDATORS 3:
PHOTOS & GAME RECAP BY JENNIFER SILVESTRI
The Hamilton Hurricanes finished the regular season with a 7-1 record with a 45-3 victory over the Twin City Predators on Saturday night. After a quick Predators field goal to start the game, the Hurricanes took control of the game from there scoring 45 unanswered points.
The Hurricane defense was led by sack machine Damian Tessoro and strong performances from linebacker Andrew Pacheco as Mitch Garland, Eric Gaudet and Mitch Philips locked down the secondary. Quarterback Liam Putt threw for 203 yards and 3 touchdown passes to Clark Adams, Angus Button, and Tyson Middlemost.
The Canes ground game was in fine form as well as they rushed for just shy of 240 yards on the ground. Running backs Osayi Iginuan and Nick Baldini found the end zone and offensive guard Brandon Eddie plunged into the end zone to secure a fumble for a score. The Hurricanes will now take on the Burlington Stampeders in the conference semi-finals.
Heading Into playoffs- Three of our for teams. @ home Varsity Canes, Away-Junior Varsity, and @ home -Bantam Black Teams
TORONTO JR ARGOS 20, PETERBOROUGH WOLVERINES 13:
NOTE: Player & game stats not available at press time
Advocating for football prospects one story at a time.