****UPDATED MAY 26th, 2015 @ 10:00AM****
Week 1 is in the books for both the Ontario Football Varsity League (OVFL) and Ontario Football Conference (OFC) Varsity Divisions.
In OVFL action, two teams earned shutout victories – Cambridge Lions and Cumberland Panthers. Other winners include London Jr. Mustangs, Niagara Spears, Oshawa Hawkeyes, Ottawa Myers Riders, West Durham Dolphins and Sault Sabrecats.
As for the OFC there was a mix of blowouts, lopsided victories and shutout.  Defending champions Hamilton Hurricanes showed they haven't missed a beat, keeping their opponent, Forest City Thunderbirds off the scoreboard. Burlington Stampeders and Peterborough Wolverines also earned shutout victories.  Other Week 1 winners were Brantford Bisons, North Halton Crimson Tide and Huronia Stallions.
Here are results for WEEK 1 OVFL and OVC Varsity Divisions
(NOTE:  At press time not all stats/scored were received; therefore, this page will be continued to be updated as more information does become available)
ONTARIO VARSITY FOOTBALL LEAGUE (OVFL):
CAMBRIDGE LIONS 39, BRAMPTON BULLDOGS 0:
On Thursday night at Jacob Hespeler Field, Ontario Prospect Challenge (OPC) pivot Brendan Carey completed 13 passes in 22 attempts for 247 passing yards and a touchdown to power the Cambridge Lions to a 39-0 shutout victory over visiting Brampton Bulldogs.
Kaden Jespersen tallied a major and amassed 110 yards on two receptions in the victory. Jacob Metcalfe also scored a touchdown and rushed for 42 yards.
Gordon Lam racked up 72 yards on five receptions while Connor Gardiner had 48 yards on four receptions.
Nathan McLean was successful on two conversion attempts and added two field goals, including a 29 yarder.
On defence, Devin Keeling led the way as he caught an interception and ran it into the end zone for a touchdown.  Additionally, he registered four solo and five assisted tackles as well as three sacks.  Terrel Crawford added four assisted tackles and four sacks in the win.
As for the Bulldogs, Harjas Bal amassed five solo and two assisted tackles in the loss.
WEST DURHAM DOLPHINS 28, KINGSTON GRENADIERS 27:
At Loyalist Collegiate in Kingston, the visiting West Durham Dolphins pulled out last minute heroics to defeat Kingston Grenadiers 28-27.
The Grenadiers enjoyed a 13-0 lead at halftime, only to see their lead evaporate in the second half.
With less than a minute left in regulation time, the Dolphins overtook the lead and earned the victory.
Grenadiers pivot Dylan Fisher completed 14 passes in 22 attempts for 238 passing yards and a touchdown in the loss.
Carter Matheson scored a touchdown and racked up 135 yards on four receptions while Konner Burtenshaw talled a major and rushed for 125 yards on 26 carries. Jeremy Pendergast and Calvin deFayette also scored for the Grenadiers while Mike Bashall added three PAT's.
Harry Robinson led the Grenadiers defence as he recorded two sacks as well as four solo and two assisted tackles.
SAULT (SSM) SABRECATS 27, HAMILTON IRONMEN 8:
Photo credit: Paradis Photography
At McMaster's Ron Joyce Stadium on Saturday afternoon, Justin Senecal tallied a major and rushed for 125 yards on 19 carries to lead Sault Sabrecats to a 27-8 victory over hosts Hamilton Ironmen.
Dalton Toppan also scored for the victors and had 64 yards on three receptions.  Austin Wesley racked up 68 yards on five receptions.
Pivot Hunter Holub completed 13 passes in 28 attempts for 216 passing yards and a touchdown to guide the Sabrecats offence. Brett McDonald was successful on three conversion attempts.
Both Lautaro Frecha and Domenic Gervaassi steered the Sabrecats defence.  Frecha caught an interception and ran it into the end zone for a touchdown as well recording a sack, five solo and three assisted tackles.  Gervaasi also recorded a sack and had five assisted and five solo tackles in the win.
As for the Ironmen, Sanitago Velasquez scored a touchdown and rushed for 63 yards while David Benedetti added a PAT in the loss.
CUMBERLAND PANTHERS 49, CORNWALL WILDCATS 0:
At Millenium Park in Orleans on Saturday afternoon, Quinton Gregory scored two touchdowns and rushed for 183 yards on 23 carries, two PAT's and two rouges as the Cumberland Panthers earned a 49-0 shutout win over Cornwall Wildcats.
Baxter Balthazar tallied a major and rushed for 150 yards on 17 carries for the Panthers.  #CFC100 and OPC participant Kurleigh Gittens Jr. also scored and had 56 yards on five receptions as well as three PAT's in the win.
Panthers quarterback Justin Poitras was perfect as he completed all six of his pass attempts, had 77 rushing yards and two touchdowns.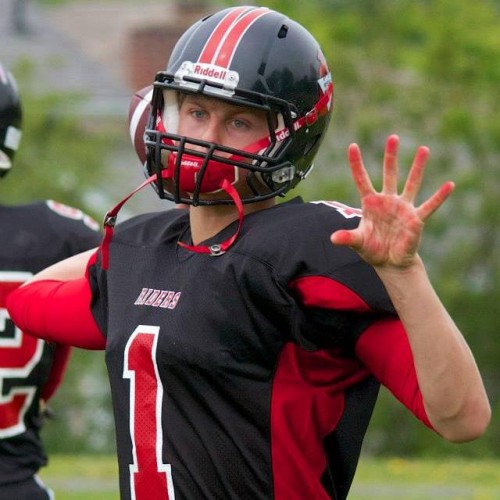 OTTAWA MYERS RIDERS 49, TORONTO THUNDER 28:
At Mary Ward Catholic School on Saturday, OPC MVP's Jacob Spinella and Phil Iloki led the Ottawa Myers Riders to a 49-28 victory over hosts Toronto Thunder.
OPC Offensive MVP Spinella completed eight passes in 13 attempts for 136 yards and three passing touchdowns.  Meanwhile, OPC Varsity MVP Iloki tallied a major and racked up 52 yards on three receptions.
OSHAWA HAWKEYES 35, METRO TORONTO WILDCATS 28:
At Oshawa Civic Stadium on Saturday night, Mitchell Raper and Kahma Missinga each scored a touchdown as the hosts Hawkeyes pulled out a 35-28 victory over the visiting Metro Toronto Wildcats.
However, the biggest news is that #CFC100 receiver Trivel Pinto set 3 OVFL and team records – 291 yards, 457 combined yards, 8 first downs.
@MTWildcats Varsity receiver Trivel Pinto sets 3 OV and MTW records! 291 yards, 457 combines, 8 first downs. Amazing! pic.twitter.com/uaDxohv39b

— MTW (@MTWildcats) May 26, 2015
Additionally, Raper amassed 61 yards on three receptions while Missinga rushed for 98 rushing yards on 16 carries.  Trenton Mugford also had 64 rushing yards in the game.
Hawkeyes quarterback Kyle Baronet completed seven passes in 15 attempts for 142 passing yards and a touchdown.  Brendan Whitney was successful on five conversion attempts.
Drue Moore and Niko Isovski led the Hawkeyes defence.  Moore forced a fumble, recorded a solo and an assisted sack as well as registered four solo and four assisted tackles.  Isovski had two assisted sacks as well as four solo and seven assisted tackles in the win.
NIAGARA SPEARS 22, ESSEX RAVENS 15:
At Kiwanis Field in St Catharines on Saturday night, the Niagara Spears got by the Essex Ravens 22-15.
NOTE – AT press time no game or players stats were available
LONDON JR MUSTANGS 40, MISSISSAUGA WARRIORS 29:
At TD Waterhouse Stadium under Saturday night lights, Cole Kussmann rushed for 218 yards on 27 carries as the hosts London Jr. Mustangs scored a 40-29 victory over the visiting Mississauga Warriors.
The Jr. Mustangs enjoyed a 14-10 lead at halftime.
Pivot Tristan Arndt completed 11 passes in 15 attempts for 202 yards and four passing touchdowns in the win.  Brentyne AndersonBrown tallied a major and rushed for 114 yards on 12 carries. Jacob Misk scored a touchdown and amassed 89 yards on four receptions. Neil Garrity added five PAT's.
Additionally, Daishane Johnson had 84 yards on four receptions for the Jr. Mustangs.
On defence, Jacob Gold registered four solo and six assisted tackles.  Moreover, Noah Hallett caught two interceptions for the Jr Mustangs as well as three assisted and two solo tackles.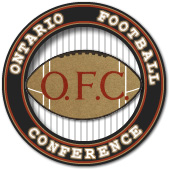 ONTARIO FOOTBALL CONFERENCE (OFC):
BRANTFORD BISONS 30, TWIN CITIES PREDATORS 15:
The following press release is courtesy of Brad Ward, Brantford Bisons:
The Brantford Bisons opened their season on the right track with a 30-15 victory over the Twin Cities Predators on Friday night's Ontario Football Conference action .
The Bisons took an early 20-0 led by runningback Tristen Almas' two touchdowns while Ben Crocock. chipped in with a touchdown of his own on a punt return and the Bisons appeared to have the game well in hand. However, penalty trouble by the Bisons in the second quarter allowed the Predators to get back into the game by scoring 15 points of their own as the half ended with the Bisons maintaining a 20-15 lead.
The second half was a far different story as the Bisons offense found their rhythm with  Almas leading the charge on the ground with some big runs adding up to over 200 rushing yards for the game and quarterback Matt Krason making timely completions to receivers Ryan Campbell, Dean Henderson and Andre Toic. Runningback Jacob Cockerill scored the Bisons final touchdown in the fourth quarter while Toic added his second field goal to give the Bisons a comfortable 30-15 lead as the game wound down. The Bisons defense played a far more disciplined half that shut down the Predators offense with a drive ending  interception by linebacker Nolan Harris and a defensive effort that swarmed to the ball preventing the Predators from gaining much offense.
"We came out of this game with a win but need to work on our discipline. The players took far too many penalties in the first half but I was pleased to see that they settled down after that and played the game  like I know they can. We should be ready for Guelph on Saturday" said Kelly Ireland, head coach for the Bisons.
Varsity Statistics
Touchdowns: Tristen Almas (2), Jacob Cockerill, Ben Crocock
Converts/Field Goals: Andre Toic (6 points)
Interceptions: Ben Crocock, Nolan Harris
Outstanding offensive players: Tristan Almas, Tyler Dewaele, Jacob Cockerill
Outstanding defensive players: Ben Crocock, Ty Kelly, Nolan Harris
The Bisons continue their road tour when they face the Guelph Jr. Gryphons on Saturday, May 30th at Guelph's Alumni stadium. Kickoff is scheduled for 5pm.
Photo credit: Brantford Bisons
HAMILTON HURRICANES 39, FOREST CITY THUNDERBIRDS 0:
Recap by John Metcalfe
Two punt return touchdowns and an interception return to the end zone were the highlights of this contest.  Mitchell Garland's 40 yard pick six started the scoring for the Hurricanes.  Clark Adams then followed with an 85 yard punt return followed by Billy Olds who was on the receiving end of a one yard pass from Liam Putt.  2014 OPC participant Osayi Iginuan plunged in from a yard out and Michael Ciavarella ended the evening with a 95 yard touchdown to the end zone.  Jeffrey Beattie booted a 12 yard field goal and was successful on four of five converts to round out the scoring.
#CFC100 Liam Putt was good on 10 of 20 passes for 102 yard while Connor Carusello completed his only pass attempt for 56 yards.  Iginuan led the ground attack with 72 yards on 10 rushes.
The Varsity team hits Highway 401 to Chatham this coming Saturday (May 30) for a date with the Wildcats.  Kickoff is slated for 7:30 p.m.
BURLINGTON STAMPEDERS 39, CHATHAM-KENT COUGARS 0:
NOTE: Player and game stats were not available at press time
PETERBOROUGH WOLVERINES 54, OAKVILLE TITANS 0:
At TASS Field on Saturday, the Peterborough Wolverines crushed the Oakville Titans 54-0.
Nathan O'Keefe, Michael MacNeil and 2014 OPC participant Dylan Astrom each tallied two majors in the victory. Mac Rider also scored a touchdown.
Moreover, Devin Claypole was successful on a 15 yard field goal and seven conversion attempts.
NORTH HALTON CRIMSON TIDE 48, NIPISSING WILD 14:
NOTE: Player and game stats were not available at press time
HURONIA STALLIONS 8, SUDBURY GLADIATORS 5:
In a defensive battle, the Huronia Stallions escaped with an 8-5 win.
Of note, the Gladiators started a rookie quarterback. Chris Moutsatsos not only played his first game with the team, but also in the OFC and put on an impressive showing as he amassed over 150 passing yards and rushed over 30 yards in the game.
Pierce Wallingford added a field goal for the Gladiators. The Stallions conceded a safety to the Gladiators.
No touchdowns were scored in the game as the Stallions' points came from two rouges and two field goals.
GUELPH GRYPHONS 9, NIAGARA STORM 0:
NOTE: Player and game stats were not available at press time
Advocating for football prospects one story at a time.