Another week has passed by for both the Ontario Varsity Football League (OVFL) and Ontario Football Conference (OFC).
In the OVFL, there were some close games that went right down to the wire while others were blowouts. At press time, the Sault Sabrecats were the only team to earn a shutout win.  Other teams to win in Week 2 include Metro Toronto Wildcats, Kingston Grenadiers, Ottawa Myers Riders, Essex Ravens, West Durham Dolphins, Cambridge Lions and London Jr Mustangs.
As for the OFC, the Hamilton Hurricanes continued their dominance as the team kept Chatham-Kent Cougars of the scoreboard.  Other Week 2 winners included Nipissing Wild, Huronia Stallions, Burlington Stampeders and Toronto Jr. Argos.
Here are results for WEEK 2 OVFL and OVC Varsity Divisions
(NOTE:  At press time not all stats/scored were received; therefore, this page will be continued to be updated as more information does become available)
ONTARIO VARSITY FOOTBALL LEAGUE (OVFL):
METRO TORONTO WILDCATS 21, MARKHAM RAIDERS 14:
Photo credits: Metro Toronto Wildcats Website
At Esther Shriner Stadium on Saturday afternoon, Jaiden Hyland scored a touchdown and rushed for 124 yards on 13 carries as the Metro Toronto Wildcats pulled out a 21-14 victory over Markham Raiders.
On the heels of a record breaking Week 1 performance, #CFC100 Trivel Pinto took a kickoff return and dashed downfield for an 80 yard touchdown score. Cole Macfarlane added two PAT's in the win.
Jesse Amaral led the defence as he recorded a solo sack and registered six solo and seven assisted sacks for the Wildcats.
As for the Raiders, Tyler Munro tallied a major and rushed for 104 yards on 22 carries.  Anthony Fogazzi had 67 yards on seven receptions while Mason Posival amassed 50 yards on two receptions.
Matt Prucha completed 18 passes in 31 attempts for 223 yards and a passing touchdown in the loss.
Austin Daya registered seven solo tackles to guide the Raiders defence.
KINGSTON GRENADIERS 8, CUMBERLAND PANTHERS 7:
On Saturday evening at Millenium Park, Kingston Grenadiers eked out an 8-7 win over Cumberland Panthers in a defensive battle.
Jeremy Pendergast tallied the lone major for the Grenadiers and racked up 88 yards on four receptions. Mike Bashall was successful on a conversion attempt and also added a rouge.
Carter Matheson added 50 yards on three receptions.  Dylan Fisher completed 11 passes in 36 attempts for 177 yards and a passing touchdown.
Baxter Balthazar scored the only touchdown for the Panthers and rushed for 102 yards on 31 carries.  CFC100 Kurleigh Gittens Jr added a PAT in the loss.
As for the Panthers defence, Khadeem Pierre led the way as he caught three interceptions and added two solo tackles.
TORONTO THUNDER VERSUS OSHAWA HAWKEYES:
NOTE – THIS GAME WAS POSTPONED
OTTAWA MYERS RIDERS 68, CORNWALL WILDCATS 7:
At Beckwith Sports Facility on Saturday evening, the Ottawa Myers Riders crushed Cornwall Wildcats 68-7.
For the Wildcats, Samuel Dugas rushed for 87 yards on 17 carries.  Aaron Primeau was successful on a conversion attempt. Meanwhile, Zachary Rotter led the defence as he recorded two solo sacks as well as registered two solo and eight assisted tackles.
ESSEX RAVENS 42, MISSISSAUGA WARRIORS 24:
On Saturday evening at St. Marcellinus, the visiting Essex Ravens cruised to a 42-24 victory over host Mississauga Warriors.
While the Warriors lost, Kevin John put on an impressive showing as he completed 21 passes in 29 attempts for 449 yards and three passing touchdowns. He connected with Juwan Jesquith for a 78 yard touchdown reception.
Shakur Wray had 56 yards on five receptions.
Jack Cassar led the Warriors defence with 10 solo and 11 assisted tackles.  Mark Kudu added nine solo and two assisted tackles in the loss.
DURHAM WEST DOLPHINS 53, YORK SIMCOE BUCS 23:
At Pine Ridge High School on Saturday night, the Durham West Dolphins coasted to a 53-23 win over York Simcoe Bucs.
For the Bucs, Erich Milne dashed into the end zone for a 52 yard touchdown score. Nolan Lovegrove racked up 77 yards on four receptions. Marc Liegghio added a PAT in the loss.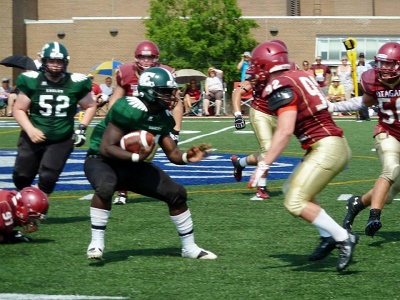 CAMBRIDGE LIONS 36, ETOBICOKE EAGLES 7:
At Father Henry Carr Catholic Secondary School on Sunday afternoon, the visiting Cambridge Lions scored a 36-7 win over host Etobicoke Eagles.
Isaac Crawford tallied the lone major for the Eagles and amassed 69 yards on two receptions.  Jesse Amankwaa had 61 yards on 15 carries in the loss.  Frederico Barcos was successful on a conversion attempt.
David Larbi and Thomas Koos guided the Eagles defence.  Larbi recorded a solo sack as well as five solo and five assisted tackles.  Additionally, Koos registered seven solo and four assisted tackles for the Eagles.
SAULT (SSM) SABRECATS 31, BRAMPTON BULLDOGS 0:
On Sunday evening at Chinguacousy Park, the Sault (SSM) Sabrecats earned the only shutout victory of this past week, 31-0 over Brampton Bulldogs.
#CFC100 Chris Osei-Kusi led the Bulldogs with 60 yards on four receptions. Stone Sousa completed 10 passes in 19 attempts for 101 passing years and rushed for 54 yards on 18 carries.
On defence, Chris Spencer led the way for the Bulldogs with a solo sack as well as five solo and six assisted tackles.
LONDON JR. MUSTANGS 39, HAMILTON IRONMEN 35:
At TD Waterhouse Stadium on Sunday night, the London Jr Mustangs went to 2-0 on the season, as the team got by visiting Hamilton Ironmen 39-35.
NOTE: Player and game stats were not available at press time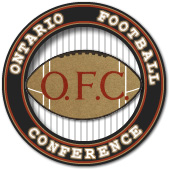 ONTARIO FOOTBALL CONFERENCE (OFC):
SUDBURY GLADIATORS 9, NIPISSING WILD 6:
Photo credit: Cam Ford, Nugget.ca
For the second week in the row, the Sudbury Gladiators found themselves in a defensive struggle.  However, the Gladiators came out on top as the team edged Nipissing Wild 9-6 on Saturday at Steve Omishchl Sports Complex.
At halftime, it was a scoreless draw.
In the second half, the Gladiators capitalized on an opportunity.  Wild pivot Kain Strom was picked off by the Gladiators defence and scored on the play to give the team the lead.
Strom made up for it later in the game as he ran into the end zone for a 15 yard touchdown score. However, Riley Gravelle's attempt to add a PAT was thwarted by the Gladiators.
Johnny Pavacic rushed for 101 yards on 21 carries to lead the Gladiators.
As for the Wild, Mitch Loxton had 86 rushing yards on 18 carries in the loss.
BRANTFORD BISIONS 30, GUELPH JR GRYPHONS 20:
RECAP COURTESY OF BRAD WARD:
The Guelph Jr. Gryphons seem to bring the best out of the Brantford Bisons and the game on Saturday was no exception. All aspects of the Bisons; offense, defense and special teams, were firing on all cylinders as they defeated the Jr. Gryphons 30-20.
It was tough to score for both teams in the first half although the Bisons moved the ball well on offense through some good runs by runningback Tristen Almas while quarterback Matt Krason spread the ball around in the air to four different receivers. When a receiver was not open, Krason used his size and speed with long runs of his own. The defense held firm with an interception by Jacob Sim that eventually led to a safety and allowed the Bisons to take a 2-0 lead in the first quarter. The score did not change until the final minute of the second quarter when punt returner, Kevin Cann broke free during a punt by the Jr. Gryphons to score a 43 yard touchdown for a Bisons 8-0 lead. The Jr. Gryphons shocked the Bisons with two seconds remaining in the half when they scored a touchdown of their own on a long pass and run play to close the half with the Bisons leading 8-7..
The Bisons seemed to take control of the game in the third quarter with Almas running the ball with authority thanks to some great blocking by the offensive line, getting the ball to the Jr. Gryphons one yard line. Krason punched it in for a touchdown on a quarterback sneak increasing the Bisons lead to 14-7. Still in the third quarter, Krason took over, using his legs on a long run and, on the next play,  threw a pass to receiver Andre Toic for a 22-7 lead. The Jr. Gryphons mounted a furious comeback in the fourth quarter, scoring two quick touchdowns to close within two points of the Bisons, 22-20. After that, The Bisons defense took charge with safety Ben Crocock setting the tone on a big hit that jarred the ball loose from a Jr. Gryphons receiver, ending a long Jr. Gryphons drive. The Bisons then used their strong running game to wind down the clock as Almas, once again gaining close to 200 yards for the day, put the game out of reach scoring a touchdown. On the ensuing kickoff, Toic kicked the ball out of the end zone to seal the victory; 30-20 for the Bisons.
"Guelph always plays us tough and this game was no exception. The atmosphere was similar to a playoff game and I was pleased to see the team respond to the pressure in a positive fashion. Our players did not lose focus the entire game and even when the Jr. Gryphons made it close, we stuck to our game plan that the players executed to near perfection." said Kelly Ireland, head coach for the Bisons.
The Bisons continue their road tour in Hamilton next Friday night when they face the Hurricanes in a battle for first place in the OFC's Doug Ditmmer conference.
HURONIA STALLIONS 21, OAKVILLE TITANS 7:
NOTE: Player and game stats were not available at press time
HAMILTON HURRICANES 37, CHATHAM-KENT COUGARS 0:
Photo credit: Jennifer Silvestri
RECAP COURTESY OF ANDREW HARVEY
The Cougar Varsity team lost 37-0 against the Hamilton Hurricanes who are the two time defending Champs and are the best team in Ontario.
Cougars held their own with a 9-0 first quarter.  Cougars were able to establish the run early with Tanner Shuians as the work horse, and Gabe Gagner and Jalen Butcher also running their share. Combined this threesome rushed for over 100 yards against the best defense in the league. But in the second quarter, Hamilton had success in the air and quickly accumulated 20 points.  Cougars played well in the second half and only allowed Hamilton one touchdowns
Stand-outs on defense was Carter wood with 10 tackles and 2 sacks.  Erc Penney had 2 interceptions.
BURLINGTON STAMPEDERS 41, TWIN-CITIES PREDATORS 12:
NOTE: Player and game stats were not available at press time
TORONTO JR. ARGOS 16, NORTH HALTON CRIMSON TIDE 7:
NOTE: Player and game stats were not available at press time
Advocating for football prospects one story at a time.