In a few hours, Nova Scotia high school football will take centre stage once again.
The Nova Scotia Student Athletic Federation Football League (NSSAFFL) kickoffs its 2013 season this evening as the defending five time consecutive Nova Division Tier 1 Champions Citadel Phoenix will play the Prince Andrew Panthers.  The game will be played at Charles P Allen High School.  Game start is 5:00pm.
However, the Panthers are unfazed by the fact they will be meeting the defending champions in the first game of the season. The team is seizing the opportunity.
"It's a great opportunity to get the first kick so to speak," commented Panthers Head Coach Joe Flemming.  "We want to set the tone for a fun and exciting season."
"We always enjoy playing Citadel because it always makes for a clean, fun, high octane game. And although we haven't beaten them over the past few seasons, I always find we match up well and play a good game against them. As for playing the five time defending champions, of course we respect that, but that's last year's news. This is a new year."
Equally, the Phoenix look forward to playing the Panthers and know that adjustments and that cliché saying "patience is a virtue" will be the key to success for the victors of tonight's game.
"Citadel is very excited to be involved in the league kickoff game on Thursday with Prince Andrew," said Phoenix Co-Head Coach and Defensive Coordinator Jeff Lawley. "Prince Andrew is a talented team and we will need to remain patient to find opportunities to move the ball on them."
"This will be the first game for both teams so we are expecting a few blown assignments from both teams on the field.  The team that adjusts quicker to deal with these situations will likely prevail in the end."
While the Panthers are all too familiar with their opposition on the field, the team is committed to succeeding on their own game plan.
"We fully understand the task at hand when playing Citadel," added Flemming.  "They're a great program."
"Whereas it's early in the season, our main objective is simply to focus on executing our game plan, all the while being very aware of the style of game Citadel typically brings to the field. They're a well-disciplined team who execute well, and our emphasis will be on limiting our mistakes, and putting pressure on Citadel to make more mistakes.  "
With a core of talent on the Panthers squad such as Nick Green, Ben Deturbide, Jake Moore, Spencer Wiechert, Nate Skeete and Isaiah Skeete, the Panthers will use this to their advantage.
"I expect several of our players to hit the field hard Thursday," assessed Flemming.  "We're lucky to have some great players with different levels of experience this year."
"We're putting pressure on a lot of our players to step up this year. We're depending on everyone to contribute."
As for the Phoenix, the team's key returnees will be expected to lead the team to success this evening.  Those players include defensive lineman Shaun Robinson, offensive lineman O'Neil Barton, Spencer Bennett, defensive back Liam Connell, Reid Oxner, quarterback Byron Kavanagh, running back Scott Baigent, receivers Drew MacIsaac and Ian Farrell as well as offensive lineman Sean Reardon and defensive lineman David Dean.
"We expect our returning players to lead us on the field for this first game," added Lawley.  "We have some new faces on our team with high expectations but they are untested in game situations at this point."
However, the Phoenix is centred on trying to halt two Panthers players from giving their team any signs of life in the game.
"Nick Green and Nate Skeete are highly skilled and talented football players for Prince Andrew," evaluated Lawley.   "If we are to be successful, we will need to keep them in check as they have the ability to impact the outcome of any game."
Even though this is only the first game of the season, Lawley stated that every game will count due in large part to the changes that have taken place in the offseason to the tiering system in Nova Scotia high school football.
"It is the first game of the season; however, every game carries playoff ramifications," commented the Phoenix Co-Head Coach and Defensive Coordinator. "Only the 2 top teams in our division will have a chance to vie for a Tier 1 title in playoffs."
While the odds have not been in their favour to defeat the Phoenix in recent contests, the Panthers believe that the game will bring tremendous excitement and energy.
"Although we haven't beaten them over the past few seasons, I always find we match up well and play a good game against them," assessed Flemming.  "We've steadily played them better year after year, and that tells me we're heading in the right direction as a program."
"We're playing a team that's fresh out of the gates with fresh faces just like we are. Both teams have some great players and many more with great potential. Until that game sheet is signed, I like both our chances."
With only two possible outcomes of this game, the Panthers hope to ride the momentum wave and carry it through the 2013 NSSAFFL season.  Ultimately, the team will be looking to improve on their 2012 season record (0-6-0).
"Win or lose the only thing at stake for us, is getting our season started right," explained Flemming.  "Our staff will decide if we've done that based on how well we play against our own expectations."
"If we win, we will still need to improve, if we lose, we will still need to improve. But if we can be proud of the way we play Thursday night, it gives us a hell of a lot of momentum heading into the next practice and the rest of our season."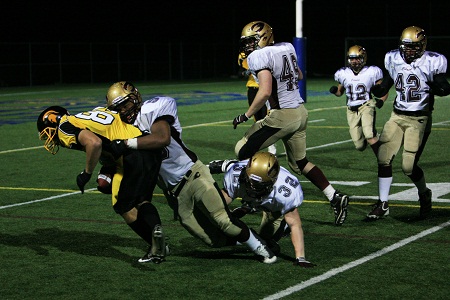 (twitter: http://twitter.com/vohra_ameeta)
Advocating for football prospects one story at a time.