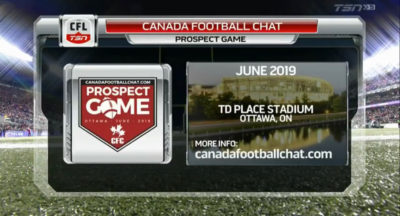 Did you miss the big announcement live on TSN? … We're taking amateur football to the national stage! Head over to our new independent site to learn more about the Canadafootballchat.com Prospect Game broadcast by TSN – We look forward to meeting the brightest talent from around the country on our road to TD Place Stadium.
Follow on twitter @CFCProspectGame
For all your high school scores, time, and dates CLICK HERE
Division 1 (Gustafson and Potter Conference)
Advocating for football prospects one story at a time.
Tags:
Bramwell Conference
,
cfc_insider
,
Dakota Lancers
,
Garden City Gophers
,
Gustafson Conference
,
Kelvin Clippers
,
Murdoch MacKay Clansmen
,
Portage Collegiate Trojans
,
Potter Conference
,
River East Kodiaks
,
St. Paul's Crusaders
,
Vidruk Conference
,
Vincent Massey Trojans
,
WHSFL
,
Winnipeg High School Football League