On Monday night at Burnside Turf, it will be a battle between champions in a key Nova Scotia Student Athletic Federation Football League (NSSAFFL) matchup.
Defending NSSAFFL Provincial Tier 1 Champions Sir John A MacDonald Flames will square off against 2013 Provincial Tier 2 Champions, Prince Andrew Panthers.
"This is a big game for our football team," commented Flames Head Coach Steve Majury.  "PA is a good team and we need to play Flames football if we want to come out on top."
"We are extremely excited and eager for Monday night as we anticipate an extremely physical game."
For the Flames to be successful and pull out the win on Monday, there is one Panthers player they have to contain.
"Defensively, we have to contain Nick Green," assessed Majury.  "If we allow Nick to scramble freely, he can make a lot of things happen with his speed and elusiveness plus he throws the ball well."
Additionally, all three of the Flames units have to play to their full potential.
"We need to have a balanced attack of run and pass and we must take control of the line of scrimmage on offence," evaluated Majury.  "Our offensive line needs to take charge of this football game."
"Our defence is extremely physical and has ramped up our intensity and is playing more disciplined football in their assignments as well as avoiding penalties.  Special Teams will be a large part of this game for us as we need to win this crucial element of the game by being disciplined and extremely physical."
Majury is looking for several key Flames players to step up and lead offensive, defensive and special  teams' units.
"We look for huge games from Robie Holland, Josh DeGruchy, Nick Bennett, Jack Chiasson, Liam Brennan, Anderson Recker, Connor Gavin, Liam Cook and Brock Saumure on defence," said the Flames Head Coach.  "This unit continues to get better weekly playing our system."
"Offensively, we look for Thomas Hoyt to continue his strong play as well as Ryan Merlin.  We expect Seth Lane to continue his excellent play from last week and we look for huge days from Devan Stevens, Adam Bennett and our very physical Owen McGowan.  We also expect a big week from Matt McVeigh.  Morgan Larson had a dominating performance last week and Tristan Williams has elevated his physical game to a high level which we expect to continue this week as well.  In short, we need our players to step up to the occasion of playing in this big game."
As for the Panthers, the team is preparing as much as they can to face the defending Tier 1 Provincial Champions. Ultimately, the Panthers know the Flames will be one of the toughest challenges of their season.
"We plan to review film, practice hard and mentally prep for Monday's game," commented Panthers Head Coach Joe Flemming.  "We have great athletes on our roster and we expect them to rise to the occasion and lay it all on the line for 60 minutes of what we expect to be a great football game."
In addition to stopping Green, the Flames offense will have to find a way to get past linebacker Ben Deturbide.
Coming into this game, both teams have a lot at stake.  However, the Flames are determined to successfully execute their game plan successfully against the Panthers.
"Both teams need a victory in this game, as the standings are fairly tight in Division 1 right now, thus playoff positions could be at stake," expressed Majury.  "Our goal is to improve each week and this week we need to play great football versus a good PA team."
"I know my players are extremely focused & eager to play Flames football come Monday night."
Meanwhile, the Panthers are anticipating a competitive battle on Monday at Burnside Turf.
"It comes as no surprise that we have one heck of a battle for Division 1 playoff spots," added Flemming.  "SJA is the defending champion and without doubt, an extremely tough, well-coached opponent."
"So we have our work cut out for us."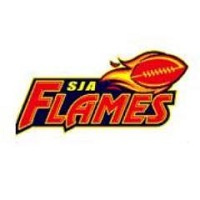 SIR JOHN A MACDONALD FLAMES:
2014 RECORD: 2-1
HEAD COACH: Steve Majury
PLAYERS TO WATCH: Thomas Hoyt (receiver), Josh DeGruchy (defense), Robie Holland (defense), Jack Chiasson (defense)
PRINCE ANDREW PANTHERS:
2014 RECORD: 3-1
HEAD COACH:  Joe Flemming
PLAYERS TO WATCH: Nick Green (running back), Ben Deturbide (linebacker)
(twitter: http://twitter.com/vohra_ameeta)
Advocating for football prospects one story at a time.