This weekend, a new Turkey Bowl tradition will begin in the Nova Scotia Student Athletic Federation Football League (NSSAFFL).
Instead of facing the Cobequid Educational Centre Cougars as in year's past, CFC#40 Citadel Phoenix will host the defending NSSAFFL Tier 1 Provincial Champions, Sir John A MacDonald Flames at Saint Mary's Huskies Stadium on Sunday afternoon.  Kickoff is 1:00pm.
"This is a fantastic new tradition between two rivals and elite programs," commented Phoenix Offensive Coordinator Jon Dyer of the annual game.  "We're thrilled that such a big game will now have an annual tradition of a Thanksgiving weekend game."
"It's a treat for the players, alumni, and fans. I'm sure there will be a couple thousand people at the game so it's an exciting weekend for Football in Nova Scotia."
Flames Head Coach Steve Majury echoes Dyer's sentiments regarding this new Turkey Bowl tradition.
"It's always a great rivalry game between Citadel and SJA," said the Flames Head Coach.  "The new Turkey Bowl game is hopefully the start of a great tradition between our schools."
"Huskies Stadium is a great location for an annual Thanksgiving Sunday game.    It's a healthy and exciting rivalry for everyone involved."
While the Flames come into this game as the defending champions, they will face a team with a lot of momentum.  Since the Flames took out the Phoenix last year in the Nova Division Tier 1 semi-finals, the Phoenix have gone undefeated. Meanwhile, the Flames suffered their first loss of the season against Charles P Allen Cheetahs.
The Flames acknowledge the Phoenix will be one of their stiffest challenges of the season and hope to improve upon a few key areas so they can conquer their opponent.
"Citadel has established themselves as the team to beat this season so we have our hands full," added Majury.  "The keys in this game for us are plentiful."
"It starts with discipline as we are simply taking too many needless penalties that our curtailing our opportunities and hurting us badly in field position, we have to improve our mental preparation to play.  Secondly, we have to minimize our mental mistakes.  We are improving in this area but we need to be extremely sharp against Citadel.  Finally, we need to play physical football for four quarters which we are extremely capable of doing.  We see improvements weekly & our kids are working hard in practice."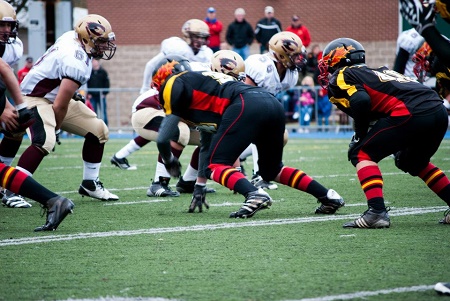 For the Flames to succeed on Sunday afternoon, all three units must play to their full potential.
"Defensively, we need to be extremely physical and rally to the football at high speed making solid open field tackles," assessed Majury.  "Offensively, we need to be extremely physical upfront and establish a balanced attack."
"We need to raise our quality of play this week as we play an undefeated team.  Special Teams will be very prominent for us this week and we need to execute at a high level to be successful and we think Brock Saumure is poised for a big game."
In addition to Saumure, several other Flames players will be expected to step up on all three units.
"We need Seth Lane to have a great day leading our offence," evaluated Majury.  "We need our offensive line led by Brandon Snow, Morgan Larson and Tristan Williams to make great aggressive decisions."
"We look for Thomas Hoyt to have a big day for us offensively and in our return game.  Matt McVeigh has really improved on a weekly basis to become a key player for us and Adam Bennett continues to impress weekly with his effort and skill sets.  Owen McGowan has been an impact player for us.  We need a 12 man contribution on offence to be successful on Sunday.  Defensively, we need massive efforts from Josh DeGruchy, Robie Holland, and Jack Chiasson on the interior as well as Nick Bennett and Liam Cook to continue playing great football.  We have some younger players who are really making great improvements in Connor Gavin, Jake Sherwin, Liam Brennan, Anderson Recker, Zak Dalloul and Josh Pinfold.  We need a great tackling day on Sunday with tremendous discipline."
As for the Phoenix, they are expecting a great battle against the defending provincial champions.
"They have a tremendous front seven," assessed Dyer.  "They are very big and tough up front and we are going to have to match their physicality if we want to compete."
"They also have some big time playmakers on offense that at any time can break open for a big play. They are a fundamentally sound team who isn't going to make many mistakes. Our execution on both sides of the ball will be critical to our success."
For the Phoenix to win the Turkey Bowl matchup, the team cannot afford to cough up mistakes.  Furthermore, the Phoenix will need to contain a potent Flames offense as well as find cracks in their opponent's defensive unit.
"We expect to meet a great football team on Sunday," added Dyer.  "They have a lot of talent and great coaching so we are going to have to play mistake-free football."
"As usual, our offensive success depends on our guys up front establishing the run and giving our quarterback time to throw; we need to stay balanced and unpredictable. On defense, this is a game of fundamentals, stopping a great Sir John A running attack, and limiting any big plays in the air."
Not only will the senior Phoenix standouts be expected to provide leadership on the field, but Dyer said that this may be an opportunity for other players to step up and capitalize on any bounces that come their way.
"Our success all year has been by committee and we expect nothing different this weekend," commented Dyer.  "We have a lot of players at the skill positions who contribute and depending on how they play us, opportunities are going to be there for any one of them at any time."
"They just have to be ready to step up and make a play when they're called upon."
At this juncture in the NSSAFFL Tier 1 season, each passing game is becoming more crucial for several teams.  It will be the case and point for the Flames.
"It's always a big game for us to play Citadel; this will be a great barometer for our football team as we need to see where we are at this point in the season," said Majury.  "We are eager and excited to play a physical football game."
As for the Phoenix, this game could determine whether they take a step forward or a step back in achieving their goals heading into the final stretch before the postseason.
"This is game five on our schedule and we approach it just like any other regular season game," expressed Dyer.  "The good news is that we control our destiny and a win against SJA would put us in great position moving forward to lock up the number 1 seed going into the playoffs."
"We historically have had very close games over the years and I expect nothing less on Sunday. One or two plays may make the difference."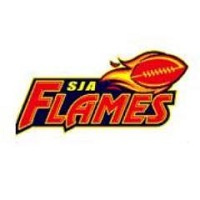 SIR JOHN A MACDONALD FLAMES:
2014 RECORD: 3-1
HEAD COACH: Steve Majury
PLAYERS TO WATCH: Thomas Hoyt (receiver), Josh DeGruchy (defense), Robie Holland (defense), Jack Chiasson (defense)
CITADEL PHOENIX:
2014 RECORD: 4-0
CO-HEAD COACHES: Mike Tanner, Jeff Lawley
PLAYERS TO WATCH:   Jon Harvey (offensive line – CFC 100), David Luke (quarterback), Tyler Martin (running back), Ian Farrell (receiver), Benson Auld (receiver), Marco Xidos (receiver), Quinton Milton (offensive line), Ted Curren (offensive line), Harrison Scholes (linebacker), Connor Gascoigne (defensive back), Nate Adams (defensive back),    AJ Case (defensive back), Jonah Williams (defensive back), Tommy Grant (defensive line), Jack Gillham (defensive line), Jacob Davis (linebacker)
Photo credits: Cathy Connell & Mark Kays
(twitter: http://twitter.com/vohra_ameeta)
Advocating for football prospects one story at a time.