For the second consecutive week, CPA Turf in Bedford could be destined for a sellout under Friday Night Lights.
CFC#46 Charles P Allen Cheetahs will host perennial powerhouse Citadel Phoenix in one of the most highly anticipated games of the Nova Scotia Student Athletic Federation Football League (NSSAFFL) season. Kickoff is set for 7:00pm.
This matchup is crucial for the Cheetahs as it will not only be a measuring stick but also a challenge they must successfully overcome.
"We're really excited for the opportunity to play Citadel," commented Cheetahs Assistant Coach Alain Lefebvre.  "They are the blueprint for success in our province and any road to a championship once again goes through them."
As for the Phoenix, the team recognizes the difficult task at hand on Friday.
"This is our first big test of the season," assessed Phoenix Offensive Coordinator Jon Dyer.  "We're going to get a very good idea of where we stand in this league and where we have to go from here."
"They're a talented, well-coached team and it's going to take our best effort."
Just over a year ago, these two teams came into their 2013 battle under different circumstances.  The Phoenix was riding a 46 consecutive game winning streak dating back to 2008 as well as an impressive overall record of 63-3 record since 2007. Additionally, the team had just won their historical fifth consecutive NSSAFFL Provincial Tier 1 Championship the previous season.
However on that night, the Cheetahs snapped both of those streaks with a 14-4 victory.  In that game, the Phoenix offense could not get anything going as the only points the team could muster up were two safeties – conceded by the Cheetahs.
"We were very fortunate to have come away with a win against them last year in one of the most exciting games of the year," recalled Lefebvre.  "A game where one play either way could have won the game for either team."
"I expect nothing different this time around."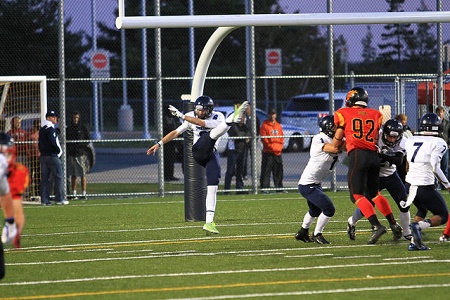 On the flip side, the Phoenix has some unfinished business with the Cheetahs and is seeking redemption. Although, Dyer is downplaying the impact of last year's battle will have on the players fielding the 2014 Phoenix squad.
"CP Allen stopped our winning streak last year and deserved that win," offered Dyer.  "But we are a new team and we're confident with where we are going."
"Last year's game has will have no impact on how we approach Friday night. They have been contenders for a few years now and I know our guys are very much looking forward to this game."
For the Phoenix to come away with the victory on Friday, Dyer said it comes down to certain aspects of their game execution plan.
"We are going to have to stay disciplined on defense and balanced on offense," assessed Dyer.  "This is a game where your veterans need to lead the way and make some big plays."
Further to that, the Phoenix needs to stop some key players on both sides of the ball.
"Our offensive line is going to have to play a complete game," commented the Phoenix Offensive Coordinator.  "They play multiple defensive fronts with good athletes so we need to have them focused and prepared for anything."
"Additionally, they have some playmakers on offense and we have to eliminate the big plays. Running back Will Chamberlain runs the ball well and Greg Hutchins is a threat down field. On defense, it all starts for them up front with Malcolm Hyde. They move him around a lot and he needs to be accounted for on every play if we are going to be successful."
Meanwhile, the Cheetahs will have to find a way to crack a traditionally solid defense which will be led by defensive backs Connor Gascoigne and Nate Adams as well as defensive lineman Tommy Grant. One area of success for the Cheetahs was containing the Phoenix offense and limiting their chances to get on the scoreboard.  In two games so far this season, the Phoenix have outscored their opponents 92-0 and it's been due to the offensive  magic between pivot David Luke and his main targets Ian Farrell as well as Tyler Martin, Benson Auld and Marcos Xidos Furthermore, CFC 100 Jon Harvey, Ted Curren and Quinton Milton will lead a strong offensive line.
"They have some serious play-makers and are very well coached on both sides of the ball," said Lefebvre.  "We are going to have our hands full trying to contain a really talented group of receivers and an athletic quarterback."
The team has a counter attack plan in place for their opponents.
"On offence, we hope to lean on our O-line to establish our run game in an effort to control the clock and keep Citadel's high powered offence off the field," described Lefebvre of the team's game plan.  "On defense, we hope to be able to take away the 'big play' and limit yards gained through the air."
"On special teams we want to continue to take advantage of our strong kicking game and win the battle of field position."
Discipline is another area that the Cheetahs need to improve upon, especially if they are to be successful against the Phoenix.
"We also realize that for us to be successful as the year goes on – we NEED to cut down on penalties and mental errors, both of which almost cost us last week vs SJA," added Lefebvre.
While the team is focusing on the present, the Cheetahs understand the potential impact this one game could have down the road in the NSSAFFL season.
"We are working hard to focus one week and one opponent at a time," said Lefebvre.  "That being said, we appreciate that the outcome of these games will impact home field advantage in a potential playoff and we're not taking that lightly."
For the Phoenix, this game has been on their radar for some time.  The team would like nothing more to eradicate the memories of last year's battle by snatching a victory away from the host team in front of what is expected to be another sellout crowd.
"Ultimately, it's just a regular season game and we are simply trying to improve each week," commented Dyer.  "However, there is no question that this will have major implications when it comes down to seeding in the playoffs."
"This was one of the two games we circled on our schedule this year. We're expecting a great game from both sides and it should be a lot of fun."
CHARLES P ALLEN CHEETAHS:
2014 RECORD: 3-0
HEAD COACH: Michael McPherson
PLAYERS TO WATCH: Greg Hutchins (kicker/punter), Will Chamberlain (running back), Matt Bayne (defense), Brad Bevan (linebacker)
CITADEL PHOENIX:
2014 RECORD: 2-0
CO-HEAD COACHES: Mike Tanner, Jeff Lawley
PLAYERS TO WATCH:   Jon Harvey (offensive line – CFC 100), David Luke (quarterback), Tyler Martin (running back), Ian Farrell (receiver), Benson Auld (receiver), Marco Xidos (receiver), Quinton Milton (offensive line), Ted Curren (offensive line), Harrison Scholes (linebacker), Connor Gascoigne (defensive back), Nate Adams (defensive back),    AJ Case (defensive back), Jonah Williams (defensive back), Tommy Grant (defensive line), Jack Gillham (defensive line), Jacob Davis (linebacker)
Photo credits:
David Luke – Mark Kays
CPA Cheetahs – Joe Chrvala
(twitter: http://twitter.com/vohra_ameeta)
Advocating for football prospects one story at a time.