There will be a new Provincial Tier 1 Champion crowned in Nova Scotia Student Athletic Federation Football League (NSSAFFL) this upcoming weekend.
After a one year hiatus from the Championship Game, CFC #35  Citadel Phoenix makes a return after crushing the Prince Andrew Panthers 58-8 in one of two semi-finals.
Tyler Martin scored two touchdowns and rushed for 167 yards on 13 carries to lead the Phoenix.  Ian Farrell (35 yards on three receptions) tallied two majors for the Phoenix.
Jack Campbell also tallied a major and had a combined total of 105 rushing and receiving yards in the game. Matt Lawen (16 yard rushing), Greg MacDonald (15 yard rushing) and Allister Knox (five yard reception) each scored a touchdown in the win.
Both Phoenix quarterbacks play a role in the successful execution of the team's offensive game plan.  Simon Richardson completed eight passes in 14 attempts for 85 yards and two passing touchdowns.  David Luke completed four passes in five attempts for 64 yards and two rushing touchdowns.
On defense, Connor Gascoigne caught an interception while Harrison Scholes recorded two sacks to lead the Phoenix.
"It certainly wasn't a fair weather game so we really tried to focus on high percentage throws and running the football," commented Phoenix Offensive Coordinator Jon Dyer after the win.
In his postgame assessment, Dyer credited the offensive unit, especially the line, for the victory.
"This was a game led and dominated by our offensive line," evaluated the Phoenix Offensive Coordinator.  "They have been improving as a unit all year and I think they are peaking at the right time."
"(CFC 100) Jon Harvey, Ted Curran, Quinton Milton, Stuart Allen, Ollie Grant, Ramone Beals, Dashawn Smith, and Sean MacDougall; they all contribute as a unit. That in combination with our running backs led by Tyler Martin, who is hitting his full stride this season, makes it very fun to watch."
Dyer was equally impressed by the play of the Phoenix defense.
"Our defense was solid all game," said Dyer.  "They pressured the PA offense and limited any big plays."
"Harrison Scholes played a great game disrupting their rushing and passing attack in the backfield.  Our defense has led us all year and has been the backbone of our success."
Overall, it was a full team effort that proved successful in the victory.  While it may have been a lopsided score, the Phoenix gave props to the Panthers for being a formidable semi-final opponent.
"Everyone contributed," added Dyer.  "We are getting big plays from players who have been waiting patiently all year to make their mark and I think that's now part of our DNA."
"We keep telling our guys that you never know when you will need to step up, you just have to be ready. It was a tough game for us in the sense that we may have looked past the semi-final with our eyes on the championship. I thought our guys did a great job of improving from last week, staying focused, and making sure we got the job at hand done. Our hats go off to Prince Andrew, their players, and their coaching staff. A classy team that played hard to the final whistle. They had some tough injuries this year and still accomplished a lot as a result. It's never fun to lose your last game but I hope they're proud of what they did this year. There is nothing but admiration from our program to theirs."
With this win, the Phoenix advance to the Provincial Tier 1 Championship Final on Sunday, where they will face Charles P Allen Cheetahs at Saint Mary's Huskies Stadium. Kickoff is 1:00pm.
"We play a very tough CP Allen football team next week," expressed Dyer.  "We need to keep the momentum going at practice and make sure everyone is focused on their job."
"Everyone has a role and need to play to their potential. If we don't, CP Allen will undoubtedly be there to capitalize. It's the biggest week of practice of the year. We've worked hard all year to get to this point and we just have to finish what we started back in August."
CHARLES P ALLEN CHEETAHS 20, SIR JOHN A MACDONALD FLAMES 11:
Will Chamberlain scored two touchdowns and rushed for 151 yards as Charles P Allen Cheetahs defeated last year's champions, Sir John A MacDonald Flames 20-11.
This is the second consecutive year that the Cheetahs advance to the Provincial Tier 1 Championship.
Pivot Duncan Patterson had 90 passing yards.
Matt Bayne led the Cheetahs defense as he recorded a sack and added six tackles.  Brad Bevan and Malcolm Hyde both combined for a total of 11 tackles in the win.
"Poor weather conditions made it difficult for either team to move the ball on offence," commented Cheetahs Assistant Coach Alain Lefebvre.  "The game became a battle of field position and we were able to take advantage of our kicking game."
"The defence was able to create some key turnovers, from which our offence was able to capitalize."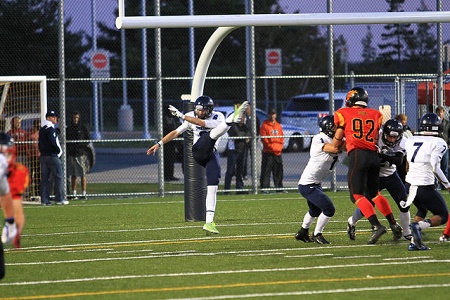 Kicker/Punter Greg Hutchins played a prominent role in the victory as he proved to be consistent despite the impact of the weather throughout the game.
"Greg Hutchins had a fantastic game punting the football in tough conditions, often pinning SJA deep in their territory," assessed Lefebvre.
Now the focus for the Cheetahs turns towards the Citadel Phoenix, who they will battle for the Tier 1 Championship.  In order for them to be successful on Sunday, they need to improve and address one significant area of their game that could make or break their chances.
"Penalties were a concern," added Lefebvre.  "We will need to be more discipline next week if we hope to be successful vs Citadel."
Citadel vs Prince Andrew Photo Credits:  Mona Ghiz, Ghiz Photography (www.GhizPhotography.com)
CP Allen vs Sir John A MacDonald Credits: Joe Chrvala
(twitter: http://twitter.com/vohra_ameeta)
Advocating for football prospects one story at a time.