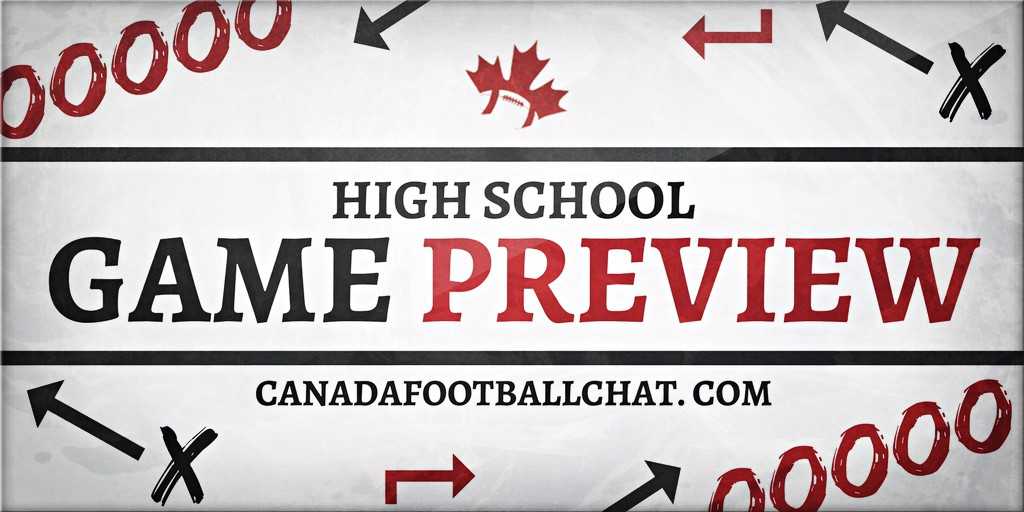 The Juvenile division 1 and 1B football divisions are now in full swing in the RSEQ in Quebec.
DIVISION 1
E.Sec du Triolet HARFANGS  VS E.S Armand Corbeil Scorpions     
25-9 for HARFANGS
Scorpion's Tristan Lavigne completed 5 for 11 passes as the Scorpions relied heavily on their running game running the ball 34 times for 156 yards. The Scorpions simply could not get their offence moving. On the Harfangs side of the ball, Yanick Daigle was able pick apart the Scorpions defence. Daigle threw 19 for 32 attempts 278 yards, 2 TDs, and 1 INT. spreading the ball out evenly across the solid receiving core.
Seminare Saint Francois BLIZZARD  vs College Charles Lemoyne DYNAMICS          
 17-14 BLIZZARD
Despite the Dynamics QB Kaelan Trepanier going 17 for 28 224 yards and receiver Kenzy Paul catching 108 of those yards and the 2 majors, it was that 1 INT turnover that may have done them in.
Despite the Blizzard not having a huge amount of yards in the air they were able to keep things in reach with Frederic Doucet and Allan Saadina scoring their majors. As we predicted this game would be tight.
It boiled down to special teams and the foot of the kicker. Alexandre Jacques was able to split the uprights for the win.
Academie Saint Louis ARSENAL  vs E.S Cure-Antoine Labelle LES LOUPS   
 38-14  LES LOUPS
Les Loups (the WOLF PACK) lit the score board up as they now jammed themselves in the bottle neck which is the 4 teams sitting in the middle of the pack. Every point a team scores and does not allow can separate them from 3rd or 6th place. 
E.Sec. Roger Comtois Patriots vs Saint Jean Eudes Condors          
 35-0 Condors
The Condors just seem to pick apart opponents like they are roadkill. QB Edouard Vachon threw 3 majors and 1 INT, but it was Anthony Savard on his special teams that made the highlight reel. Returning 2 punts for 127 yards and 1 major.
Despite not having points on the board, Patriots' QB Jonathan Tremblay completed 10 passes for 114 yards. Untimely, turnovers set the Patriots in the hole.
College Notre-Dame CACTUS  vs College Jean Eudes AIGLES       
27-9 CACTUS
Last year's Cinderella story is having a rough start  to the season. QB Charles Foisy had a decent day 16 completions for 222 yards and 1 TD, but 1 untimely INT special teams had a bit of a let down only converting 1 field goal for 3 attempts.
DIVISION 1B
College de Levis  Commandeurs vs College Bourget Voltigeurs                    
30-14 Voltigeurs
College Bourget has exploded onto the scene in D1B this year. The new beast in the division is making its mark. And is doing it with running back Jayden Josiah Theodore who had 24 carriers 227 yards and 1 TD. In two games, he has racked up 359 yards, QB Simon Boudreault had a good day as well throwing 15 passes for 159 yards and 3 TDs. Bourgets Defence had a decent day 2 ints 16 tackles in the backfield for a loss and 5 knock down passes giving the Commandeurs offence a bit of pressure where QB Louis-David Pouliot only completed 8 passes for 23 attempts on 88 yards.
College Laval MARAUDERS vs Academie les Estacades Estacades                                
39-20 Estacades
Marauder's QB had a heck of a day 15 for 22 215 yards and 3 TDs along with Bradly Edouard 1 rushing TD and Benjamin Nadon punt return for a TD put the Marauders ahead of the winless Estacades.
Estacades juggled the QB position with 4 players launching the ball down field. But both Cederic Tremblay and Gaberiel Courchesne both threw the Estacades TDs, but it was Alexandre Bastien who stood out for the offence with 6 catches for 119 yards and 2 TDs. The Laval defence stepped up with 2 sacks and 7 TFLs.   
Seminare Saint Joseph VERT ET OR vs Polyvalent Deux Montagnes Centurions     
37-8 VERT ET OR
What started out as a low scoring game, the Green and Gold found the flood gate and opened it up. QB Simon Brunelle threw for 147 yards and 2 TDs while the green and gold spread the wealth on the ground for Antonin Roy, Elie Riopel, and Xavier Gaillardetz all ran one in for a major.
We aren't sure what is going on here with the Centurions. They have a lot more talent size and strength than what the record shows. Defence needs to step up and get pressure on other offences, and honestly, with the O-line the Centurions have they should be gaining more yards than 49 yards collectively.
E.Sec Pointe-Levy CORSAIRES vs E.Sec Saint Stanislas Patriots
Paul Mumba made his return since last season making his impact known with a 30yard catch for the score on his first reception. Patrtiots started a new rookie, QB Benjamin Carpentier, who had a decent day and went 10 for 14 for 138 yards and 3 TDs. When you have a run attack like the Patriots, the QB doesn't rack up big yardage. Jeremi Auger bared the load of carrier with 13 while Wembi Leba had 5 carriers and 3 receptions for 2 TDs, Edi Corneille Edikeu and Raphael Bressani capped off the scoring with a major a piece.
The Corsaires just couldn't get the ball rolling despite Dylan Djete racking up the receptions. RB Mikael Aubin had a decent day averaging 4.5 yards per carry. It was a simple numbers game that plays against the Corsaires. A roster of 33 players doesn't give a team much rest and rotation. While the average team has 55 plus players, it seems the Corsaires will have to come out firing fast forcing the other teams to play catch up.
Advocating for football prospects one story at a time.