Port Coquitlam defensive end joins CWUAA team's 2015 class.
CFC 100 Mike West and his family are have been rewarded for the years of sacrifices and hard work.
On Friday, the Manitoba Bisons announced that the 6'4, 225 pound defensive end from Port Coquitlam, British Columbia has joined their football program. He will join the team for the 2015 CWUAA season.
West recently capped off a successful career with Terry Fox Ravens of the British Columbia High School Football Association (BCHSFA).  This past season, he registered 27 tackles, amassed 549 yards on 18 receptions (average of 30.5 yards per reception) and tallied five receiving majors.  Additionally, the CFC 100 rushed for 350 yards on 47 carries (average of 7.4 yards per carry) and scored seven rushing touchdowns.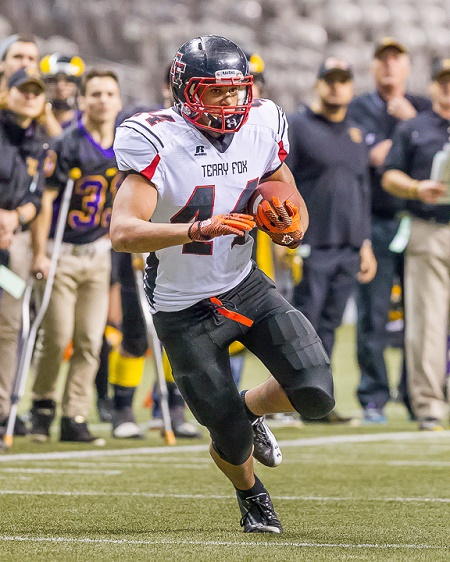 During his time with the Ravens, the team won the Provincial 'AAA' Championship in 2013.  Moreover, West has received several honours during his career including BCHSFA 'AAA' Player of the Year (2014), Provincial 'AAA' Championship MVP (2014), two consecutive Ravens MVP Awards (2014, 2015) as well as BCHSFA 'AAA' All-Star.
The Bisons are thrilled to have landed a recruit who has achieved tremendous success as well as possesses experience and versatility.
"We are elated to welcome Michael West, BC High School Player of the Year, to the University of Manitoba Bisons," commented Bisons Head Coach Brian Dobie.  "Mike is undoubtedly one of the top players in the class of 2015."
"A dominant force at Terry Fox, playing six different positions on both offense and defence (QB, RB, WR, DE, LB, DB), he projects as an elite defensive lineman in the CIS."
Moreover, Dobie said the CFC 100 has intangibles which will be an asset to the Bisons football program.
"We would also like to emphasize the strength of Mike's character and the incredible support from his mother, Jennifer," added the Bisons Head Coach.  "They truly exemplify the meaning of the word, family."
"We are honoured that Mike has chosen The University of Manitoba to pursue his educational and athletic goals."
For his part, the British Columbia defensive end decided on the Winnipeg, Manitoba campus after his official visit.
"I committed to Manitoba because after my visit and talking with team/coaches, I felt this is the school for me they have one of the best football programs in Canada and also there facilities are amazing," recalled West.  "I am super excited."
"This is the university that I always wanted to go to and can't wait to get to Manitoba and start my football and academic career."
With his commitment to the Bisons, it is the culmination of hard work but also sacrifices West and his family have made for him to achieve his gridiron dream.  The CFC 100 defensive end was raised by a single parent – his mother Jennifer.
"I am extremely proud of my son and yes I am a single mom but I never look at life that way," explained Jennifer.  "When you have a child and he has found what makes him get up every day and pushes him to achieve his goals, you just stand behind them."
Now that he has realized his dream, Jennifer has come to the realization that he is leaving the nest and things won't be quite the same this upcoming fall for her and the rest of the West family.
"Seeing him head off to university leaves a lump in my throat and his little sister Eseosa is going to miss him," expressed Jennifer.  "The only part that will be hard is not being able to see him play every week and him hearing me on the side line."
(twitter: http://twitter.com/vohra_ameeta)
Advocating for football prospects one story at a time.