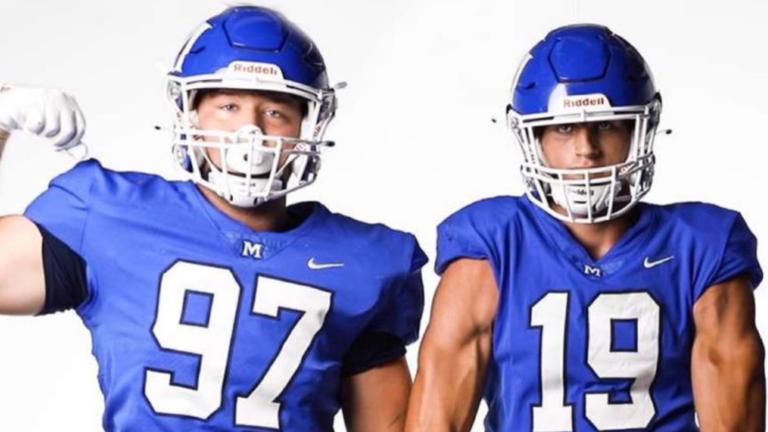 Want the latest Canadian football news from south of the border? SUBSCRIBE to our weekly newsletter the GRIND for updates from coast to coast covering prospects from high school to the NCAA every week!
With NCAA Early Signing Day just a month away, we've got another name to add to the NCAA commits list with CFC100 DT Thomas Pilon announcing his commitment to Furman. The 6'3″, 260lbs prospect originally hails from Boucherville, QC where he played at CFC50 Charles-Lemoyne, and then took his talents down south to play at McCallie School in Chattanooga, TN. The gamble paid off for the 29th ranked prospect on the CFC100 Class of 2022 who fit right in at McCallie earning his first offer from Wofford, but in the end Pilon decided to side with the Paladins instead. Furman are members of the FCS Southern Conference and are currently 4-5 on the season with two games remaining on the schedule.
It's time to review some big time performances from CFC100s plying their trade in the NCAA, and we start with a pair of massive games from CFC100 QB Kurtis Rourke, who led Ohio to victory over Miami (OH) last week throwing for 289 yards and three majors in the Bobcats 35-33 victory. He then followed it up with another clutch performance against Eastern Michigan on Tuesday night throwing for three more touchdowns and 230 yards to help secure a 34-26 win. It's the best stretch of games yet for the sophomore quarterback who's hoping to end the season on a high note after Ohio dropped their first four games. Now to the top of the Playoff Rankings as CFC100 WR John Metchie III continues to be one of the favourite targets at Alabama catching nine passes for 71 yards and a touchdown in the Tide's huge 20-14 win over LSU. It's the same story in the Big Ten where CFC100 WR Jared Wayne continues to impress for 25th ranked Pittsburgh catching five passes for 81 yards and a touchdown in the Panthers 54-29 victory against Duke. Sticking with the Big Ten, the CFC100 wonder twins RB Chase Brown and DB Sydney Brown played the spoiler role once again as Illinois took down their second ranked opponent in three weeks with a 14-6 upset over Minnesota. Chase paved the way for the Fighting Illini on offence carrying the ball 32 times for 147 yards, while Sydney was a force to be reckon with on defence racking up nine total tackles, one sack and 1.5 tackles for loss. Lastly we head to the FCS where we show some love to a prospect we haven't written about for a long time as CFC100 RB Michael Chris-Ike put together his biggest game of the year for Delaware State carrying the rock 16 times for 70 yards and a touchdown in the Hornets loss to Morgan State.
It was a quieter week for Canadians around the NFL with the likes of CFC100 RB Chuba Hubbard on a bye week, but there were still a couple of noteworthy headlines to go over. On the field, we saw the Los Angeles Chargers finally end their slide with some help from DT Christian Covington grabbing four tackles and CFC100 WR Joshua Palmer hauling in two passes for 22 yards in their 27-24 victory over Philadelphia. CFC40 DB Jevon Holland continues to impress in his rookie season with the Miami Dolphins snagging an interception in their 17-9 win against Houston, while TE Antony Auclair caught a pair of passes for 23 yards on the other side of the field for the Texans. Lastly we check in with CFC100 WR Chase Claypool, who left the Pittsburgh Steelers Monday Night Football clash against Chicago with a toe injury. Thankfully after a MRI it appears that Claypool's injury will not be season-ending, and he's been listed as week-to-week as we head into the back half of the schedule.
Advocating for football prospects one story at a time.
Tags:
2953
,
3361
,
3366
,
3573
,
3816
,
501
,
5564
,
6090
,
7223
,
Alabama
,
CFC100
,
Chase Brown
,
Delaware State
,
Furman
,
Illinois
,
Jared Wayne
,
John MEtchie III
,
Kurtis Rourke
,
Michael Chris-Ike
,
NCAA
,
NFL
,
Pittsburgh
,
Rankings
,
South of the Border
,
Sydney Brown
,
the Grind
,
Thomas Pilon