Calgary quarterback comes back to Canada, stengthens OUA team's 2016 class
#CFC100 CLASS 2014 ranked Chris Merchant is returning back north of the border simply for an opportunity he could not pass up.
The Western Mustangs have confirmed the addition of Merchant to their football program. Merchant, who is a 6'2, 215 pound quarterback from Calgary, Alberta, will join the team for the 2016 OUA season.
Most recently, Merchant was with NCAA Division 1 Football Subdivision Team, University of Buffalo Bulls. He signed with the Bulls on NCAA National Signing Day in Februrary 2014.
The Alberta pivot began his gridiron ascension with Calgary high school team, Western Canada Redmen, where he played for two seasons.  Soon after, Merchant completed the remaining two years of his high school career in Aurora, Ontario's St. Andrew's College Saints of the Conference Independent Schools Athletic Association (CISAA).
In July 2012, the Canadian pivot represented his native province at the Football Canada Cup tournament in London, Ontario as a member of Team Alberta.  He led the team to a silver place finish at the tournament and also received Offensive MVP of the team's opening game versus Team Nova Scotia.
Merchant began his career at the age of eight with the Calgary Wildcats football organization.  During his career, he has also suited up for the Calgary Falcons
In his final midget season in Alberta with the Falcons, the pivot put up impressive statistics on the field as he has 63 completions in 117 attempts, 1235 passing yards (average of 190 yards per game) and six passing touchdowns while rushing for 206 yards with 12 rushing touchdowns.
Among the honours Merchant has received during his gridiron career include Western Canada High School Male Athlete of the Year two consecutive times, Redmen junior team MVP in 2011 and Falcons midget Team MVP in 2012.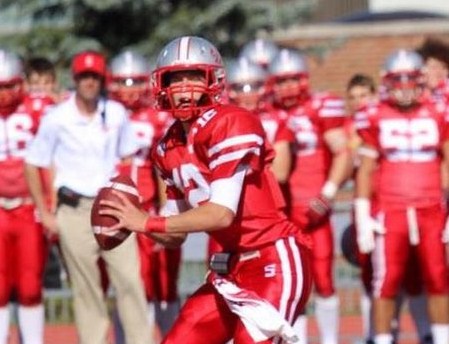 As per CIS transfer rules, he is able to play immediately and has four years of eligibility remaining.
For their part, the Mustangs are ecstatic to confirm Merchant is the newest addition to their team as they have had their eye on him for quite some time.
"We're very excited to announce that addition of Chris Merchant to the Western Mustangs football program," commented Mustangs Head Coach Greg Marshall.  "We heavily recruited Chris a few years back when he was coming out of high school, so when Chris told us he was leaving Buffalo we knew it would be a great fit both athletically and academically."
As for Merchant, he is equally thrilled to be part of an elite program and continue the bonds he has developed within the team.
"I'm extremely excited to join the Mustangs next year as it is an amazing program filled with a tradition of excellence," expressed Merchant.  "I have decided to attend Western due to the fact that it is a great opportunity both athletically and academically."
"On top of that, I feel like the coaches have great relationships with their players."
With his commitment, Merchant extends a pipeline of Saints players that have joined the Mustangs in recent years. Other former Saints players who have moved on to the Mustangs include wide receiver Jamal Kett, offensive lineman Eddie Meredith, linebacker Fraser Sopik, running back Yannick Harou, receiver Zach Marcus and defensive back Jordan Carter.
"We have had a lot of success with players from St. Andrew's College," emphasized Mustangs Recruiting Coordinator Tom Flaxman.  "Coach Gurr and his staff do a tremendous job coaching and mentoring their players."
"I want to thank Coach Gurr for his help and support of our program."
Saints Head Coach Len Gurr, who instructed Merchant on the tail end of his gridiron career, echoed the sentiments of Flaxman but also said Merchant will be an asset on the field and in the locker room for numerous reasons.
"I am thrilled to see Chris making a decision in the best interest of his academic future and personal happiness," expressed Gurr.  "Western is a tremendous fit for him on and off the field."
"In terms of his ability to impact the Western program, I have long maintained that Chris is the best Canadian quarterback I have seen during my coaching career. His exceptional performance in the recent Buffalo spring game provides some insight into what he is capable of doing. He's a fantastic athlete, a natural leader, and ultra-competitive. His impact on the Mustangs will be enormous. Western could not be getting a better young man to lead their offence. We are also excited to see Chris play with many other former SAC Saints at Western. Fans and supporters of the Mustangs should be extremely excited for what Chris will bring on game days."
With the retirement of Mustangs quarterback Will Finch, the Alberta pivot will play a significant role in executing the Mustangs offensive game plan but also bring invaluable intangibles to guide the team to future success.
"Chris brings a strong arm to our program, but is also very athletic; his skill set suits our offensive scheme," assessed Marshall.  "Chris has tremendous character; we know he will be a great addition to our locker room and the university community."
Overall, the Mustangs are looking forward to a bright future with Merchant as the signal caller as well as a leader on and off the field for the next few years.
"Chris is a tremendous student, and has excelled at the University of Buffalo academically," commented Flaxman.  "Chris is a tremendous young man it was great to get to know him over this process, I have no doubt he will be a great addition our locker room."
(twitter: http://twitter.com/vohra_ameeta)
Advocating for football prospects one story at a time.