After starting his career at the peewee level, Tylor Henry has ascended through the ranks at every level possible. 
Tylor Henry
Positions:
Receiver, Special Teams (Kick/Punt Return)
Height/Weight:
5'11, 188 lbs
Teams: 
Edmonton Wildcats (CJFL:  PFC)
Camrose Trojans (High School)
Battle River Shock (Midget)
Leduc Stray Cats (Midget)
Camrose Coyotes (Bantam)
Camrose Buffaloes (Peewee)
Team Alberta
Commitment: 
Alberta
Class:
2013
Football players can't hope to be much more experienced than receiver Tylor Henry. His long and successful football career began in his hometown of Camrose, Alberta, where he first started as a peewee with the Camrose Buffaloes. He continued on to Bantam with the Camrose Coyotes. It was in Grade 9 that Tylor began to really take football seriously, and was the team MVP in his last Bantam season. In 2008, Tylor played for Team North in the Alberta Summer Games in Medicine Hat.
Tylor continued on to high school, playing for the Camrose Trojans. He was the Offensive Player of the Year each of his three seasons with the team, and racked up over 2500 all-purpose yards in his senior year. Tylor would be named Offensive Player of the Year twice more, this time as a Midget when he played for the Leduc Stray Cats and then the Battle River Shock.
Tylor represented his province in the 2010 Football Canada Cup in Wolfville, Nova Scotia. While this tournament as well as the Alberta Summer Games were primarily learning experiences for Tylor as he held more of an observer's role, he found that he really had a chance to shine when he played in the Alberta Senior Bowl.
"In Summer Games and U-18, I experienced a more political side of the game, not getting much of a chance to compete and be an impact," he says. "Senior Bowl was my first rep team. I was a contributing part."
Tylor finished off the Senior Bowl by being named the team's Most Outstanding Receiver.
After he graduated high school in 2011, Tylor played his first year of Junior football with the Edmonton Wildcats. Following his first season, he trained with ex-pro Kamau Peterson as part of Peterson's program, Playmaker U.
"After one off-season of work, my game was radically changed, physically and mentally," he says. "The sacrifices and time invested into me in the short time we have spent together have submerged me even deeper into thought as to how great I aspire to be."
Tylor even pursued football internationally, playing for the Under-19 Canadian Junior National Team in 2012. He was ranked third nationally as a receiver, and capped off the experience by defeating Team USA for the IFAF Under-19 World Championship title.
"I had the chance to contribute to a gold medal experience, and learned there that I was on the level with the rest of the world my age," he says.
Tylor had to fight through a hamstring injury he sustained during the preparation for the tournament, and was put on split time with another receiver, but was glad to share in Team Canada's victory.
Tylor then headed back to the Wildcats, where he led in punt return yards and average yards per return. He was also one of the team's top receivers, and was named Special Teams Player of the Year for 2012.
To add to this already extensive list of teams and accolades, Tylor has committed to the University of Alberta Golden Bears, and has already started attending training camp with them. The Bears' new coaching staff and being part of a program on the rise both played into his choice.
"Being able to be home and maintain a strong support network while getting a great education at the U of A are great things that added to the decision," says Tylor.
Tylor plans to further his interest in athletics at university; he will start working toward a PhysEd degree with a particular focus on nutrition and wellness.
"Training and simply the human body are my real passions when I'm not on the gridiron," he says. "Biology has been of most interest in school and my increasing knowledge in nutrition and wellness have led to greater ambitions to understand further how the body functions."
For inspiration and support, Tylor looks no further than his mother.
"She has always set standards on me that have assisted me greatly as a student, player and man," he says. "Because of these standards, I have been blessed with undying ambition and drive that many people haven't seen before."
However, Tylor is also self-motivated.
"Driven by ambition and those who live greatness, I have always been the strongest voice in my head to do more," says Tylor.
Despite his laundry list of accomplishments, Tylor continues to aim high. He is looking forward to extending his career as a Golden Bear, and is grateful to all the people who have helped him on his way.
"I am blessed to have the people in my life that I do," he says. "My support network in Camrose has been a huge asset and a driving factor to my success."
"I aim for nothing less than a dominant career in the football industry."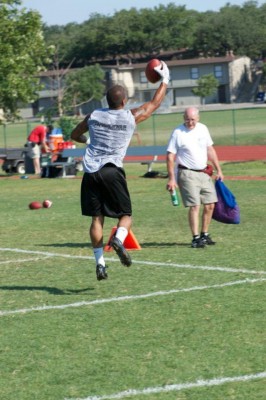 Advocating for football prospects one story at a time.